Raspberry Pi! Micro:Bit! Arduino! Python! Scratch! Flashing lights! Robots! Digital Art!
If you're already excited by this stuff, we'll have loads of equipment and ideas you can explore. If none of it makes sense, but you think maybe you'd like it if it did… dip your toe in the water in this free, friendly, informal family day.
Raspberry Jams are an international network of community events for people to learn coding and digital making skills, and to meet other enthusiasts. They're based around Raspberry Pi computers, but not limited to just Pis. There hasn't been a Jam in Newcastle for ages, so we thought we'd throw one together and see what happens. Join us and find out!
There'll be tutorials and worksheets to wade into, demonstrations set up to explore, people to talk to about all this stuff, and a wide range of tools, components and systems to introduce yourself to. We're keen to get families working together, solving problems and learning new skills. You don't need to know any programming before you show up!
Who can come
Anyone. There are no age limits, though children under 16 must be supervised at all times (sorry folks, you can't drop your kids off with us while you go and do a spot of shopping!). Please reserve a ticket for each person in your group.
Equipment
We have a heap of Pis and other systems so there's no need to bring your own. We won't have anything available to buy on the day, though we can recommend suppliers.
How to get here
We're on the main Northumbria University campus in the centre of Newcastle: walk down Northumberland Road (pedestrianised) and once you're on the campus you'll see an entrance to the blue building opposite Sport Central. The entrance is called The Link. Look for Jam posters, and follow signs to Think Lab. We're on the third floor of the blue building. For more detailed directions and notes about parking and transport, please see this page.
Times, workshops, etc.
We're not planning booked sessions or anything like that: you're welcome to drop in and drop out through the day or to stay as long as you like. We'll open the doors from 10am and plan to turn the power off on anyone still hacking away at 4pm!
Tickets: what to do if you have tickets but can't come, want to come but there are no tickets, etc.
It really helps us to know how many people are coming, so we're asking for registrations via Eventbrite (see below). If you reserved tickets but can't make it, please go into your Eventbrite account, view your order, and cancel it, to release your place for someone else. If we're booked out, Eventbrite will handle a waiting list for us.
Want to bring something along to share?
Great! If you can let us know your plans we stand a better chance of making sure you have table space. Please drop us an email: jonathan.sanderson@northumbria.ac.uk.
---
Updates
Please check this space (and your email from Eventbrite) for any late changes to the event!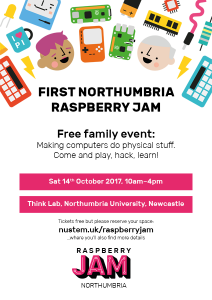 4th October: Here's a handy poster (1.2Mb PDF) you can download, print out, and pin up or hand out. Hurray for posters!
---