What you'll need
Leaves from a variety of trees in your outdoor area or a variety of different shapes and sizes of leaves from the same tree
PVA glue (if you want to stick them down)
Card
Duration
10 minutes to collect the leaves and prepare the snap card
Time for the PVA glue to dry, dependant on the temperature
10 minutes or so for the activity.
The Arborist poster

Play a matching game using leaves
The arborist activities are designed to be repeated 3 or 4 times across the year, reflecting the different seasons and the progression of the children in your setting.
Early Learning Goal links
STEM vocabulary to introduce
Tree, leaf, leaves, bark, branch, inside, outside, lumpy, bumpy, knobbly, rough, ridged, bent, straight, smooth, soft, silky, velvety, silky, shiny, glossy, long, short, wide, narrow, thick, thin, dark, light, big, small, veins, next to, in front of, behind, under, on top of, beside, attached, lobes, segments, points
What to do – preparing the snap cards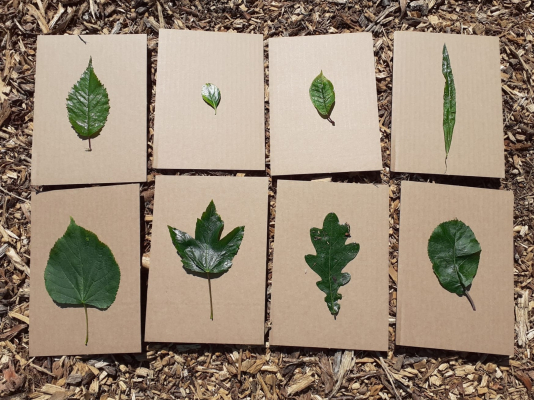 Collect leaves from around your setting, making sure you have a variety of shapes, colours and sizes. You will need to collect enough leaves for each child in the group to have one leaf each. Stick each leaf to the centre of an A5 sized piece of card using a thin layer of PVA glue. Leave the cards to dry before using.
If you don't have time to prepare the cards, you can just collect the leaves, but these will probably not be able to be reused during the activity, so you will need to collect a lot more leaves.
What to do – playing the game
Tell the children that they are going to be arborists. You could show them the arborist poster.
Tell the children that they are going to be observant like arbortists and notice what different leaves are like. They are also going to be resilient as they might not find a matching leaf straight away and will need to keep looking until they find one to match.
Give each child a leaf card or leaf. Ask them to go outside and find another leaf that is the same. In the autumn and winter the children can collect the leaves from the ground. In the spring and summer, they may need to match the leaves or cards to leaves still on the trees. When they have all found a matching leaf or tree, you can swap the cards around and play again.
Questions to ask to support and extend learning
Is the leaf in your hand the same as the leaf on the card?
Is it the same shape/size/colour?
Can you describe your leaf?
Does it have any points? How many?
Does it have any lobes or segments? How many?
Who has the biggest/smallest leaf?
Where did you find your leaf?
Was in under/on top of/next to/beside/attached to the tree?
You could see how many different coloured autumn leaves you can find or how many leaves from the same tree that are different colours.
If you have any evergreen trees in your setting you could compare these leaves to the dead leaves of deciduous trees. You could dig in the fallen leaves to find matching leaves.
You could find petals from the blossom and buds from the trees to match. You could investigate whether all blossom and buds look the same.
You could see how observant the children are now as some leaves may be quite high up in the trees. Can they match the leaves to the correct trees?
We have put together some useful information about the science of bubbles to accompany this activity. Don't worry, this is for your information only and to help you answer any questions children may have. We don't expect you to explain this to the children in your setting!
Why do leaves change colour?
The leaves of deciduous trees (deciduous means "fall off") change colour and fall off in autumn. The leaves of evergreen trees remain green and intact all year. In deciduous trees, the leaves are green in the summer because they contain a chemical called chlorophyll which helps them to photosynthesise (use sunlight to turn carbon dioxide and water into carbohydrates and oxygen) to make food. During the autumn, days become darker and the trees can't make as much food. The leaves lose their green chlorophyll and begin to turn yellow, orange or red before falling off the trees.
Why are some trees evergreen?
Evergreen trees have green leaves all year, which they shed continuously as new leaves grow. Evergreen trees grow slowly, conserving energy and nutrients and photosynthesising (make food by using sunlight to turn carbon dioxide and water into carbohydrates and oxygen) all year round. Deciduous trees loose their leaves otherwise during the winter the water inside their leaves would freeze and expands, rupturing the leaves and causing damage to the tree. The leaves of evergreen trees have a thick waxy coating of resin to protect them so they don't freeze and rupture in the winter. Many evergreens have needle-shaped leaves, to conserve water, but can be a variety of shapes and sizes. Conifers, hollies and rhododendrons, are examples of evergreen trees.
Why are leaves different shapes?
Trees have leaves to photosynthesise (make food by using sunlight to turn carbon dioxide and water into carbohydrates and oxygen) which they do in  special structures inside the leaf called chloroplasts. Bigger leaves with a larger surface area have more chloroplasts and so can make more food (carbohydrates) for the plant.
However, there are other factors such as overheating, freezing, getting water to the leaf cells, and resistance to wind that mean trees have leaves with different shapes.
Leaves can grow large if they have enough water and do not overheat. However, larger leaves have greater water loss and cool down more quickly. This is why tropical plant leaves grow to be huge in places that are warm and wet, and small-leaved plants thrive in dry deserts and high up mountains. Small leaves, like pine needles, which are packed together tightly can stay warmer so survive in colder climates, whereas leaves with lobes can help plants to cool down more easily.
Getting water to leaf cells is easier if a leaf is long and thin, or has a simple branched shape matching vein patterns. More rounded shapes require more complex networks.
Leaf structures that can curl, have holes or lobes, or many small compound leaves are less likely to be damaged by wind than large, flat leaves.