"I loved working with the students and their English teacher, and was extremely impressed and moved by the resulting poems." – Katrina Porteous

"I've been amazed by the complicated scientific facts the children have absorbed and the fantastic quality of the artworks they have made to express this." – Helen Schell

"This process of translation between scientists, artists and teachers is a really rich, collaborative way of learning. The students' enthusiasm and poems were extremely moving.' – Katrina Porteous

"STEAM education is a superb method of teaching advanced science to a diverse range of children whose interests include art and science." – Helen Schell
Imagining the Sun was a collaboration between a poet, a sound artist and a visual artist with Northumbria University's solar physics research group, supported by the outreach specialists at NUSTEM. The project challenged public and schools audiences to explore how approaches from art and science can complement and inform each other. Alongside the schools programme was a series of public performances and exhibitions.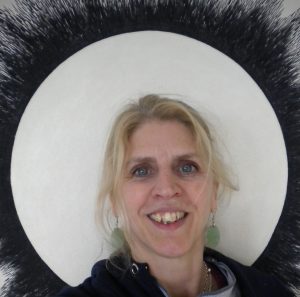 Helen Schell
Artist and ESERO-UK Space Ambassador
Helen specialises in STEAM projects. Since 2008 she has collaborated as a visual artist with space scientists creating joint projects which examine space exploration and the science of the cosmos. In 2013, she became an ESERO-UK Space Ambassador (ESA education) aligned to British astronaut Tim Peake's ISS mission.
Helen is based at NewBridge Studios in Newcastle, where she creates large paintings which employ optical illusions to depict the phenomena of space.
NUSTEM
Katrina Porteous
Poet
A nationally recognised, award-winning poet, Katrina is published by Bloodaxe books.
She has previously collaborated with Peter Zinovieff on two pieces: the first, Edge, concentrated on four moons of our solar system and was broadcast as a Poetry Please special on BBC Radio 4. The second, Field, explored quantum fields and the Higgs mechanism.
(photo credit – Hayley Madden, The Poetry Society)
NUSTEM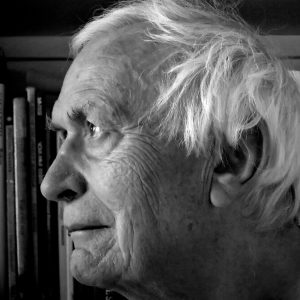 Peter Zinovieff
Sound Artist
A scientist, composer, librettist and pioneer of electronic music, in the 1960s Peter was one of the first people in the world to use a computer to create music.
With David Cockerell and Tristram Cary he formed Electronic Music Studios, which created some of the earliest electronic instruments, including the seminal VCS3.
Peter's instruments – and particularly the techniques he pioneered, like sampling – continue in widespread use.
NUSTEM
Dr. Carol Davenport – Director, NUSTEM and project PI.
Dr. Sarah Hilton – Project manager.
Joe Shimwell – Primary outreach specialist.
Jonathan Sanderson – film, photography and media support.
School workshops are tailored to the specific circumstance. Typically, Imagining the Sun has worked with NUSTEM partner schools to bring a solar physicist and an artist into the classroom.
During the first workshop learn about the Sun from one of Northumbria University's solar physicists, exploring its awesome scale. The range of light it produces (including 'colours' we can't see by eye) are introduced, leading to exploration of the electromagnetic spectrum through discussion and experiment.
As an immediate continuation, Helen or Katrina encourage students to express their new-found understanding through visual art or poetry, respectively. Groups continue their explorations in lesson time, ahead of a follow-up workshop a few weeks later which delves further into the art or poetry. Each school, teacher and class are able to take the project as far as they wish as time and materials allow. Exploring the sun with art and poetry encouraged the children to engage more with what they have learnt and extend their knowledge by asking further questions.
In 2016, Helen Schell was commissioned to create a series of artworks expressing aspects of solar physics. By collaborating with Northumbria University solar physics group, she chose to represent the 6 layers of the Sun through a series of optical illusions united in a large 7 metre high painting using geometric shapes and bold colours. These 6 solar layers are described as: the Core (15 million oC), Radiative Zone (2-7 million oC), Convective Zone (2 million oC), Photosphere (5,700 oC), Chromosphere (6-20,000 oC), & Corona (1 million oC). This work was exhibited at the Big Bang Science Festival at Northumbria University in 2016 and will be shown again at the same event in 2017. This hands-on event is attended by 3000 secondary and primary school children to promote STEM subjects and advise on potential careers.
She was invited to participate in the Think Physics art and science project because in 2014, she had initiated her own project called 'Yellow Giant' creating large solar inspired artworks shown at Vane gallery, Newcastle in 2015. The 'Imagining the Sun' project has allowed her access to advanced solar physics to develop a new series of artworks. These new works can be seen on display in Northumbria University Maths Department and a temporary exhibition during March 2017 at Words by the Water in Keswick.
For further information please see her weblink: http://thenewbridgeproject.com/portfolio/helen-schell/
The layers of the sun which inspired Helen's artwork below. (The diagram of the sun below is attributed to Kelvinsong via Wikimedia Commons)
Sun, by Katrina and Peter, is an immersive 25-minute performance of live poetry and surround-sound computer music, accompanied by planetarium visuals. It's an artistic response to the work of Northumbria University Solar Physics Research Group.
Peter's music, written in four electronic movements, is derived from solar oscillation data from the SOHO Michelson Doppler Imager. Each movement represents a 5 minute solar cycle.
Working together, the poetry, music and images explore the physical processes of the Sun, revealed in wavelengths beyond human perception, and the ways in which sound is used to 'look' inside it. Little by little, the music, words and visuals strip the layers of our nearest star, allowing us to travel where the body cannot, to experience a reality not otherwise accessible to sight or hearing.
Sun premiered at Newcastle's Life Science Centre planetarium on November 18th 2016: see this write-up in the Chronicle.
A remastered 2D version of Sun is available on NUSTEM's Youtube channel.
The process
"Imagining the Sun has given Peter and I the opportunity to extend our collaboration with our third planetarium piece, Sun. Between February and May 2016 I met with scientists from Northumbria University Solar Physics department, read all I could about the Sun, studied videos and still images from NASA spacecraft, and tried to get to grips with what I learnt through the process of writing. The result was a series of two dozen poems exploring aspects of solar physics. I shared some of this work with the solar physicists in a seminar in May. Their feedback caused me to reflect further on how differently we use language in science and poetry.

September and October were taken up with the process of collaboration-at-a-distance with Peter Zinovieff, who is based in Cambridge. Peter derived his music entirely from solar oscillation data on the Stanford University website. As the structure and texture of his music took shape, he sent me sound files, and I selected and organised sections of poetry that I felt would work with them, to explore the Sun's structure, how its magnetic fields are generated, how 'sunquakes' occur, and how sound is used to 'look' inside the Sun.

Once we had a structure and exact timings for the music and poetry, and I had selected images and video from the NASA SDO and other websites, I worked with Life Science Centre's Planetarium Supervisor Chris Hudson, who produced the full dome visuals. We used these partly to illustrate or illuminate the text and music, and more importantly to create atmospheres to lead the audience on a journey where their physical senses could not possibly take them.'

— Katrina Porteus
How does the Sun flow?
Its secrets
Darker than an ocean's strangeness.
Let the waves tell us.
Each an explorer,
Tasting its own precise
Level; speeded or slowed
By the hazards it endures.
No journey was ever so extreme.
And not one traveller
Returns unchanged. Each time,
It brings back its unique
Report, exact as light.
Katrina Porteous, 2016
SUN saw its second outing on Saturday 4th March 2017, at the Theatre by the Lake in Keswick, Cumbria. Richard, Carol, Helen and Katrina presented the art/science collaboration as part of the Words by the Water Festival, with Katrina performing excerpts from SUN with a new, conventional-projection version of the planetarium visuals and audio. Helen's artwork was featured within the festival gallery.
Words by the Water is a ten-day programme of literary talks, lectures, discussions, workshops, book launches and special exhibitions. Run by Ways with Words and now established for some fourteen years, the festival convenes novelists, poets, biographers, journalists, artists, historians, scientists, politicians, philosophers and more to celebrate their love of words.