Inventive
Mixing Engineering Fact and Fiction
Engineering is full of stories. It's about people facing challenges and digging deep to overcome them. Unlike conventional action heroes, however, it is not how far they can jump or climb that saves the day. It's how they apply scientific knowledge and practical expertise.  The Inventive Podcast uses storytelling to encourage listeners to dream about Engineers and what they do.
Inventive is led by Trevor Cox at the University of Salford. NUSTEM are developing curriculum support materials around the personalities and stories featured in the podcast, which you'll find below.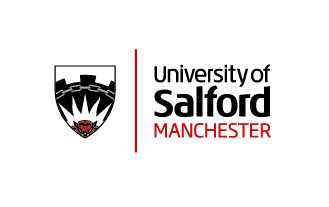 Inventive is funded by the EPSRC and led by the University of Salford. The podcast is produced by Overtone Productions. Find out more about the team behind it.
For teachers
The Inventive podcast is intended for a broad audience. NUSTEM are developing resources to extend its use into the secondary classroom. We're working towards case studies, posters, and worksheets exploring both the engineering concepts and the stories told in the series.
Just like the podcast, we're taking a cross-discipline approach. Some of our worksheets will be suited for science lessons, others for English. We'll update this page with each new episode of the podcast, and as we complete resources.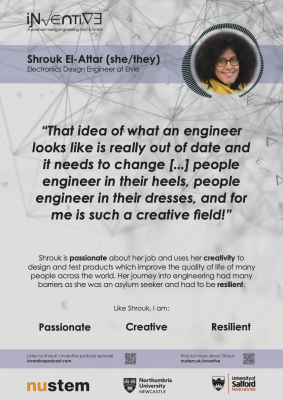 Arriving in the UK as an asylum seeker, Shrouk is now an electronics design engineer, activist, and belly dancer. In 2018 the BBC named her as one of the 100 most influential women in the world, and in 2020 she won the Women's Engineering Society Prize for her STEM engagement work.
Inspired by Shrouk's interview, Tania Hershman has written Human Being as Circuit Board, Human Being as Dictionary which combines fiction, poetry and non-fiction.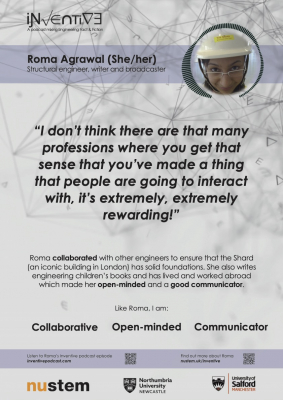 Roma grew up in the US and India, before coming to the UK to do A-levels in maths, physics and design & technology. Only during her physics degree was she drawn to engineering: she ended up working on the iconic London building The Shard as a structural engineer.
Listen to the podcast to find out more about her story, the challenges she's faced, and her fondness for getting hands-on with concrete.
Along with Roma's interview is a delightful short story written by CM Taylor called The Nightbuilder which explores another aspect of concrete.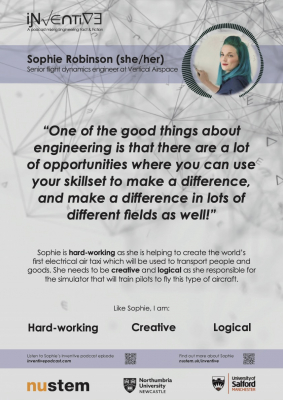 Aerospace engineer and self-confessed mermaid Sophie works on vertical take-off and landing (VTOL) aircraft. But not just any ordinary VTOL – electric ones. She's part of a team working towards what they hope will be the first electric, zero emission aircraft most of us fly on.
Inspired by Sophie's interview, Tony White has written The Hotwells Cold Water Swimming Club, a semi-biographical story which explores Sophie's hobby.
Listen to the podcast to find out more about Sophie's story, the ethical dilemmas she's faced at work, and … swimming.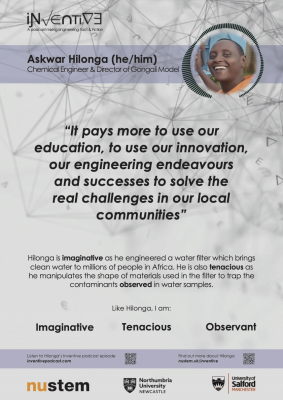 Tanzanian engineer Hilonga grew up in a village with limited electricity and clean water. After completing a PhD in South Korea, he's returned to Tanzania to run a social enterprise helping local communities across Africa to install and run water-purifying nanofilters.
Sarah Franklin has written a moving short story Clean me a river based on Hilonga's interview.
Listen to the podcast to find out more about Hilonga's story, his motivations, and how he hopes his example will inspire other children to work towards engineering solutions and social good.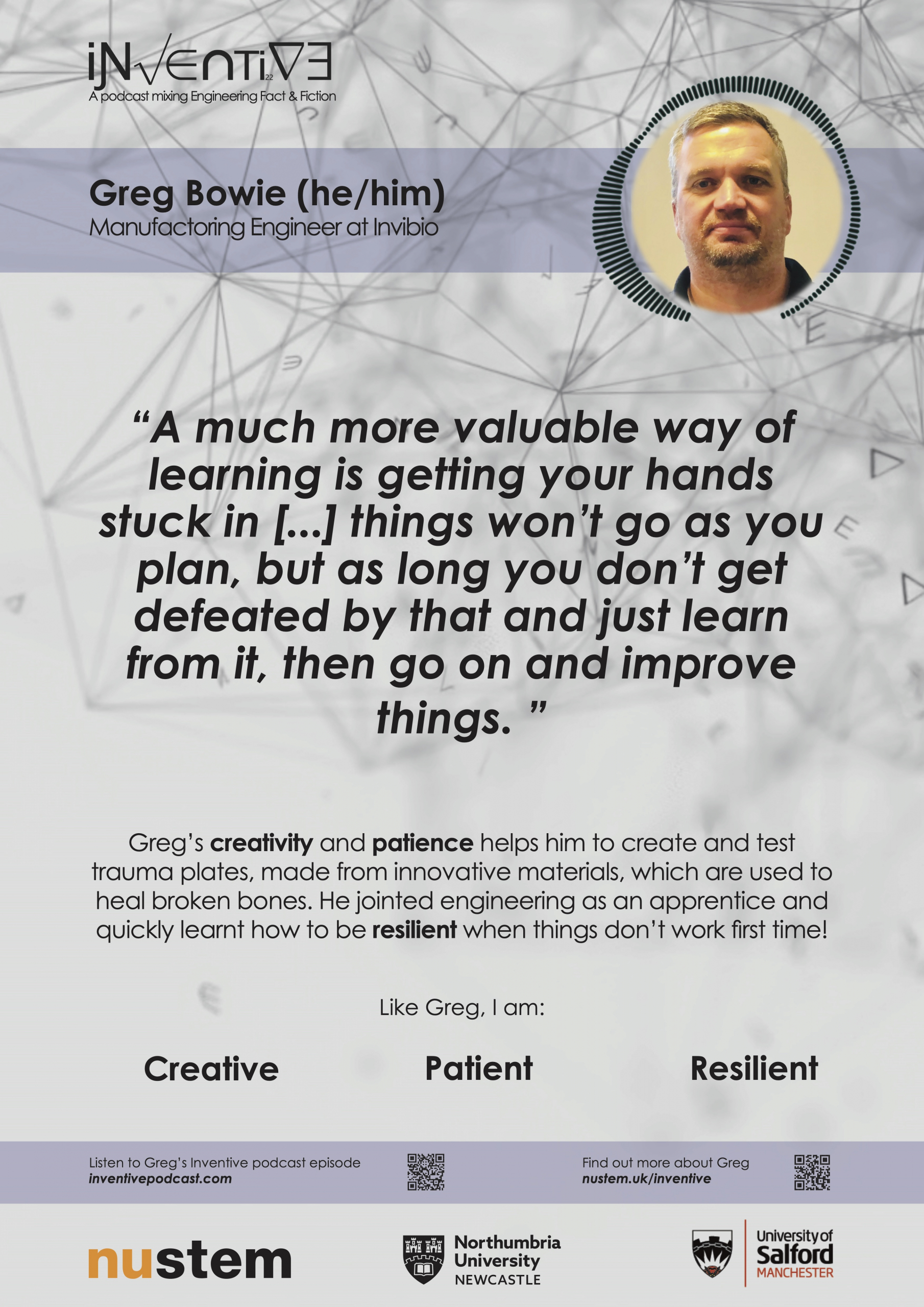 Greg's path into engineering took the apprenticeship route, where he learned to solve problems practically – skills which have served him well in his job as a manufacturing engineer for a company making polymer and composite materials for medical applications. Materials Greg and his team develop are used to support bones as they heal, in patients worldwide.
Alongside Greg's interview is a story by Emma Newman. She has written about a dystopian future in which the trauma plates that Greg designs could provide hope for those fighting tyranny.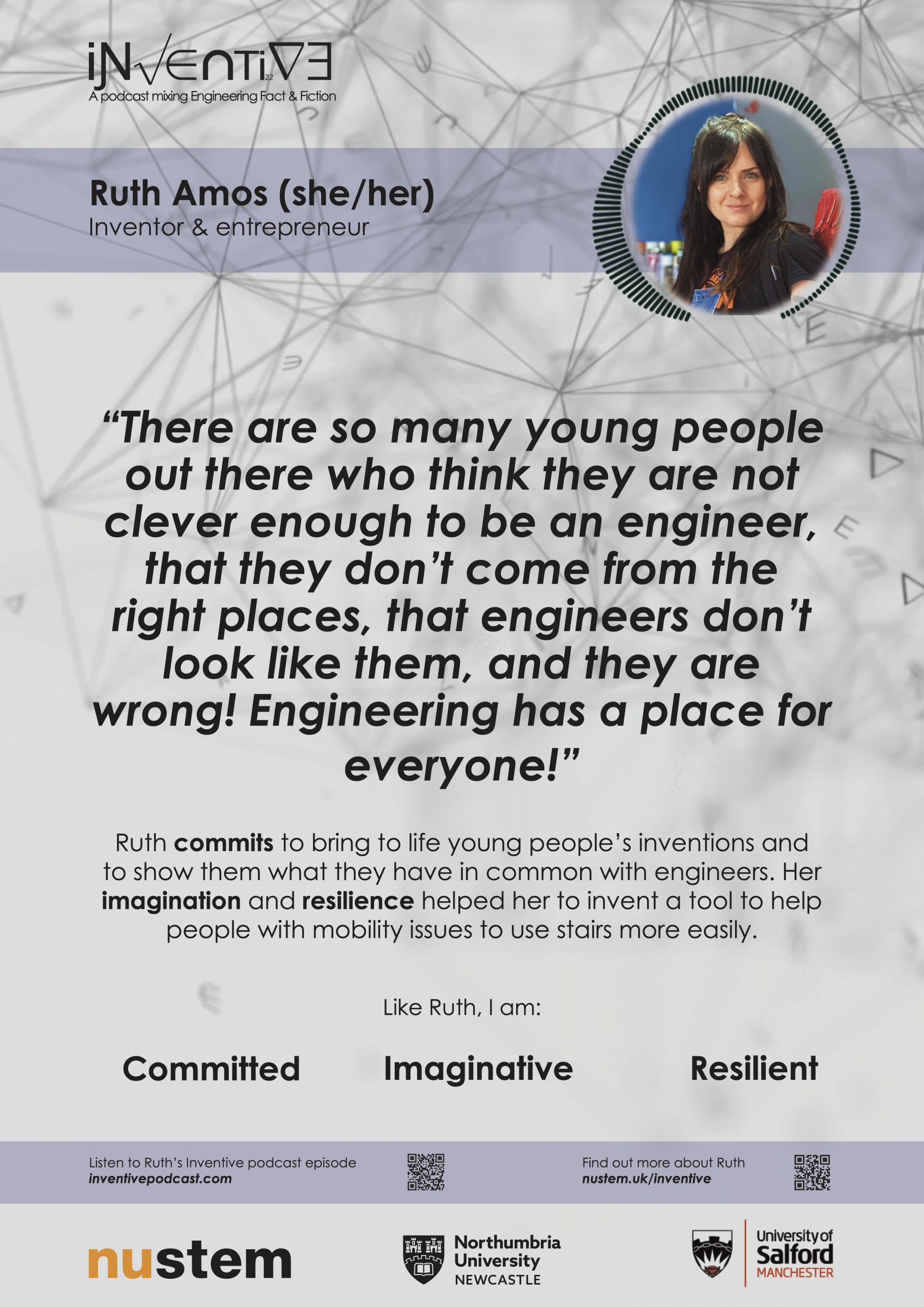 Ruth nearly missed the chance to experience engineering as a career, having almost become lawyer. But in school she was challenged by her teacher to design a mobility aid to help people using stairs; her solution won her her first engineering award, at the age of 15. These days she and her colleague Shawn spend their time bringing kids inventions to life!
Alongside Ruth's interview is a story by Jacqueline Yallop. Titled Swish, it's about a girl named Meena and her pair of wings…
Sian always dreamed about working in space, and now she's in charge of building part of the spacecraft which will take a new generation of astronauts to the Moon.
Alongside Sian's interview is a story in rhyme by award-winning rapping scientist Jon Chase.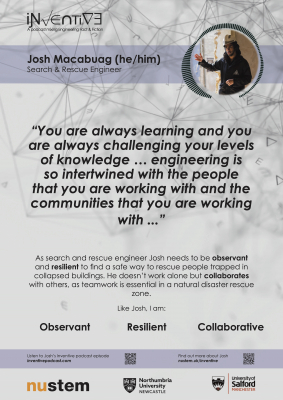 Joshua volunteers as search and rescue engineer for SARAID, a group of volunteers, that helps finding people trapped in collapsed buildings. He has to relies on his instincts and fundamental principle of maths and physics to help others.
Alongside Joshua's interview, Nina Allen' story "Forces and Loads" uncovers more than people trapped in the rubble of an earthquake.