We're really looking forward to seeing you at the upcoming STEM Storytime session. Your child's teacher will have sent you a link and instructions for joining the event.
We've put together some information for parents so that you know what to expect from the session.
You'll need a few household items to do the activity after the story:
an empty toilet roll tube
a clear plastic food bag or cling film
some scissors
some sticky tape or an elastic band
some scrap card or paper
If you want the full details of the activity you can read about it here.
What will happen in the Storytime session?
In the session, we'll read the story The Black Rabbit to the children. We'll ask some questions as we read, so be ready to help your child answer them.
After we've read the story, we'll be making Shadow Tubes. The presenter will demonstrate how to make the tubes so that you can make them with your child.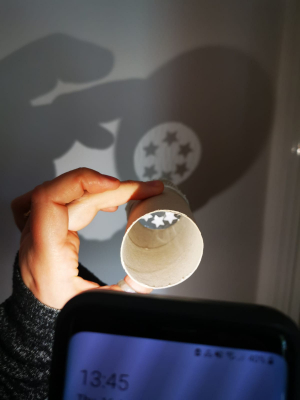 The whole session will take about 30 minutes.
It can be quite challenging for young children to use video chatting software. Try and find a quite place in the house to attend the session, bring all your equipment with you and get comfortable before you start. Make sure that everyone is dressed appropriately, and there's nothing in the background that could cause upset to anyone else on the call.
We'll be muting all the participants microphones during the session. Don't worry through, you'll be able to see all your friends, and we want you to show your shadow tube to everyone once you've made it.
If you or  your child would like to share or say something, you can give us a wave and we'll ask you to unmute to speak.
Keeping Children Safe in Storytime Sessions
Parents rightly worry about keeping there children safe online. We've put together a list below of the different things we'll do to ensure that your child is safe in the session.
We'll have a member of staff working in the background to monitor all the videos coming from the participants, if we see anything that we think isn't suitable we can turn of individual videos.
A teacher from the school will join us on the call to make sure that everyone is who they say they are and no one unexpected has managed to join.
We expect you to be with your child during the whole session.
We're asking everyone to mute their microphones, and we'll also monitor microphones and turn them off if we feel it's needed.
We'll only send out the link and password for the session to parents of children who are in the same school or class.
We're expert in running these sorts of sessions online, and have plenty of experience ensuring that all participants are safe. The session should be fun and relaxed and a nice way for the class to meet up in these interesting times.