What is an optical engineer?
An optical engineer researches and develops new technologies related to the science of light, which is called optics. So they'll study how light behaves, how you can manipulate it using lenses and mirrors, and how the colour of light affects its properties. They'll then apply that knowledge to sight and vision problems, or in electronic systems and equipment.
Optical engineers might design lasers, build telescopes, create fibre-optic communications systems; or they might work with microscopes, computer chips, or consumer electronics. Or they might work in healthcare, understanding the human eye.
Attributes: observant, hard-working, committed
The light we see is made up of the different colours of the spectrum. We see light split up into it's different colours when we see a rainbow.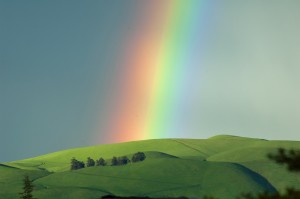 Each colour absorbs some light, but we only see the colour light reflected back to us. So while it is still, each area of felt tip pen on our spinner reflects a different coloured light back to us. When the spinner is moving, it is turning too quickly for your eyes to tell which area of felt tip pen each colour is coming from. Our eye  treats this like all those different colours of light are coming from the same place. So it sees it as white.
You could try making a spinner at home by watching the video. What happens when you try different colours?
Do try this at home: make a kaleidoscope
How does a kaleidoscope work?
The tube of a kaleidoscope contains mirrors. If there are three mirrors, this generates a pattern based on repeating triangles, if there were 4 mirrors the pattern would be based on rectangles and so on. One end of a kaleidoscope has the object chamber, which contains the shiny objects to be reflected. The object chamber must not only keep the objects contained, but allow light through to illuminate the chamber. The other end of the kaleidoscope has the viewing hole.
When you look through the hole, light filters through the object chamber and passes through or bounces off the shiny objects. The light then reflects off the mirrors, bouncing down the tube of the kaleidoscope until it emerges through the viewing hole, into your eye. Every reflection the light goes through adds a layer to the image you see. As you turn the kaleidoscope, the objects move in the chamber and the reflections change, which creates new patterns.
We came across this lovely activity to make rainbow light patterns using a CD. You'll need strong, direct sunlight for a strong effect, so seize your moment in the five minutes of summer we get in the North-East.
Rainbow by William Welch (CC-BY from Flickr)
A zoetrope is a cylinder with a series of pictures on the inner surface, which you view through slits. When the cylinder spins, you get the impression that the images are continuous and moving. It's very similar to an old-fashioned film projector, but with the movie on a loop.
Zoetropes work because the human brain is astonishingly good at recognising movement. So much so that it sees 'movement' even when there isn't any. So if your eye sees a sequence of still images, your brain merrily glues those together as a movie. You see this every time you watch TV, go to the movies, or work with a computer screen or phone.
To make your own zoetrope, follow this guide from the CBBC Art Ninja.
To find out more about how it works, watch the video below… which will also tell you how to say 'zoetrope'. Always tricky, that one.