The Drive Community Primary School
Hello The Drive! Over the next few years we hope we'll see you often. We'll bring you the most fascinating, surprising, and ridiculous things we can think of, and together we'll explore the world around us. We'll look at how things work, how they behave, and how you can build things that behave as you want them to.
We also hope you'll visit us at our base, Think Lab in Northumbria University, where we can go even further in thinking like scientists and engineers.
Below, you'll find a summary of the things we've done with you so far. Click around – you might just spot yourself in one of our galleries.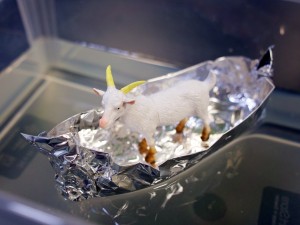 What a busy morning The Drive's Year 1 classes have had. We've been exploring floating and sinking with a little help from the youngest Billy Goats Gruff. We've designed, tested, taken measurements and redesigned to ensure that the goat made it safely across the river.
Now you're back home, follow these steps for more floating and sinking fun:
Go into the kitchen and find some aluminium (tin) foil.
Build another boat and make it float in the sink.
Test out your boat by adding 1p coins to it – home many will it take before it sinks??
Try out a different boat design, change the shape of your foil and test it out again. Is it better or worse than your first design?
To find out exactly what we did in the session click here.
https://nustem.uk/wp/wp-content/uploads/2015/06/Goat-on-a-Boat-05.jpg
1238
1650
Joe Shimwell
https://nustem.uk/wp/wp-content/uploads/2017/02/logo-banner.png
Joe Shimwell
2016-05-18 11:24:08
2016-05-18 11:25:25
18 May: Naval Architecture (with goats)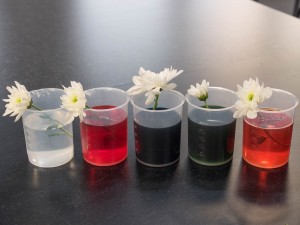 Here goes…
Step 1 – put your chrysanthemum (the white flower) into some water, quick!
Step 2 – use your new magnifying glass to have a really good look at it.
Step 2a – try again and this time have a really good look!
Step 3 – add some food colouring to the water. Wait (for an hour perhaps) and watch!
Step 4 – take a photo and email it to think.physics@northumbria.ac.uk or tweet a picture to us @thinkphysicsne
What's all this about?
Today I've been busy at The Drive Community Primary School.
This morning we became brilliant botanists and you can find out all about it by clicking here.
We'll be back at The Drive soon!
https://nustem.uk/wp/wp-content/uploads/2015/07/Plants-12.jpg
1238
1650
Joe Shimwell
https://nustem.uk/wp/wp-content/uploads/2017/02/logo-banner.png
Joe Shimwell
2015-12-02 10:55:40
2015-12-02 16:06:56
2nd December: The botanist