Monday 27th July – Macaw Engineering
After doing research in the morning, we went to Macaw Engineering. When we arrived, these pens we were given caused much excitement:
We started off the visit with a presentation about the company. Macaw engineering are a company which build and maintain pipelines; some of which stretch for a few kilometres. The most exciting part of the visit came after this talk, as we were introduced to drone technology. We saw a demonstration of a larger drone (which sounded like an angry swarm of wasps) flying, and got to fly some small drone models. (It didn't go especially well, but it does take weeks to train, and months to fly professionally.)
We then listened to another talk, this time from one of the directors of the company, about his own career. It was very interesting to see how serendipitous a career can be; it's something I've noticed taking to people in STEM, in that they seem to end up in careers they would have never thought of, but which they find rewarding.
Tuesday 28th July – Kromek
The visit to Kromek on Tuesday was one of my favourite visits of the 3 weeks. Unlike many of the other engineering companies we've seen, where the focus was very much on the manufacturing process, we got to see at Kromek how the science worked behind it, and got to understand how engineers are faced with problems from their clients – how can they make the product smaller, or more efficient? How can the speed be maintained along with the resolution?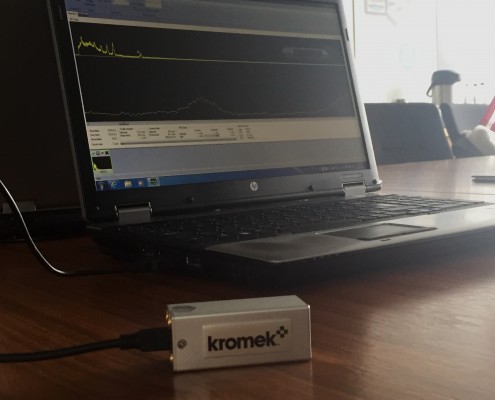 Kromek is an engineering company that works with nuclear detection, for medical or security purposes. We started the day with a talk about what it was like to work in the nuclear physics field, and then we did an experiment measuring the radiation of unknown objects, and using the resulting spectrum to attempt to find what isotope we were measuring (there were varying levels of success with this). Our team used the GR1-Gamma Ray Spectrometer, which had the best resolution but which was the slowest.
Afterwards, we went on a tour of the building, including looking at the "clean room", sporting very flattering hair nets and shoe protectors. We also got to see a demonstration of the machines they made which scanned bottles of fluid, for use at airport security.
The rest of the week so far
The rest of the week has been spent mostly finishing our reports and academic posters for our presentation on Friday. Hope it all goes well!
https://nustem.uk/wp/wp-content/uploads/2017/02/logo-banner.png
0
0
Sophie Davies
https://nustem.uk/wp/wp-content/uploads/2017/02/logo-banner.png
Sophie Davies
2015-07-30 10:47:52
2015-08-03 08:55:22
Sophie – Week 3