Hello Burnside! Over the next few years we hope we'll see you often. We'll bring you the most fascinating, surprising, and ridiculous things we can think of, and together we'll explore the world around us. We'll look at how things work, how they behave, and how you can build things that behave as you want them to.
We also hope you'll visit us at our base, Think Lab in Northumbria University, where we can go even further in thinking like scientists and engineers.
Below, you'll find a summary of the things we've done with you so far. Click around – you might just spot yourself in one of our galleries.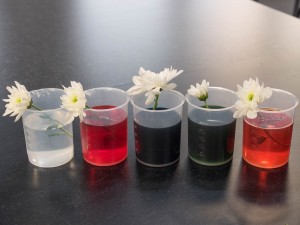 Here goes…
Step 1 – put your chrysanthemum (the white flower) into some water, quick!
Step 2 – have a really good look at it.
Step 2a – try again and this time have a really good look!
Step 3 – add some food colouring to the water. Wait (for an hour perhaps) and watch!
Step 4 – take a photo and email it to think.physics@northumbria.ac.uk or tweet a picture to us @thinkphysicsne
What's all this about?
Today I've been busy at Burnside Primary School.
This afternoon we became brilliant botanists and you can find out all about it by clicking here.
We'll be back at Burnside soon!
https://nustem.uk/wp/wp-content/uploads/2014/11/Magnifying-flytrap-1650thin.jpg
680
1650
Joe Shimwell
https://nustem.uk/wp/wp-content/uploads/2017/02/logo-banner.png
Joe Shimwell
2016-05-10 11:14:37
2016-05-10 13:16:07
May 10: The Botanist