Part of NUSTEM's offer to primary schools in the north east is our Primary Science Coordinators' Forum. Each half term, science leaders from primary schools across the area come to our Think Lab at Northumbria University for two hours of skills sharing, networking and high-quality STEM CPD. We're in our third year of sessions, and it's about time I shared what we've been up to. Here's a run-down of our most recent meeting, which was held on Tuesday 21st November. If you're interested in joining the forum (it's free!), email me.
Part 1: Background and that awkward "getting to know each other" bit
Our first meeting this academic year, so there were a few new faces in the room. This being a skills sharing/networking forum, it's important (I think) that we go through the basics: Who are we? What do we do? Why are we here? One day I'll find a less awkward way of doing this. I also shared a bit of background about who and what NUSTEM is.
Part 2: Sharing Science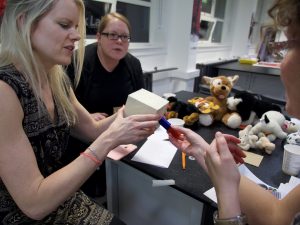 We have a wealth of experience in STEM education at NUSTEM, but so many good ideas come from teachers working in schools. In this session, teachers shared some of their more creative science resources and approaches. In the spirit of sharing good practice, here they are:
Greg (Oakfield Infants) – at the start of the year, groups of children in Greg's Y1 class adopt trees in the school grounds. Throughout the year, they take photos and note changes to their tree. The exercise also inspires creative writing, poetry and artwork whilst covering the seasonal changes part of the science curriculum.
Mark (Carville) – shared an activity he'd seen using laces and cocktail sticks to discuss DNA in Y6.
Denise (Oakfield) – Denise's class explored the digestive system using a pair of tights and then created a comic strip about the topic.
Ellie – Ellie's class have been exploring rock types using different chocolate bars – you can find a similar activity from the National Parks UK here.
Kaye (St Charles RC) – Kaye's school is using Imperial College's Reach Out for free, quick science CPD for her staff. Kaye has also been exploring life cycles, by bringing mealworms into her classroom and changing different conditions of their habitats. It takes a few weeks, but they eventually turn into beetles. I've found a useful worksheet for this activity here.
Karen (Battle Hill) – Karen shared a free online resource from the Wellcome Trust called Explorify. It has great starters and activities for getting science discussion into the classroom.
Joe (NUSTEM) – I shared two activities, a Turtles and Dogs activity using soft toys to explore adaptation and inheritance with Y6, and a new activity with the working title: What's in the Box?. I'll post a link to this activity shortly.
Part 3: Cubetto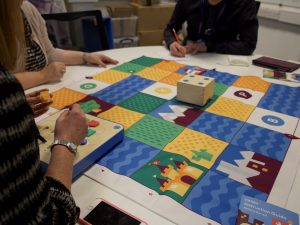 Our office fell in love with these little Cubetto robots, which arrived over the summer holidays, and we've been itching to get them into the hands of our science coordinators to see what wonderful ideas they might come up with. We spent half an hour playing with them last night and have some exciting thoughts about their use in the classroom. We're holding further Cubetto exploration sessions next week with Computing and EYFS leads in our partner schools with a view to developing a suite of workshops that will allow EYFS children to explore coding in new and exciting ways. The plan is to loan our army of robots out to schools from the New Year.
Part 4: Embedding careers in primary science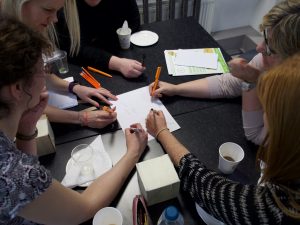 The NUSTEM project builds on the findings of the ASPIRES report (more about that here). Using the Science Capital approach, we're looking to increase young children's understanding of what STEM is and where it can lead. The coordinators in our last session spent some time discussing an approach for embedding STEM careers into primary science lessons. This is a project and supporting resource that we're looking to roll out into school in the New Year. If you are interested in finding out more, drop me an email.
Finally: Come and join us
We're always looking for new members. If you'd like to join the group (it's free and you get sandwiches) please email me. Our next meeting will be on Wednesday 24 January 2018, 5-7pm.
To download the presentation notes from the session, click here.
https://nustem.uk/wp/wp-content/uploads/2017/11/prisci5.jpg
3456
4608
Joe Shimwell
https://nustem.uk/wp/wp-content/uploads/2017/02/logo-banner.png
Joe Shimwell
2017-11-23 09:10:45
2017-11-28 09:09:12
Primary Science Coordinators' Forum #3.1