Scientist of the Week – Nikisha Patel
Hard working – putting all of your effort into finishing something.
Tenacious – sticking with a difficult task until it is completed.
Collaborative – working well in a team or pairs.
Nikisha is a botanist who has recently graduated from a top American university with a first class degree in Biology. She is incredibly hard-working and this showed during her time at University in order to achieve such a high standard qualification.

Nikisha now works with a team of Botanists studying some of the rarest plants in the world and has to be collaborative so she can work well with others and share new ideas. Her job also means she gets to travel the world to find some of the plants!

Sometimes finding the plants she needs to study can be very tricky and once found the work she has to do is difficult and challenging but Nikisha is tenacious;  so refuses to give up until she has solved the problem.



https://nustem.uk/wp/wp-content/uploads/2017/01/Nikisha-Patel.jpg
496
700
Daniel Wilkinson
https://nustem.uk/wp/wp-content/uploads/2017/02/logo-banner.png
Daniel Wilkinson
2017-03-07 15:21:49
2017-05-16 13:13:38
Nikisha Patel
Science for Families
This resource is designed to accompany the Science for Families course delivered by NUSTEM or one of our partners. It's a six-week parent and child course delivered in primary schools.
You're welcome to use the resources for other purposes, but they might not make quite as much sense!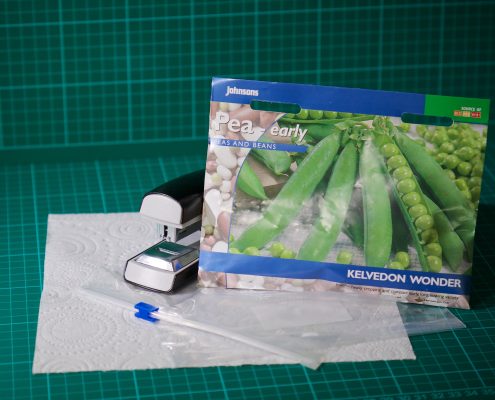 By now, you've probably already done some experiments with plants; growing seeds in a bag and dissecting the parts of a flower.
Seeds are amazing! They can hang around for years not doing anything at all, and then with just a little water and the right temperature, BOOM: they start to grow. One of the oldest seeds ever to grow into a plant was around 2000 years old.
Seeds are able to sense the environment around them, using systems known as tropisms. They have hydrotropism which allows the roots to sense water and grow towards it. Plants needs water to survive and they get it through their roots. The shoots have something called phototropism, which means they sense and grow towards the light. Plants need light in order to make food. To make sure that the roots grow downwards and the shoots grow upwards, the seed can sense gravity: it 'knows' which way is up and which way is down. This is called geotropism.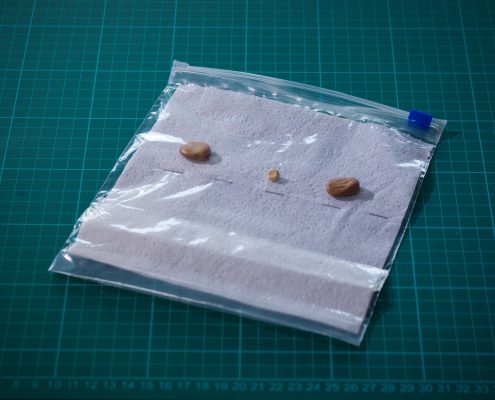 There are loads of experiments that you can do with hydrotropism, phototropism and geotropism. Here are just a few to get you started:
Try growing seeds in different amounts of light and dark. This PDF will get you underway, but feel free to use whatever you have around the house. Old cereal boxes work well!
Let your seeds start to grow. When the roots and stems have started to appear, turn the seed upside down and wait a few days. What happens? Try turning it the other way up again.
Take two cups, and fill one with water. Make a paper towel bridge between the two and place some germinating seeds on the paper towel bridge. Cover the whole thing with a clear plastic cover, something like this. Watch which way the roots grow.
Plants are pretty amazing all on their own, but if you want to have a go at customising your flowers, here's a video that shows you how:
We decided to take it one step further and tried to make multi-coloured flowers. By carefully splitting the stems with a sharp knife (sound the adult assistance alarm!), and placing the ends in differently-coloured water, we managed to make some two-tone tulips (technically carnations, but who can resist adding alliteration?).
Check out our gallery:
https://nustem.uk/wp/wp-content/uploads/2016/08/Split-stem-flowers-9.jpg
1238
1650
James Brown
https://nustem.uk/wp/wp-content/uploads/2017/02/logo-banner.png
James Brown
2016-09-16 14:11:16
2019-02-15 14:19:44
Science For Families: Plants
Ask your child: what is a botanist?
Today NUSTEM have been into school to do the botanist workshop with your child. During the workshop, we supported the children to feel more confident that a career in STEM is for 'people like them' by trying some of the activities a botanist would do in their job.
We introduced three attributes that the children may already have or can develop.  By discussing STEM careers in terms of these attributes, we are encouraging children and young people to see themselves as having the skills to work in STEM.
Botanists are: curious, patient and observant.
Botanists study plants including algae, fungi, lichens, mosses, ferns, conifers and flowering plants. They study how plants live and grow, the evolution of plants and the relationship plants have with their environments. Their research is involves improving crops, developing medicines, cleaning up contaminated sites, and even powering our cars.
Do try this at home: make a plant pop up
Today we made these plant pop ups to record what we had observed about the Venus Fly Traps that we observed during our botanist session in a creative and imaginative way.
You may have a favourite flower in your house, garden or yard that you would like to observe and record using a pop up or you may want to use one of our flower photographs as inspiration.
Card or paper (A4 is easiest but any size will do)
Scissors
A pencil
Felt tips, crayons or colouring pencils
Photographs of plants (see below) or the ability to search the internet for these
Fold the card or paper in half, and then in half again so it is in quarters. Open up the card so that it is folded in half, with the quarter fold running across the middle and the half fold along the left hand side.
Fold the top left hand corner and bottom left hand corner into the centre fold. Open out these folds. Turn over the card and fold the corners into the centre fold again, so they have been folded both ways.
Inside the triangle created, draw a curved line from the left hand folded edge to the diagonal fold. This will make the shape of your petals. Cut along the curved line with your scissors.
Fully open up the card. Put your finger on the centre of your petal, at the top of the vertical fold line. Pull your petal towards you and fold it along the vertical line. Do the same with the lower petal. Fold the card in half again. Your top and bottom petals should be folded to form a flower inside your card.
Draw your flower by adding extra petals and then colour these in. You can add the stem and leaves if you want to.
Now try experimenting with different shaped petals. You could make the petals more narrower or wider by folding in the corners more or less (step 2). You can also change the shape of your curve (step 3).
https://nustem.uk/wp/wp-content/uploads/2015/06/Plants-12.jpg
1238
1650
Joe Shimwell
https://nustem.uk/wp/wp-content/uploads/2017/02/logo-banner.png
Joe Shimwell
2015-10-16 05:58:59
2022-11-21 12:49:42
The Botanist
Scroll to top
Cookie and Privacy Settings
How we use cookies
We may request cookies to be set on your device. We use cookies to let us know when you visit our websites, how you interact with us, to enrich your user experience, and to customize your relationship with our website.
Click on the different category headings to find out more. You can also change some of your preferences. Note that blocking some types of cookies may impact your experience on our websites and the services we are able to offer.
Essential Website Cookies
These cookies are strictly necessary to provide you with services available through our website and to use some of its features.
Because these cookies are strictly necessary to deliver the website, refusing them will have impact how our site functions. You always can block or delete cookies by changing your browser settings and force blocking all cookies on this website. But this will always prompt you to accept/refuse cookies when revisiting our site.
We fully respect if you want to refuse cookies but to avoid asking you again and again kindly allow us to store a cookie for that. You are free to opt out any time or opt in for other cookies to get a better experience. If you refuse cookies we will remove all set cookies in our domain.
We provide you with a list of stored cookies on your computer in our domain so you can check what we stored. Due to security reasons we are not able to show or modify cookies from other domains. You can check these in your browser security settings.
Google Analytics Cookies
These cookies collect information that is used either in aggregate form to help us understand how our website is being used or how effective our marketing campaigns are, or to help us customize our website and application for you in order to enhance your experience.
If you do not want that we track your visit to our site you can disable tracking in your browser here:
Other external services
We also use different external services like Google Webfonts, Google Maps, and external Video providers. Since these providers may collect personal data like your IP address we allow you to block them here. Please be aware that this might heavily reduce the functionality and appearance of our site. Changes will take effect once you reload the page.
Google Webfont Settings:
Google Map Settings:
Google reCaptcha Settings:
Vimeo and Youtube video embeds:
Other cookies
The following cookies are also needed - You can choose if you want to allow them: