Science for Families
This resource is designed to accompany the Science for Families course delivered by NUSTEM or one of our partners. It's a six-week parent and child course delivered in primary schools.
You're welcome to use the resources for other purposes, but they might not make quite as much sense!
How cool is your little Cartesian Diver? It's amazing that you can make it float or sink with just a little squeeze of the bottle.
Knowing how things float and sink can be really useful, and there are loads of different ways to explore the idea. For example, using gas:
Sparkling drinks are fizzy because of a gas (carbon dioxide) that's dissolved in the water. The gas forms little bubbles which rise to the top, where they burst. If you put some raisins in a glass of sparkling water and watch what happens.
The tiny little dents and indentations in the side of the raisin give the gas something to form a bubble around. When the raisin has enough bubbles it can float up to the surface. The bubbles then pop, the raisin sinks and the whole merry dance begins again. Try making an artificial raisin out of blu-tac. Remember it's all the little tiny nooks and crannies that allow the bubbles to form. It's surprisingly difficult to get it to dance like the raisin, but it is possible, so keep trying!
A similar thing happens when you put Mentos sweets in a bottle of Coke. The tiny imperfections on the surface of the Mento acts as sites for bubbles to form. Lots of bubbles. Lots of bubbles. What, you've never put Mentos in Coke? Go outside and do it right now!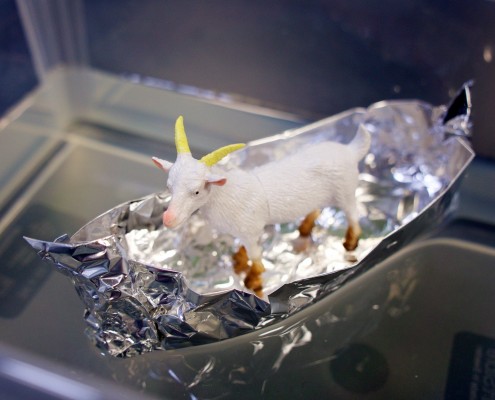 The key to being able to make things float is displacement. When a boat floats it shoves water out of the way – it displaces it. The displaced water weighs as much as the boat. But if the boat's too heavy for its size it can't displace enough water to balance out, and it sinks. This means you can build boats out of metal, as long as they're large enough to displace enough water to offset their weight.
You can have a go at boat design using kitchen foil and pennies. Make a boat shape from the foil, and check it floats. Then load it up with pennies. How many could you get in your boat before it sank?
Try a redesign, and try again. Remember, you want your boat to take up as much space as possible, so that it displaces a lot of water.
Another way to make your boat float is to make the water heavier.
Wait – what?
When you add salt to water and dissolve it, you are increasing the density of the water – it takes up the same space, but weighs more than it did. This is why it's easier to float when you're swimming in the sea than when you're in a pool, the sea is saltwater. If you're in the dead sea, which has an unusually high salt content, then you float very easily indeed.
You can test this out using a bowl of water and an egg. If you put an egg into a glass of tap water, it will sink. However, if you add a lot of salt and dissolve it in the water first, you can get the egg to float – a great trick to bamboozle your friends!
https://nustem.uk/wp/wp-content/uploads/2016/08/Science-for-Families-instr-50.jpg
3456
4608
James Brown
https://nustem.uk/wp/wp-content/uploads/2017/02/logo-banner.png
James Brown
2016-09-16 13:48:41
2019-02-15 14:17:57
Science For Families: Floating
Giraffe on a Raft is a workshop about understanding materials, making predictions, and running fair tests.
And giraffes. Don't forget the giraffes.
Nobody's entirely sure why the giraffes want to take a trip on the rafts. Perhaps they're trying to escape a flood, or maybe they're looking for adventure. You might come up with your own ideas while you're doing the workshop, but for now let's concentrate on what you do in the workshop.
Giraffe on a Raft has been created to help you explore the world around you, at around Key Stage 1. You'll practice reasoning skills to develop fair experiments, and from your observations you'll solve real problems. Real problems like:
Question
If a giraffe wants to travel on a raft, what sort of material should it make the raft out of?
Hmm. Perhaps not very real problems. But real enough for the plastic giraffe.
We provide you with the framework of a raft, a bunch of different materials, some test weights (washers) and an intrepid giraffe.
You have to work out what sort of tests to do, thinking about things like:
How you can make sure your test is fair?
Are you testing how long the raft floats for, or how much weight it can carry? Or both?
How will you record your observations?
How will each different material perform? Which do you think will be best? Why?
You'll find an awful lot of sinking and hopefully a bit of floating as well, as you explore why some materials are better than others for keeping giraffes afloat.
You might also find some surprises. What do you think might happen to a raft made out of brown paper?
By the end of the workshop you should have a really good idea of how different materials behave. Hopefully, you'll have made a firm recommendation to your intrepid giraffe, and will have floated it happily on your raft.
Parents – continue this at home
Nurturing your child's natural curiosity will help them practice key skills. At home, you could explore the idea of floating and sinking by making simple boats out of aluminium foil (aluminium food trays are particularly good). Try making boats of different designs, and test them in the bath or sink. Use toys to test how much weight they can carry.  Why are some designs better than others?
You could also explore whether some objects are buoyant – whether they float. Collect a bunch of things you don't mind getting wet, and together, make predictions about what you think will float, and what will sink. Then test out your predictions, and try to explain why you got some right, and others wrong.
"Tell me about…" is a particularly useful phrase. It's a less direct challenge than "Explain this…". Science is more about what you can observe and describe than what you already know.
Giraffes aren't engineers
That's true. Giraffes are odd animals, but they've never been observed in the wild building rafts. They don't even seem terribly interested in engineering.

However, the skills and processes you practice whilst doing Giraffe on a Raft, and the areas of science you're exploring, are similar to the work professional scientists and engineers do. For example:



Design, engineer and manufacture boats, ships, oil rigs… they care very much about what sorts of things float. They also sometimes care about the sorts of things that sink – naval architects design submarines, too!

If it's in the sea, oceanographers want to know about it. They study seawater, the polar ice caps, the atmosphere, and the biosphere. They work out how the oceans move, and how they're changing. Oceanographers might specialise in fishers, minerals and mining, pollution, weather and climate prediction, or renewable energy.

A lot of the raw materials we use come from the sea. Not just fish – everything from salt to magnesium. Chemical engineers work out how to extract and concentrate raw materials, then turn them into industrial materials we can use.

Zoologists and Marine Biologists

If it's the giraffe that interested you more than the raft, think about zoologists – who study animals – and marine biologists – who study fish and other sea creatures. They look at the animals and their environments: what they eat, how they interact, and almost certainly not how they make rafts.
https://nustem.uk/wp/wp-content/uploads/2015/01/Giraffe-on-a-Raft-13.jpg
1200
1600
Jonathan
https://nustem.uk/wp/wp-content/uploads/2017/02/logo-banner.png
Jonathan
2015-01-16 09:00:33
2017-05-18 15:09:33
Giraffe on a Raft
You'll find this activity all over the internet and in loads of science activity books, and this is a particularly nice film both illustrating it and exploring how you might use it as a family project. There's plenty to discuss around around why some things float and others sink, and hence the concept of density.
This is another film from the Royal Institution's excellent ExpeRimental series.
https://nustem.uk/wp/wp-content/uploads/2014/11/Homemade-lava-lamp-Science-with-children-ExpeRimental-2.jpg
720
1280
Jonathan
https://nustem.uk/wp/wp-content/uploads/2017/02/logo-banner.png
Jonathan
2014-11-11 11:59:38
2014-11-11 11:59:38
Homemade lava lamp
Scroll to top
Cookie and Privacy Settings
How we use cookies
We may request cookies to be set on your device. We use cookies to let us know when you visit our websites, how you interact with us, to enrich your user experience, and to customize your relationship with our website.
Click on the different category headings to find out more. You can also change some of your preferences. Note that blocking some types of cookies may impact your experience on our websites and the services we are able to offer.
Essential Website Cookies
These cookies are strictly necessary to provide you with services available through our website and to use some of its features.
Because these cookies are strictly necessary to deliver the website, refusing them will have impact how our site functions. You always can block or delete cookies by changing your browser settings and force blocking all cookies on this website. But this will always prompt you to accept/refuse cookies when revisiting our site.
We fully respect if you want to refuse cookies but to avoid asking you again and again kindly allow us to store a cookie for that. You are free to opt out any time or opt in for other cookies to get a better experience. If you refuse cookies we will remove all set cookies in our domain.
We provide you with a list of stored cookies on your computer in our domain so you can check what we stored. Due to security reasons we are not able to show or modify cookies from other domains. You can check these in your browser security settings.
Google Analytics Cookies
These cookies collect information that is used either in aggregate form to help us understand how our website is being used or how effective our marketing campaigns are, or to help us customize our website and application for you in order to enhance your experience.
If you do not want that we track your visit to our site you can disable tracking in your browser here:
Other external services
We also use different external services like Google Webfonts, Google Maps, and external Video providers. Since these providers may collect personal data like your IP address we allow you to block them here. Please be aware that this might heavily reduce the functionality and appearance of our site. Changes will take effect once you reload the page.
Google Webfont Settings:
Google Map Settings:
Google reCaptcha Settings:
Vimeo and Youtube video embeds:
Other cookies
The following cookies are also needed - You can choose if you want to allow them: