My name is Sam Rees and I am an A-level student from Whitley Bay High School doing a week of work experience here at Think Physics.
Sam was with us from 23rd-27th February. This is his placement diary – Jonathan.
Day one:
My first day: I was very excited to get a real insight into the daily work and life of a member of its team. Nervously I wandered through the, what seemed like, maze of corridors and doorways until I finally arrived at the Think Physics floor. I was then greeted by Annie as I arrived and led to the desk and laptop I would surely be using a lot throughout the week. To my surprise in the office I saw that Jamie, the other work experience member, was sitting in the office, and so I felt reassured that I would have someone just as new as I was in the colossal university. I then met Emma who gave me and Jamie a chance to share some information about ourselves and get to know the department a little better.
I knew that it was going to be a fun week as it was very friendly and made me feel right at home from the off. She then gave us a rundown of what our week would entail: electrical engineering lab sessions, lectures on the core principles of physics and much more. I then set off on my first task which was to create a physics quiz for kids that included a lot of wacky and fun questions, admittedly I found this hard as I felt like the content I was using was a lot harder than the level the kids would be at. I also got a chance to talk to a few more members of the team: Joe and Jonathan who were very warming and made the office a lot more fun. Before I knew it lunchtime had arrived, I travelled down to Granger market with Jamie and bought some food to fill me up for the rest of the day. We then ambled up to the university and headed back to the Think Physics office (it didn't feel like much of a maze this time) and finished completing the quiz. The whole day was very relaxed as I found my feet in what first felt like a daunting environment, however it was far from daunting once I got going.
Day two: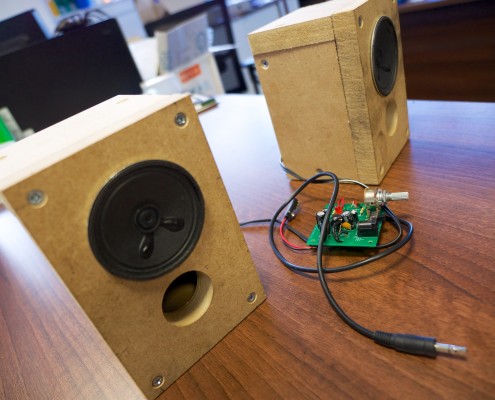 Still excited. I made my way up the long flight of stairs to the office and sat down to be told what my activities for the day would be. To my delight I was told I would be participating in an electronics practical activity all day where I would get to learn a lot of new things and try some new practical skills. I headed down with Jamie to the workshops and labs where there were a lot of workshops with exciting and cool looking experiments and practical's going on in them. I heading into the lab that I was going to be working in and got started on my task which was to create a pair of speakers that could be used. I started by soldering on the components to the circuit board; my soldering skills were a little bit rusty but I had got the hang of it again in no time.
I had to learn a new skill, unsoldering which was a little tricky to do but I still persevered and managed it in the end. After a little longer on the project we took a break and David showed us some of the renewable energy sources of the school including two wind turbines and some solar panels. Soon it was lunch time and I headed down to the Mexican food bar 'Zapatista' that everyone had been raving about, and it's fair to say I can understand why it's popular. Jamie and I headed back to the lab to continue with our project and started making the cabinet for the speaker to be housed in to ensure that the most efficient sound was being produced. We finally got the sound just right and it turned out by coincidence the holes David had drilled were near perfect size to allow the best sound quality. So with that I got my speakers screwed in and proceeded to test them out with my iPhone the result was some fairly decent speakers that I had made completely on my own. I really enjoyed the day and can't wait to be back in tomorrow.
Day three:
I felt completely settled in, I headed down to the lab where I would be doing practicals with Pietro and Gary, I received a lab script and chose an experiment to do. It was very interesting to see some of the topics we had been covering in class back at school being measured and tested in the lab script; some of it however did seem to look a little bit more complicated than what I had seen before.
The experiment I decided to do was one based upon the diffraction of light from a laser. It was an interesting experiment because it showed the phase difference of the light waves as they travelled from the laser to the screen. Jonathan then showed up to tell me that if I wanted I could go with him and Emma to a Northumbrian water sewage works, not the most glamorous place but I thought it would be a good experience…. I was right.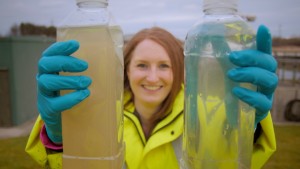 We arrived at the works after having a little bit of a struggle to find its location, to see that Emma and the woman we would be interviewing were already waiting for us. We received some rather funny boots and a coat to wear as we were expecting to film the interview outside where we needed to obey health and safety rules. Laura gave us a tour of the site where we learned a lot of new facts that we wouldn't have ever expected, such as: the water only takes 8 hours to be fully cleaned and put back in the river; this was very surprising as I thought it would take a lot longer. Next we moved onto the filming, I was holding up the microphone as Jonathan filmed and Emma asked the questions. This turned out to be a lot harder than I may have thought at first! The trip to the water works was extremely interesting and I had a great time, I never knew somewhere like that would be so interesting.
Day four:
The penultimate day of my placement and I was thoroughly enjoying it so far, I got into the office and saw that the two members of the team that I had not yet met, Sarah and Carol, were in so it was very nice meeting them. There were four very large boxes in the office and to my surprise Sarah told me that I would be with her making a rollercoaster out of K'Nex. We opened one of the boxes and looked at what seemed to be an ocean of small plastic components. We were set the seemingly impossible task of assembling a rollercoaster from no more than a few more small dark pictures of the finished product we were meant to have.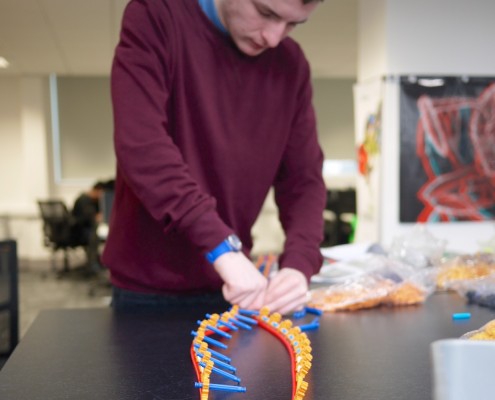 'Where do we start?' I thought looking around at all the different colours. However we soon got into the flow of things and had one of the parts assembled in about an hour, we then had to build the base of the roller coaster which proved even more difficult as the photo we had to work from was very small and a little blurry. So this is where me and Jamie used our skills and created our own base that would hold up the structure. Within 15 minutes we had a very sturdy base which we attached to the roller coaster. It was the moment of truth, would our beautifully coloured roller coaster work, we brought Jonathan in to film as we sent a small ball down, it had worked! This meant that we could now disassemble it and create instructions so that children could make it up when they used it in a workshop. We then got chatting with Jonathan and physics student volunteer Andrew about the physics around the roller coaster. It seemed like what looked like a simple plastic toy wasn't so simple at all when it came down to the physics of it.
Later that day Jamie wasn't feeling so good so unfortunately he went home. I then started working on a task Emma had set me which was to look up school prospectuses and decide whether or not they had a good section about taking physics as an A-level. While I was doing this task I couldn't help but notice what Andrew was doing… he seemed to be using some sort of device plugged in to his laptop that would give him a set of results which he could then plot. Jonathan then explained to me that he was planning to use Arduinos with a number of swinging pendulums and see what happens when he set them up to some sounds or lights, and whether the phase difference would create something melodic and soft, or something rather unorganised and disrupted. That is what Andrew was working on; he had some trouble but he eventually came bursting into the office rather excitedly saying 'I've got it to work!', he explained he still had a few slight problems but it was doing what he intended and was very pleased.
Soon it was time to go home and I was very happy with my day it was again a very fun and exciting one. That is what I love about being here, not one of my days has been the same, as I have been doing a selection of fun and exciting things each day.
Day five:
Sadly it is my final day at Think Physics as I have thoroughly enjoyed my time here.
I got the day started with an update to this blog and filling in some review sheets about the placement as a whole and how I found it… (Amazing as you can probably tell). Before I knew it lunch time had arrived and I had to go and get some food before my lab session with Pietro and Gary.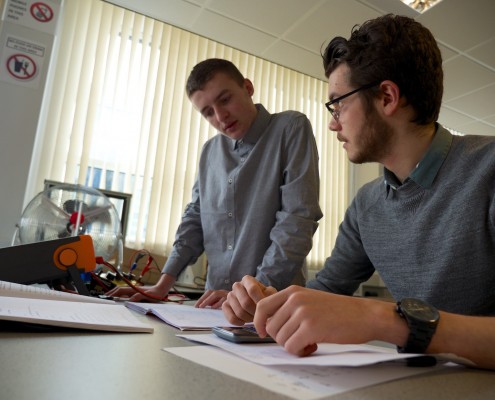 After lunch I headed down to the lab and took a seat amongst the undergraduate students and Pietro gave us a few tips on how to do the wind farm efficiency experiment that we were set. We got going and managed very well with the task there were a few pieces of equipment that were new to us but we managed to get the hang of them. It seems we did so well that even Pietro was impressed 'You already know everything, let's get you out in the industry now' he said… that made me laugh. After we had finished the experiment Pietro checked it and asked us if there were any specific areas of physics that we liked. I explained that I find astrophysics quite interesting. He proceeded to show me a hydrogen lamp that they have that allows you to see the light spectra emitted from the lamp, it was a very interesting piece of equipment which I wouldn't normally get to see or use. He then showed us a few more pieces of apparatus they have in the lab and explained the different types of physicists that exist. The lab session flew by as it seemed like not long after we started it was time to leave, Pietro gave me his email address and told me if I have any questions he would be happy to answer them. I headed down to the office to this; my last entry to my blog that I have been working on this week.
I'm so thankful that I got to experience what it's like here as I have gained some really valuable information from it. I also got to learn a lot about engineering which is the career path that I intend to go down; Emma has helped a lot in terms of showing me just how vast the array of jobs available in engineering are as well as letting me know the names of a few companies that are extremely good and might be worth looking at.
I would just like to thank the whole Think Physics team as well as David, Pietro and Gary for having me and helping me throughout my time here.
Best wishes
Sam
https://nustem.uk/wp/wp-content/uploads/2015/02/work-experience-7.jpg
1238
1650
Guest
https://nustem.uk/wp/wp-content/uploads/2017/02/logo-banner.png
Guest
2015-03-09 15:28:28
2015-03-09 15:33:21
Work Experience Diary: Sam Rees