Did you know that our eyes see different wavelengths of light as different colours? This box will allow you to split white light into the colours of the rainbow; reflect and direct light using mirrors; and investigate ultraviolet light and shadows.
This box could be used to help teach the light topics in Science for Year 3 and Year 6.
Year 3  Science: Light
recognise that they need light in order to see things and that dark is the absence of light
notice that light is reflected from surfaces
recognise that light from the sun can be dangerous and that there are ways to protect their eyes
recognise that shadows are formed when the light from a light source is blocked by an opaque object
find patterns in the way that the size of shadows change.
Year 6 Science: Light
recognise that light appears to travel in straight lines
use the idea that light travels in straight lines to explain that objects are seen because they give out or reflect light into the eye
explain that we see things because light travels from light sources to our eyes or from light sources to objects and then to our eyes
use the idea that light travels in straight lines to explain why shadows have the same shape as the objects that cast them.
Changing shadows demonstration kit
LED light sources
Convex/concave mirrors
Rechargeable torches
Perspex prisms
 UV lights
Colour mixing models
Download the complete contents list here.
Our loans boxes are free for our partner schools: contact us to make arrangements.
The Primary Science Teaching Trust has some additional careers links you may like to look at. These are called "A scientist just like me" and introduce children to a diverse range of scientists.
The downloadable power point relevant to this box is laser physicist Professor Colin Webb.
https://nustem.uk/wp/wp-content/uploads/2019/09/1200092light-loans-box-3.jpg
3267
4608
Sonia Singh
https://nustem.uk/wp/wp-content/uploads/2017/02/logo-banner.png
Sonia Singh
2019-09-06 12:30:22
2022-05-30 19:24:50
Light
What is an optical engineer?
An optical engineer researches and develops new technologies related to the science of light, which is called optics. So they'll study how light behaves, how you can manipulate it using lenses and mirrors, and how the colour of light affects its properties. They'll then apply that knowledge to sight and vision problems, or in electronic systems and equipment.
Optical engineers might design lasers, build telescopes, create fibre-optic communications systems; or they might work with microscopes, computer chips, or consumer electronics. Or they might work in healthcare, understanding the human eye.
Attributes: observant, hard-working, committed
The light we see is made up of the different colours of the spectrum. We see light split up into it's different colours when we see a rainbow.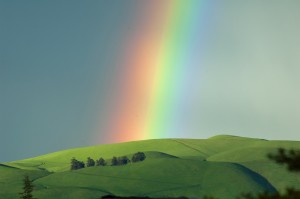 Each colour absorbs some light, but we only see the colour light reflected back to us. So while it is still, each area of felt tip pen on our spinner reflects a different coloured light back to us. When the spinner is moving, it is turning too quickly for your eyes to tell which area of felt tip pen each colour is coming from. Our eye  treats this like all those different colours of light are coming from the same place. So it sees it as white.
You could try making a spinner at home by watching the video. What happens when you try different colours?
Do try this at home: make a kaleidoscope
How does a kaleidoscope work?
The tube of a kaleidoscope contains mirrors. If there are three mirrors, this generates a pattern based on repeating triangles, if there were 4 mirrors the pattern would be based on rectangles and so on. One end of a kaleidoscope has the object chamber, which contains the shiny objects to be reflected. The object chamber must not only keep the objects contained, but allow light through to illuminate the chamber. The other end of the kaleidoscope has the viewing hole.
When you look through the hole, light filters through the object chamber and passes through or bounces off the shiny objects. The light then reflects off the mirrors, bouncing down the tube of the kaleidoscope until it emerges through the viewing hole, into your eye. Every reflection the light goes through adds a layer to the image you see. As you turn the kaleidoscope, the objects move in the chamber and the reflections change, which creates new patterns.
We came across this lovely activity to make rainbow light patterns using a CD. You'll need strong, direct sunlight for a strong effect, so seize your moment in the five minutes of summer we get in the North-East.
Rainbow by William Welch (CC-BY from Flickr)
A zoetrope is a cylinder with a series of pictures on the inner surface, which you view through slits. When the cylinder spins, you get the impression that the images are continuous and moving. It's very similar to an old-fashioned film projector, but with the movie on a loop.
Zoetropes work because the human brain is astonishingly good at recognising movement. So much so that it sees 'movement' even when there isn't any. So if your eye sees a sequence of still images, your brain merrily glues those together as a movie. You see this every time you watch TV, go to the movies, or work with a computer screen or phone.
To make your own zoetrope, follow this guide from the CBBC Art Ninja.
To find out more about how it works, watch the video below… which will also tell you how to say 'zoetrope'. Always tricky, that one.
https://nustem.uk/wp/wp-content/uploads/2015/02/kaleidoscope-poster.jpg
1080
1920
Melanie Horan
https://nustem.uk/wp/wp-content/uploads/2017/02/logo-banner.png
Melanie Horan
2019-04-16 10:56:39
2019-10-25 15:02:17
The Optical Engineer
Scroll to top
Cookie and Privacy Settings
How we use cookies
We may request cookies to be set on your device. We use cookies to let us know when you visit our websites, how you interact with us, to enrich your user experience, and to customize your relationship with our website.
Click on the different category headings to find out more. You can also change some of your preferences. Note that blocking some types of cookies may impact your experience on our websites and the services we are able to offer.
Essential Website Cookies
These cookies are strictly necessary to provide you with services available through our website and to use some of its features.
Because these cookies are strictly necessary to deliver the website, refusing them will have impact how our site functions. You always can block or delete cookies by changing your browser settings and force blocking all cookies on this website. But this will always prompt you to accept/refuse cookies when revisiting our site.
We fully respect if you want to refuse cookies but to avoid asking you again and again kindly allow us to store a cookie for that. You are free to opt out any time or opt in for other cookies to get a better experience. If you refuse cookies we will remove all set cookies in our domain.
We provide you with a list of stored cookies on your computer in our domain so you can check what we stored. Due to security reasons we are not able to show or modify cookies from other domains. You can check these in your browser security settings.
Google Analytics Cookies
These cookies collect information that is used either in aggregate form to help us understand how our website is being used or how effective our marketing campaigns are, or to help us customize our website and application for you in order to enhance your experience.
If you do not want that we track your visit to our site you can disable tracking in your browser here:
Other external services
We also use different external services like Google Webfonts, Google Maps, and external Video providers. Since these providers may collect personal data like your IP address we allow you to block them here. Please be aware that this might heavily reduce the functionality and appearance of our site. Changes will take effect once you reload the page.
Google Webfont Settings:
Google Map Settings:
Google reCaptcha Settings:
Vimeo and Youtube video embeds:
Other cookies
The following cookies are also needed - You can choose if you want to allow them: