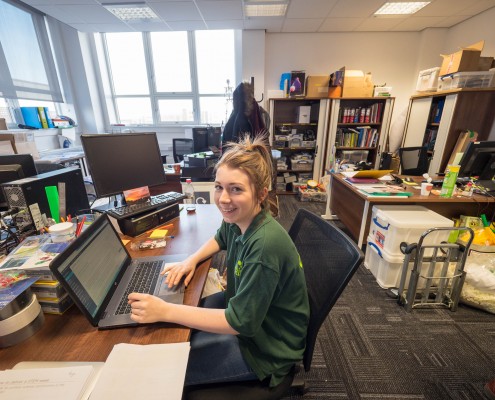 My name is Rebecca; I am a year 12 student studying Maths, Chemistry and Geography. I decided to do my week work experience with Think Physics because I believe not enough information is given to students about studying and finding a career in STEM. I am the only female in my AS Chemistry class, illustrating perfectly the lack of students, particularly girls, engaging in STEM and why the work done at Think Physics is so important.
As an A-level student not studying Physics, I thought I had waved any hope of a career in engineering goodbye, but within an hour of my arrival at Think Physics Emma had already given me hope by bringing the idea of a foundation year to my attention. Something I had never thought of before, options were opening already – a brilliant start to the week. After meeting the team and settling into the office I began my research into foundation degrees, Think Physics and wind power.
My first morning was spent researching a pharmaceuticals company called MSD which has a site in Cramlington, now home to two 130m high wind turbines. Due to the nature of the A levels I had chosen to take I don't get much opportunity to do my own research into an area so the task allowed me to build up my weaker research skills as well as find out about a fascinating company and renewable energy (a field I had been considering).  Soon it was time for lunch and some surprisingly good cafeteria food as well as a sit down in the staff lounge. Next up, going to help bring back giant tool box trolleys from a shop in town for a workshop later on the week, although it admittedly did look slightly odd three people speed walking through town with giant wheely tool boxes. The afternoon was spent packing up lots of electrical equipment into those giant tool boxes.
Tuesday was the most exciting day of the week, arriving at 9am dressed in Think Physics green, today was a day of workshops. First up, mechanical engineering with a year 5 group who made little robots. Despite children being one of my biggest fears, it was an incredibly enjoyable morning helping them to create their robotic orchestra. In the afternoon I got to go back to my own school as they were running an after school club with Think Physics for younger year groups. It was great to see how intelligent they were and how confident they had become with the electrical components used to make a chain reaction of structures they had designed – something alien to me. They all seemed to really enjoy it and I did too.
The next morning I began with some more research and blog writing. The office was a lovely work environment and felt very comfortable. That afternoon I was inputting some data for the team from some year 3 questionnaires which I found quite fascinating. It even inspired a project I intend to take up next year studying what happens throughout their time in school to put girls off science. When inputting the data I found that generally, many of the girls said they really liked science and were really good at it, which made me think about why is it that they don't carry on and develop careers in science as much as boys will do. As I finished a bit early, I helped to make some windmills to be used later on in the week for a workshop about wind power.
Thursday, my favourite day of the placement, saw the team in a day of meetings to review the proje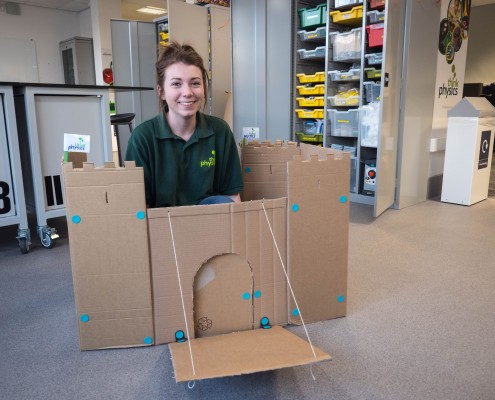 ct, so I was given the important task of creating a makedo example. This for me was a perfect opportunity to spend two hours making a rather large cardboard castle complete with an impressive opening door and working drawbridge. This was by far the highlight of the week for me and I was quite impressed and proud of the finished product. At this point a surprising amount of babies joined the team briefly. After dinner I started to cut out extra propellers for our wind workshop the next day.
An early start on Friday saw me at 8am en route to Excelsior Academy where the wind power workshop was to take place. The workshop involved calculating the power needed to put on a music festival and how to generate that electricity in an environmentally-friendly way, this is where the windmills come into things. The groups got to create small wind turbines and test them using a fan to see if they could life a weight. They then tried to modify the design to make it as efficient as possible. It was a fun way of looking at renewable energy and how it can affect us all even if we don't necessarily think it does.
This week has been incredibly useful for me and a great experience. I really feel like I have gained a lot out of the placement in a really interesting project. I would love to come back and do it again. Although I was pretty nervous before starting the week as I wasn't a physics student, the team have been very welcoming and adapted to my interests and shown me it isn't just about doing physics, it is about the importance of engineering and wider STEM and giving young people the experience and information to get them to be excited about the endless career opportunities STEM creates. I highly recommend this placement to any science student willing to work hard and wanting to gain from their experiences.
https://nustem.uk/wp/wp-content/uploads/2016/02/Rebecca-4.jpg
2322
3096
Rebecca Cowley
https://nustem.uk/wp/wp-content/uploads/2017/02/logo-banner.png
Rebecca Cowley
2016-02-12 16:05:55
2016-02-12 16:05:55
My Work Experience Week