We're always looking for new ways to engage different audiences, and this winter our Family Space Explorers project is doing just that. Funded by the UK Space Agency, we're engaging young children and their families with space science through STEM story workshops and hands-on activities in libraries across the north east.
Why families?
As a project, we believe that one way of addressing the STEM skills shortage is through long-term interventions. We want STEM conversations happening at home, amongst young families, so that when children later come to make career-critical subject choices they already have a wealth of experience and family support to guide their decisions. The Family Space Explorers workshops are aimed at children aged 2-5, along with their families. They're carefully planned to help parents and carers build their confidence in exploring science and engineering topics with their child.
Why libraries?
Most of NUSTEM's work is delivered via our partner schools, which are drawn from the local area. For some families, entering a school can itself be a barrier to engagement. Working in local libraries and community centres (along with schools!), in areas of higher socio-economic deprivation, we hope to reach a greater number and variety of families.
The Workshops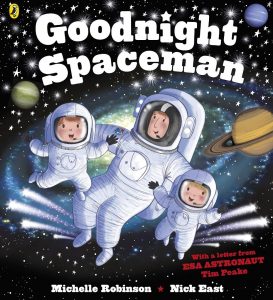 We've developed two workshops, each with activities linked to books for young children. The sessions are each 45 minutes long and involve shared reading and activities. At the end of each session, participants get to keep a copy of the book, so they can continue the reading and activities at home.
Choosing the stories was difficult. We aim to embed diversity and equality throughout our work, and it was tricky to find stories that had strong female lead characters. In book after book we found male characters (children and adults) heading into space… with very little representation from female characters.
We chose "Goodnight Spaceman" because of its charming story and strong links to the UK Space Agency. We also wrote our own book, "Are we nearly there yet?" to explore space exploration through non-fiction, which allowed us to cast a female lead character in the shape of a robot explorer. We also put together a list of other good STEM stories, which you can find at our Family Space Explorers page.
Linking activities
It's important that our workshops can be repeatable by families at home – we want the interventions to continue beyond the end of the workshop. In the workshops, families use Duplo to build their own version of a space rocket to travel to the International Space Station, and a rover to explore the surface of Mars. The simplicity of the activities enable parents to continue constructive play at home, and to adopt similar approaches with other stories.
Supporting local schools
We're sending a copy of our book to schools across the region, and inviting teachers and educators who work with young children to attend our two free training sessions. These sessions will equip teachers to deliver the sessions in their own schools.
How to get involved
We have a number of sessions booked into our calendar over the next few months. If you have children aged 2-5 and you'd like to attend, click here to view upcoming sessions and find details of how to book onto the events.
https://nustem.uk/wp/wp-content/uploads/2017/10/Curiosity-selfie.jpg
2949
4841
Joe Shimwell
https://nustem.uk/wp/wp-content/uploads/2017/02/logo-banner.png
Joe Shimwell
2017-11-20 08:30:27
2017-11-17 17:03:59
Family Space Explorers