Mini Mangonel
Tinkering
&

flinging mechanism

Jonathan Sanderson
NUSTEM, July 2021
A simple catapult design that's as easy to make as possible, uses cheap materials, and lends itself to exploratory improvement. Great as an end-of-term activity for a class, at home on a rainy afternoon, or for big drop-in events as and when we can think of doing things like that again.
Tinkering
We've written previously about 'tinkering': exploring mechanisms and engineering through experimental play. The idea isn't new, but thinking about the value of tinkering in both formal and informal learning settings has been spearheaded recently by The Tinkering Studio at the Exploratorium in San Francisco. They've done some fabulous work over the years, which has been highly influential in visitor centre circles – not least here in Newcastle, where both the Discovery Museum's Play+Invent Space and Life Science Centre's Maker Studio have very much drawn on the ethos of tinkering.
Learning through mistakes
There are many descriptions of what tinkering entails; mine goes like this:
If you have a thing in mind, you're making. The destination might be something you've chosen to build, or something you're following instructions for – the common feature is that there's a destination.
If you're truly exploring, just putting things together and seeing what happens – that's tinkering.
Central to this is that in tinkering activities, the participant fully expects to fail. As educators we often talk about 'learning through mistakes,' but it's hard to achieve in practice: in most situations when you're making something, failing to reach your intended destination is frustrating. If you're genuinely exploring, however, an interesting failure might point you in a new direction.
It's very common for tinkering play to prompt a solid idea, and to transition seamlessly into making: "If I put this together like this, I could… ooh, I could make one of these!"
What's much less common is going from a making activity back to tinkering. Which is what we set out to do with these catapults.
"Mangowhat?"
The truth is, I'm not completely convinced my understanding of siege engine terminology is correct. But I'm reasonably certain that the type of mechanism employed here is a 'traction trebuchet' or 'mangonel.' It isn't an onager, springald or ballista.
Catapults – I think – are the generic class of device: all the weird and wonderful pieces of engineering named above are types of catapults. Except maybe the ballista.
Further down the page you'll find a handy A4 page you can print off which has all the detail you need – we've done this activity with many hundreds of people and found this set of pictures adequate.
Are they perfectly clear? No. But that's sort-of the point. The mechanism is simple enough that most people can puzzle their way through. They might make a few mistakes along the way, but they'll observe other people's constructions and work out what they've done wrong. That practical experience of trial-and-error is what this activity is all about, so while we did at one point make some clearer instructions… we threw them away again, and went back to these.
Materials
A paper cup
Two pieces of cardboard. One about 6×6 centimetres, the other 6×3.
A plastic or wooden disposable spoon.
Some masking tape.
A single rubber band, about as large as the base of your cup.
Preparation
Tape the square of card to the base of the cup.
You also need to fix the spoon to the other piece of card. We like glue guns for this, but tape will do if necessary. There are many ways of getting this wrong, which you may or may not find out.
Hinge
This is the fiddly bit. At the end of it, you should have a flappy masking tape hinge with the card and spoon moving freely. This… may not happen the first time you try.
Elastic power!
Stand the cup up, and slip the elastic band around the cup and spoon.
Done! (…for now)
Firing your catapult, and rules
What and how to fire
You can launch anything light – wadded up newspaper works well, as do those little fluffy chicks you can get at Easter. But our preference is a standard table tennis ball:
It's really fiddly to launch one, and we don't want this activity to be too easy.
They fly in a nice arc, rather than slowing down and falling with a thud.
They're (sort-of) a standard size and weight, which makes comparison easy.
The tricky part is keeping the ball balanced while you pull the spoon back. Our preferred technique is to hold the spoon horizontal and tip the cup forwards, but we've found some people's sense of what's right and proper with catapults is offended by that. So try a few things out and see what works for you.
With a little practice, you should find that your ball flies in a nice arc and lands up to about a metre away. Success!
For some people, this is achievement in itself: in the space of a few minutes they've made a delightful little mechanism which works. Maybe they've fiddled with the hinge to get it to move right, or they stuck the wrong bit down, worked out what they'd done, and had to start again. Great. Well done.
But…
The Challenge
Modify your catapult to launch a table tennis ball as far as you can. Rules:
Measure to where the ball first lands, not where it rolls to.
You're only allowed one loop of elastic band around the spoon.
There's no rule three.
The 'one loop of elastic' rule is there for several reasons. Firstly, it's where the challenge comes in: if you load up a zillion elastic bands you can fling a ping-pong ball basically as far as you like. Too easy. Also, it's a safety issue: you want to be absolutely sure that the elastic band will break (twanged knuckles: ouch, but you'll recover) rather than the teaspoon (shards of sharp plastic flying in all directions).
When we're running this at a large-scale event, we'll try to arrange a firing range of at least 9 metres. Yes, really.
Things to try
We don't want to say too much here, because the whole point is to explore for yourself and figure things out. But we prompt groups with questions like:
The elastic band's clearly the source of power, and it's weedy. If you can't wind it around more times (see rules, above), how can you make it tighter?
Spoiler (click to reveal)
The choice of tapered paper cups and the setup of the spoon/hinge is very deliberate: the elastic band rolls down the taper, which reduces both the band tension and the distance of the point of application of force from the hinge. Very few children spot this themselves, but almost everyone will subconsciously roll the elastic band back up the cup after launching. Astonishingly, most people's intuition here is better than their cognition: they'll be telling the facilitator they  'can't think what to do' to improve their catapult even while their hands are solving the most glaring problem for them.
Coaching a group to spot this for themselves is one of the great joys of running the activity.
The harder you throw something, the further it goes. So what sorts of things can you do to make the launch faster? A more taut elastic band, yes, but what else?
If you throw a ball parallel to the floor, it'll go some distance. If you throw it straight up, it'll hit you in the head. Somewhere in between… ah. What can you observe about the angle at which the ball is released? What might you do to control that?
Records
We've tried enough different elastic bands and table tennis balls that our results aren't strictly comparable between sessions. But for reference:
~1m is normal for an unaltered design. If yours always go further than this, try to find some less good elastic bands: if the first launch is too good, there's less incentive to look for improvements.
Very simple tweaks (literally one piece of tape) can get you into the 2-3m range.
4m+ is achievable by most ages, in maybe half an hour.
6m is challenging. Not least because accuracy starts to factor (if your firing range is 1m wide that's quite a narrow range of release angles). Also: the tape hinges don't last forever, and by the time groups have got to 4m or so their initial designs will be starting to fall apart.
7m is good going.
8m takes perseverance, and a little luck with aiming. There's a real sense of achievement and celebration.
9m has been done, often by some highly elaborate modifications. But in one case, by something only very lightly changed from the original design.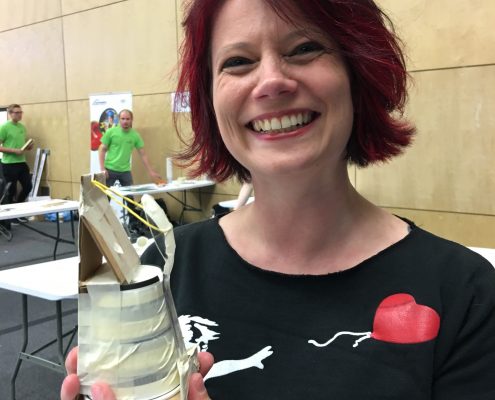 To give you some idea, here's Dr. Emma King of the Royal Insitution with her design, which achieved 8.74m in June 2016.
Emma's degree is in astronautics (space engineering), which may constitute cheating.
Running this as an activity
What we've done
While we have used this activity in school settings, we've more commonly used it for big drop-in events, like careers fairs and open days.
We've typically set up a glue-gun station which we can keep a close eye on, and several working tables with stocks of cardboard, scissors and masking tape. It's good to have groups of people working alongside each other – often, they'll iterate on each others' designs collaboratively.
Separate from the work tables we've then had a long set of trestle tables as a 'firing range', with a tape measure stretched out, marks at 1m intervals, and a very clear start point. If your room has a high ceiling you'll need 8 or so metres of tables (!).
We'll only count balls which land on the firing range, and it's really important that whoever's staffing it shouts the distance clearly before anyone else can exaggerate it. We've sometimes had a leaderboard (cardboard strips, a sharpy, map pins, and a poster board).
What's worked for us
At drop-in events like open days, we've set up working areas for about 30 participants at once (coming and going constantly), and three staff have been able to manage that reasonably well. A fourth is helpful. People might spend just a few minutes making the basic catapult, or they might dwell for several hours (!) honing their design, trying something different, experimenting, and determined to improve.
What's worked less well for us
School classrooms can work, but you often have to launch on the floor to eek out that extra bit of ceiling height. If you're like us, this is problematic for knees. Chasing ping-pong balls is particularly awkward.
The biggest challenge we've had has been some facilitators thinking of the activity as a 'make and take', and literally packing children off as soon as they've made a working catapult. Sometimes this is about capacity – if there are thousands of people at an event, you can argue it's better to spread the activity thinly across more of them. But at other times it's been a missed opportunity. In many ways this is a training issue, but we've found that 'the tinkering mindset' is sometimes hard to convey. More experienced facilitators and teachers are sometimes so well-versed in coaxing 'success' out of their students that they struggle instead to prompt for observation, 'what if' conceptualisation, and experimentation.
In Schools…
The biggest challenges in a school setting would be about the physical space: you really want a high ceiling, a long firing range, and plenty of standing-height table working areas. We've run it in a standard classroom with parent/child groups and it's worked well enough, but a hall would be better.
Stating the obvious
Do make sure you've made a working catapult yourself. It helps to have a few working examples to show around, so participants can compare theirs with a functional example. But mostly, you need to check you have a combination of components that works. Problems can include:
Particularly floppy paper cups. Don't try with plastic cups, they're too flimsy (not to mention the resource use issue).
Rubbish spoons. Some cheap plastic spoons are just terrible. We've moved to wooden spoons from a catering supplier.
Elastic bands either too long (not enough stretch to work at all), or too short/thick (immediately launch the ball into the next room).
Hopeless sticky tape from the business-mandated office supplies company. Masking tape works, is easy to cut or tear, and is much more pleasant to work with than nasty sticky tape.
Downloadable PDF instruction sheet
You're very welcome to download this instruction sheet, print it off, and use it for your own activities. Almost nobody ever reads the text, but they seem to do well enough from the pictures.
Alom's Book!
Our friend Alom Shaha has a new book (July 2021) called Mr. Shaha's Marvellous Machines. It's full of mechanisms you can make using materials you genuinely have lying around at home, including a version of this mangonel.
In this film he show us his version. Fame at last!
https://nustem.uk/wp/wp-content/uploads/2016/06/Catapult-Make-3.jpg
3456
4608
Jonathan
https://nustem.uk/wp/wp-content/uploads/2017/02/logo-banner.png
Jonathan
2021-06-20 22:34:44
2021-06-21 20:10:08
Mini Mangonel
Do you want to learn how to use levers, pulleys, gears and pneumatics to manoeuvre objects more easily? This pack has the mechanisms required to allow a small force to have a great effect.
The resources in the box can be used to teach the gears, pulleys and levers aspects of the Year 5 science curriculum. This box can also be used to deliver the mechanical systems aspects of the Key Stage 2 Design Technology curriculum
See also our page on levers, pulleys and gears for Ks1 and 2.
Year 5 Science: Forces – recognise that some mechanisms, including levers, pulleys and gears, allow a smaller force to have a greater effect.
Key Stage 2 Design Technology
Design- generate, develop, model and communicate their ideas through discussion, annotated sketches, cross-sectional and exploded diagrams, prototypes, pattern pieces and computer-aided design
Make- select from and use a wider range of materials and components, including construction materials, textiles and ingredients, according to their functional properties and aesthetic qualities
Evaluate- evaluate their ideas and products against their own design criteria and consider the views of others to improve their work
Technical knowledge – understand and use mechanical systems in their products [for example, gears, pulleys,
cams, levers and linkages]
Everyday objects for sorting
Pre-cut card levers
Pneumatics pack
Levers book set
Gears class set
Wooden pulleys
Cam packs
Download the complete contents list here.
Our loans boxes are free for our partner schools: contact us to make arrangements.
The Primary Science Teaching Trust has some additional careers links you may like to look at. These are called A scientist just like me and introduce children to a diverse range of scientists.
The downloadable power points relevant to this box are mechanical engineers Rafsan Chowdhury and Danial Azahan. See also chartered civil engineer Kath Waring.
https://nustem.uk/wp/wp-content/uploads/2019/09/1200095levers-loans-box-5.jpg
3278
4608
Sonia Singh
https://nustem.uk/wp/wp-content/uploads/2017/02/logo-banner.png
Sonia Singh
2019-09-06 12:31:40
2022-05-30 19:19:06
Levers
Welcome! This page has been consistently popular, so we've written an expanded version. Click the button!
Simple mechanisms have been part of the primary DT curriculum for some time. However, levers, pulleys and gears are now also in the primary science curriculum.
Here at Think Physics, we've a few suggestions about how primary teachers can link DT and science to develop cross-curricular themes.  We started by looking at the science behind the three simple machines and then considered how to develop the science using the DT principles of Design, Make, Evaluate.
This included thinking about how we could use a coat hanger catapult to help the Gingerbread man across the river and how to get tomatoes down a hillside in Nepal using pulleys.
We've developed a CPD session which works through our ideas, and you are welcome to make use of the resources from the session.
Levers, pulleys and gears presentation
Household objects card-sort
Catapult building instructions
Useful links:
Clipbank. A short video of acrobats using a big lever to launch themselves into the air.
Imagination Factory. A resource which supports the teaching of simple machines with lots of simple practical ideas.
Squashed tomato challenge.  An activity from Practical Action. Help your students see the real life use of the science they have been learning about.  Excellent for STEM days and works for a wide age range.
Paper animations from Rob Ives. (£). A site all about paper animations for you and your students to build.  Great to extend your keen students.
Heath Robinson machines (UK) or Rube Goldberg machines (USA). These can be described as complicated machines to solve simple tasks. Building one of these machines as the final activity of a unit on simple machines would be a good challenge for  your pupils.
Here is a lovely video by OK Go  showing a Rube Goldberg machine  – though I don't expect your pupils to be quite so complex.
This site from Connections Academy has some useful ideas about what your machines might include.
https://nustem.uk/wp/wp-content/uploads/2015/01/2015-01-05-16.14.49-scaled.jpg
2560
1912
Carol
https://nustem.uk/wp/wp-content/uploads/2017/02/logo-banner.png
Carol
2015-01-12 12:30:01
2021-02-24 00:56:36
Simple Mechanisms for Primary: Levers, Pulleys and Gears
Scroll to top
Cookie and Privacy Settings
How we use cookies
We may request cookies to be set on your device. We use cookies to let us know when you visit our websites, how you interact with us, to enrich your user experience, and to customize your relationship with our website.
Click on the different category headings to find out more. You can also change some of your preferences. Note that blocking some types of cookies may impact your experience on our websites and the services we are able to offer.
Essential Website Cookies
These cookies are strictly necessary to provide you with services available through our website and to use some of its features.
Because these cookies are strictly necessary to deliver the website, refusing them will have impact how our site functions. You always can block or delete cookies by changing your browser settings and force blocking all cookies on this website. But this will always prompt you to accept/refuse cookies when revisiting our site.
We fully respect if you want to refuse cookies but to avoid asking you again and again kindly allow us to store a cookie for that. You are free to opt out any time or opt in for other cookies to get a better experience. If you refuse cookies we will remove all set cookies in our domain.
We provide you with a list of stored cookies on your computer in our domain so you can check what we stored. Due to security reasons we are not able to show or modify cookies from other domains. You can check these in your browser security settings.
Google Analytics Cookies
These cookies collect information that is used either in aggregate form to help us understand how our website is being used or how effective our marketing campaigns are, or to help us customize our website and application for you in order to enhance your experience.
If you do not want that we track your visit to our site you can disable tracking in your browser here:
Other external services
We also use different external services like Google Webfonts, Google Maps, and external Video providers. Since these providers may collect personal data like your IP address we allow you to block them here. Please be aware that this might heavily reduce the functionality and appearance of our site. Changes will take effect once you reload the page.
Google Webfont Settings:
Google Map Settings:
Google reCaptcha Settings:
Vimeo and Youtube video embeds:
Other cookies
The following cookies are also needed - You can choose if you want to allow them: