Did you know that our eyes see different wavelengths of light as different colours? This box will allow you to split white light into the colours of the rainbow; reflect and direct light using mirrors; and investigate ultraviolet light and shadows.
In Year 3, pupils can use the equipment in the box to explore what happens when light reflects off a mirror or other reflective surface, and to play mirror games to discover how light behaves. They can use the shadow kit to find out how shadows are formed and what causes them to change, by looking for patterns in how a shadow responds when the light source moves.
Year 6 could use the equipment to solve real-life problems, such as where to place rear-view mirrors on cars, or designing and making a periscope. They could explore how light travels in straight lines, and use that idea to explain how their inventions work. They might investigate the relationship between light sources, objects and shadows by using the shadow kits. They could extend their experience of light by looking at a range of phenomena, using the colour filters, optical illusion kits, and ultraviolet light equipment.
NUSTEM Notepad x1
Optical secrets sheet x1
Drawing glow in the dark magic light set x1
Pot of 250 UV beads x1
6pcs changing shadows demonstration kit x1
UV mini lantern x2
Optical secrets kit x2
LED light sources x3
10pcs plastic convex/concave mirror x3
Colour mixers x5
Perspex prism x10
Magic light pen with UV light x17
Double sided plastic mirrors x30
Colour mixing glasses x2
Light book set
Our loans boxes are free for our partner schools: contact us to make arrangements.
Boxes for Early Years
https://nustem.uk/wp/wp-content/uploads/2019/09/1200092light-loans-box-3.jpg
3267
4608
Sonia Singh
https://nustem.uk/wp/wp-content/uploads/2017/02/logo-banner.png
Sonia Singh
2019-09-06 12:30:22
2019-11-07 10:28:37
Light
What is an optical engineer?
An optical engineer researches and develops new technologies related to the science of light, which is called optics. So they'll study how light behaves, how you can manipulate it using lenses and mirrors, and how the colour of light affects its properties. They'll then apply that knowledge to sight and vision problems, or in electronic systems and equipment.
Optical engineers might design lasers, build telescopes, create fibre-optic communications systems; or they might work with microscopes, computer chips, or consumer electronics. Or they might work in healthcare, understanding the human eye.
Attributes: observant, hard-working, committed
The light we see is made up of the different colours of the spectrum. We see light split up into it's different colours when we see a rainbow.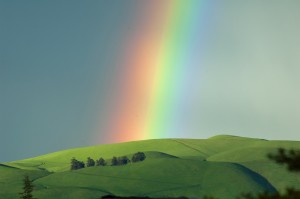 Each colour absorbs some light, but we only see the colour light reflected back to us. So while it is still, each area of felt tip pen on our spinner reflects a different coloured light back to us. When the spinner is moving, it is turning too quickly for your eyes to tell which area of felt tip pen each colour is coming from. Our eye  treats this like all those different colours of light are coming from the same place. So it sees it as white.
You could try making a spinner at home by watching the video. What happens when you try different colours?
Do try this at home: make a kaleidoscope
How does a kaleidoscope work?
The tube of a kaleidoscope contains mirrors. If there are three mirrors, this generates a pattern based on repeating triangles, if there were 4 mirrors the pattern would be based on rectangles and so on. One end of a kaleidoscope has the object chamber, which contains the shiny objects to be reflected. The object chamber must not only keep the objects contained, but allow light through to illuminate the chamber. The other end of the kaleidoscope has the viewing hole.
When you look through the hole, light filters through the object chamber and passes through or bounces off the shiny objects. The light then reflects off the mirrors, bouncing down the tube of the kaleidoscope until it emerges through the viewing hole, into your eye. Every reflection the light goes through adds a layer to the image you see. As you turn the kaleidoscope, the objects move in the chamber and the reflections change, which creates new patterns.
We came across this lovely activity to make rainbow light patterns using a CD. You'll need strong, direct sunlight for a strong effect, so seize your moment in the five minutes of summer we get in the North-East.
Rainbow by William Welch (CC-BY from Flickr)
A zoetrope is a cylinder with a series of pictures on the inner surface, which you view through slits. When the cylinder spins, you get the impression that the images are continuous and moving. It's very similar to an old-fashioned film projector, but with the movie on a loop.
Zoetropes work because the human brain is astonishingly good at recognising movement. So much so that it sees 'movement' even when there isn't any. So if your eye sees a sequence of still images, your brain merrily glues those together as a movie. You see this every time you watch TV, go to the movies, or work with a computer screen or phone.
To make your own zoetrope, follow this guide from the CBBC Art Ninja.
To find out more about how it works, watch the video below… which will also tell you how to say 'zoetrope'. Always tricky, that one.
https://nustem.uk/wp/wp-content/uploads/2015/02/kaleidoscope-poster.jpg
1080
1920
Melanie Horan
https://nustem.uk/wp/wp-content/uploads/2017/02/logo-banner.png
Melanie Horan
2019-04-16 10:56:39
2019-10-25 15:02:17
The Optical Engineer
Light Wall
NUSTEM's interpretation of an Exploratorium classic
The Exploratorium in San Francisco have a magnificent Tinkering Studio. It's a space where educators, artists and engineers collaborate to produce beautiful, thought-provoking, and just plain fun activities and installation pieces.
One of their classics is Light Play, a wall of frosted screens back-lit with weird and wonderful shadows interacting with the light, with colour filter, and with the screens. It's a tremendous activity, particularly good with younger children and family groups. One aspect we particularly like is the way it fosters a sense of collaboration and contemplation. If you're working on the arrangement of materials behind the screen, you can't really see what effect you're having, since that's only properly evident from in front of the screen. So you have to work with others, articulate what looks good, and work out how to get that effect again.
The Exploratorium have written up their approach on their own site and at Instructables.
We loved the idea of Light Play, and our colleagues at the Centre for Life were keen to produce a set for use here in the North-East of England. But while the Exploratorium's setup is wonderfully dramatic, for our purposes there were some challenges around component availability, ease of construction, and cost.
So we simplified the components considerably. The results aren't as gorgeous, but they're still pretty good. The activity has prompted the response and interactions we wanted, so we're happy.
Here are a few more details about what we – Think Physics and the Centre for Life – built:
There's nothing clever about our boxes; they're large cardboard boxes with big holes cut in each end. One end is covered (internally) with good-quality tracing paper to form a screen, the other is used for access.
Things we'd do differently next time
Use smaller boxes. The ones we picked were 465 x 465 x 600mm, and are just a bit unwieldy in use and particularly in storage. I'd go 100mm smaller in each dimension.
Cut the holes in the sides, not the end. Rectangular apertures are more interesting than square apertures.
Using the sides of the boxes also means you don't have the tape holding the boxes together encroaching on the display face of the wall. Oops.
Absolutely use double-wall boxes. It's tricky to cut, but the resulting boxes are tough enough to stand up to many uses – we've so far done two Maker Faires plus an art gallery installation and a bunch of school workshops. The boxes are looking scrappy, but they've at least one more busy weekend in them.
Curved corners to the cut-outs are a pain to make, but absolutely worth it in the long run. They look more pleasing than square corners.
The Exploratorium's lights use single-LED high-output devices, which are lovely but quite costly in the UK. They also require heatsinks.
Instead, we adopted triplets of extra-bright conventional LEDs. Having three individual light sources, even closely-spaced like this, isn't ideal – they cast rather awkward shadows rather than the crisp outlines a single source would give, and they're only just bright enough. However, the effect looks better than we'd feared, and the trade-off was worthwhile in our case. We used sets of three high-output LEDs of various colours, ranging from about 8,000 mCd output up to something like 11,500 mCd. Bear in mind that the sorts of cheap LEDs you'll find in every electronics kit are rated at about 300 mCd. They're also fairly cheap from suppliers like Kitronik and Hobbytronics.
We mounted the LEDs up on prototyping board, in series with a single current-limiting resistor to suit the specific LEDs, and powered them off 9V cells (so, ~3V each).
Things we'd do differently next time
The gorillapod-style positionable necks were a pain to make. Literally. We bought cheap mini tripods from Amazon, un-popped all the segments, drilled them out, popped them back together, then threaded wires up the holes. There were blisters.
In use, we rarely see people position the lights other than by laying the entire unit on its side. So:
…next time, I'd just use a short length of dowel or plastic tube as an upright, and maybe mount the LEDs on a couple of segments of positionable leg.
I'd be tempted to make only white light sources, and offer a range of lighting gels for colouring.
Consider using small lamps like these from Ikea or these from Clas Ohlsen. On balance I'd probably prefer battery-operated lights, as they allow a finished box to be moved into a group wall display, but there's a lot to be said for an off-the-shelf lighting solution too.
We made a small number of these 'fancy' lights. They use an Adafruit NeoPixel 'Jewel' array of RGB LEDs driven by a 5V Trinket microcontroller (like half an Arduino, and yes that's a terrible description). Power comes from a single AAA cell via a step-up board which I still think must work via unicorns or something. I mean, how do you make 5V from 1.5V?! Mind-boggling.
When first booted, a small potentiometer controls LED colour. A second (button) input toggles the Trinket into a colour-cycling mode, with the potentiometer then controlling the rate of change of colour.
They can produce delightful effects… but the power drain is such that they last about half an hour, and hence aren't terribly useful. Also: everybody wants one. Ultimately, we've withdrawn them from the workshop because they don't add enough to make up for their limitations.
They're still cute, though.
To bring a little motion to the boxes, it's worth having a few motorised components, like turntables. But they need to turn slowly, which is a challenge. Since I've never done the Exploratorium's workshop personally I just assumed they'd made their own, but compiling this page I've realised they seem to be using jewellery display turntables, like these or this.

Since I didn't know that, I ended up reverse-engineering something which didn't exist in the first place. Hmm.

Well, I'm proud of our turntables. They turn slowly (about 1rpm) and despite looking pathetically fragile have proven quite robust in use. The old exhibit standby of 'if it looks fragile, people treat it with care; if it looks solid, they'll whack the heck out of it' seems to apply. They do tend to fall apart in transit, but a minute's ministrations with a glue gun solves that.

The core is a geared 3–6V motor, driven off a single 1.5V cell. There's enough torque to work reasonably well, and undervolting it slows it down even before you get to the gearing. The drive pulley is a short length of plastic tubing with a cardboard end-cap. A slot in the cardboard cap fits tightly on the motor shaft, then hot glue poured into the tubing fixes it well enough. Gaffer tape wrapped around the plastic tube provides enough friction for the edge drive to the turntable itself.

Since we hand-cut the turntable discs they vary in diameter somewhat. The pivoted chopstick and elastic band tension spring keep the drive pulley and turntable in contact. The main turntable bearing is a short M10 bolt glued to the frame – ridiculous overkill, but it's what we had lying around.



Things we'd do differently next time
For such a simple design, the turntables are surprisingly fiddly to make. There are a lots of components, many being slightly-hidden bits of wooden chopstick used as supports or guides. Each of those pieces needs to be cut, sanded, and glued in place.
I'd simplify further. A better bearing would allow for tighter tolerances, and you could then probably laser-cut ply to give a geared drive rather than the tensioned friction drive we used. You'd lose some of the charm of ours, but you could likely finish dozens in a day.
Tempting as it is to go to a stepper motor and variable-speed controller, the unit cost would go way up. Also, the power consumption of these things is impressively low; they'll run all day on a single AA cell.
While the maximum payload is quite low, in some ways that's a benefit as it forces participants to find creative solutions. As ever, we push against limitations and come up with inventive work-arounds. Completely 'open' play, without constraints, can be less creative.
One common approach from participants is to fix objects to the drive pulley directly, not just the turntable. They then have two rotation rates to explore. Another example of finding creative utility from apparently-poor design.
One advantage of this design's rustic approach is that it can become a talking point itself. None of the components is unfamiliar, which helps it feel accessible; there's a sense of 'I could have built that' about it. Yet it's seen by a wide range of ages as 'clever.'
Close-up of the drive system. Most of our units have an additional chopstick-segment guide stuck to the motor, which rides under the turntable platter and offers some extra support. I didn't notice it had fallen off this one before taking the photo, because it worked perfectly well without it. Be aware that additional bodging may be required!
Turntables as far as the eye can see!
Effects, outcomes, and miscellaneous notes
This is a beautiful workshop and installation. The impact of the assembled wall and its ever-changing display is mesmerising, and it delights all ages. We're not surprised that the new Tinkering Space in @Bristol uses a light wall as a prominent feature.
At Maker Faire UK we observe:
Broad appeal; families are drawn to the activity, but when there's clear spare capacity pairs or groups of teens and adults will want to be involved.
Family groups working collaboratively.
Dwell times of typically 20 minutes, ±10 mins.
Lots of back-and-forth revisions and adjustments.
Discussions around aesthetics, properties of light, narratives, mood…
With about six work tables, we can work with ~400 people/day.
Many more people notice and watch the finished display, but we've not counted those interactions.
Two lights per box is about right. Many groups will use just one.
Things we perhaps still haven't nailed are typically around the available choice of materials, and the nuances of facilitation:
Too many plastic dinosaurs = 'Lost World'-themed light wall. A constrained choice of pre-made objects and an abundance of raw materials is probably better.
Few people try moving the light in front of objects (ie. casting reflected light onto the screen). Similarly, shaping the light by using masks close to the source is fairly rare.
Go back to the top of this page and look again at the rotating gallery of the Exploratorium's workshop. Notice the amount of patterned acetate they're using. It produces beautiful effects, but we've found it tricky to entice people to give it a chance.
The turntables are good, but they don't prompt a particularly wide range of effects. I'd like to motorised widgets which could be fixed to the top of the box and turn things on strings, or could wave things back-and-forth, or … (etc.)
High-mounted lights + low turntables = all the movement is at the bottom of the box. There are many ways to fix this, but we need to make some of those solutions more obvious.
We love this activity. Here's what it looks like in the hands of secondary students:
https://nustem.uk/wp/wp-content/uploads/2015/07/Marden-Light-Wall-5.jpg
1238
1650
Jonathan
https://nustem.uk/wp/wp-content/uploads/2017/02/logo-banner.png
Jonathan
2016-09-22 13:01:10
2019-05-17 14:31:49
Light Wall
Light
Science for Families: Activities supporting the 'Light' session
Science for Families
This resource is designed to accompany the Science for Families course delivered by NUSTEM or one of our partners. It's a six-week parent and child course delivered in primary schools.
You're welcome to use the resources for other purposes, but they might not make quite as much sense!
Congratulations on making it to the Light page of Science for Families! You're probably here because your curious about light and want to know what to do next with your spectroscope. We'll you've come to the right place!
Big question number 1: how does this cardboard tube and CD thing (spectroscope) actually work?
Your spectroscope works through a process called diffraction; when light is passed through a very narrow slit it is spread out into different wavelengths. The CD contains lots of tiny slits which cause the light to split up into various different colours. The small cardboard slit helps to create a narrower beam of light and makes things clearer (if you take away the slit the pattern becomes less clear – try it!). The different bands of colour you can see are light at different wavelengths. Light with a short wavelength sits towards the blue/purple end of the spectrum; light with a longer wavelength sits towards the red/orange end.
Cool, huh!
Big question number 2: what to do next?
Take a look at the three sections below to find out what you can do with your spectroscope and how you can experiment further with light.
Investigating light with your spectroscope
Investigation time! You'll need your spectroscope, a source of light and a camera for this. The camera on your mobile phone will work perfectly.
Choose a light source, maybe the screen of your computer, and point the spectroscope at it. Then carefully take a photo through the spectroscope using your camera. This can get a bit awkward, don't drop your phone!
Now try again with a different light source. Once you have a few photos, compare them and try to spot similarities and differences. Here are the photos we took…
Don't use your spectroscope to look directly at the sun. We'd prefer everyone doing this course to finish with just as much eyesight as they started. Thanks.
The colours you see depend upon the type of light source you're looking at. To be super-accurate, the colours depend on the chemical elements that are involved in giving off the light. You'll have heard of some elements before: oxygen, hydrogen, carbon, aluminium, and gold are all examples of elements.
Different elements produce different patterns of colour – different spectra. Typically, a light source that's trying to represent white will use several elements, and hence several spectra, to produce a good enough blend to fool your eye into seeing pure white.
The pictures below show some images of common spectra. If you compare these with your photos you might be able to work out what elements are in use in your light sources.
More experiments to try at home
There's lots of different ways you can explore the fascinating world of light. Here are three things you can do in your kitchen this weekend!
https://nustem.uk/wp/wp-content/uploads/2016/08/Fluorescent-light.jpg
3456
4608
Joe Shimwell
https://nustem.uk/wp/wp-content/uploads/2017/02/logo-banner.png
Joe Shimwell
2016-09-16 11:29:00
2019-02-15 14:24:10
Science for Families: Light
Visible light can be split up into a spectrum of colours.
A rainbow forms when white light is split up when it passes through droplets of rain. The light changes direction as it enters and leaves the water droplet – refraction (GCSE Bitesize link) – with the amount of bending depending on the wavelength of the light. The white light spectrum, from blue to red, is split up over different angles. You can see a similar effect if you shine a beam of white light through a triangular prism.
In our workshop we look at the spectra of different types of light sources and discuss why they are different. We make our spectra using a slightly different method, with diffraction gratings, and we use a range of emission tubes to view the spectra from different types of light source. This is very similar to how researchers work out what distant stars are made out of.
However, visible light is just a small part of the electromagnetic spectrum.
Infrared radiation and ultraviolet radiation are also electromagnetic waves. They are not detected by our eyes, but can still be very useful to us. Infrared radiation can penetrate some things that visible light cannot, so using an infrared camera we can see things that would otherwise be hidden:
Uses of infrared radiation
One good example is using a thermal imaging camera to look for hot things (like a person) through material that would be opaque to our naked eye, like debris in a collapsed building or, in this case, a bin bag:





In a thermal image like this, the bright yellow areas are hottest and the dark blue areas coldest.
This idea is hugely important in astronomy, where clouds of dust and gas often prevent visible wavelengths from reaching us from distant objects. Infra-red astronomy, however, can reveal stunning detail and structure which has huge implications for our understanding of the universe.



The Trapezium cluster in the Orion Nebula, from the Hubble Space Telescope. On the left, visible light; on the right, an infrared picture reveals a swarm of stars and brown dwarfs.
A modern camera and the human eye work in similar ways, with even the structure of the eye relating to the parts of a camera; the lens, aperture (iris) and detector (retina). In the workshop, we look at some simple pinhole cameras and lenses before having a go at light painting.
Light painting is done by keeping the shutter of the camera open for a long time – somewhere between 5 and 10 seconds, or even longer. Any movement that occurs while the shutter is open will appear as streaks across the photograph. So by taking the picture in a dark room and using bright LED lights, we can create all sorts of shapes, shadows, spooky figures and colourful concoctions.
To the left, one of the pictures taken in a light painting workshop by our friends at the Centre for Life.
The pictures below were taken by Think Physics' film-maker Jonathan at an arts event called Ghost Peloton, which consisted of dozens of illuminated cyclists. It was staged in Leeds to mark the Yorkshire Grand Départ, the opening of the Tour de France in 2014.
Combine light painting techniques and stop-motion animation, and you can (with a huge amount of patience) produce something more like this:
If that looks like too much effort, you can automate the process to some extent using a phone or tablet app. One example is Holographium.
…but things are about to get easier. A company called Pixelstick have created a way to insert pictures and graphics into photos. They can even make time-lapse videos of moving images. The Pixelstick flashes up different sequences of light and as it moves in front of the camera they appear like a fully formed image. By taking a series of photos you can put them all together to make some amazing animations.
https://nustem.uk/wp/wp-content/uploads/2015/11/14220253044_b84f207e84_k.jpg
1365
2048
James Brown
https://nustem.uk/wp/wp-content/uploads/2017/02/logo-banner.png
James Brown
2015-11-16 14:47:42
2017-05-18 15:58:37
Light Painting
Whether you're in the bath or washing-up in the kitchen, nothing makes a daily chore more fun than bubbles.

No, really. Bubbles are fun. Serious fun.

The science behind bubbles is fascinating, because it relies on the physics of water. We're so used to water being all around – heck, it falls out of the sky! – that we don't stop to think about how weird it is. That ice cubes float is amazing, because with almost every other material the solid is more dense than the liquid, so they sink. Whereas ice takes up just a little more space than liquid water, so it floats.



You can get an idea for just how weirdly water behaves even more easily: fill a glass all the way to the brim, then keep going. You'll see the water bulge upwards, like this. That happens because water molecules interact with each other and with the glass, just a little bit. It's a very small effect, but it's enough to cause water to tend to clump together, to flow a little distance up the side of a glass, and to bulge like this.
Gently place an object on the surface – like this rather tatty-looking paperclip we found kicking around in the Think Physics office – and you can see the curve of the water surface around the object. That curve is what provides the force balancing the weight of the object.
Water surfaces do amazing things when you start to muck around with the water itself. Add a little detergent – washing-up liquid is enough – and that spreads out on the surface forming a layer between the water and the air. We all know what happens next:



We bought a commercial bubble wand to blow giant bubbles, but you can make something very similar yourself using fabric tape and an old broom handle. Here's Joe practicing his giant bubble technique in Think Lab.
Yes, we mopped up afterwards.
Exploring bubbles with the RI
The simplest bubble recipe is easy to make: washing-up liquid and water! Start with a bowl of lukewarm water and gentle add washing-up liquid. As you add, keep checking your mixture with a bubble wand until you find a solution that works for you. You won't need very much detergent, so don't go mad with it!
Then, find anything with a hole in it and start blowing. The gallery above has some examples, and the Royal Institution's video here has some great ideas for experiments.

Bubble snakes: find a plastic tube that's open at both ends and fix a flannel or dishcloth over one end with an elastic band. Dip the flannel into your bubble solution and then blow down the tube. Watch as the bubbles join to create a bubble snake. Try adding some different paint colours to the flannel to create a colourful snake!

Giant bubbles: these are a little more technical. You can still get away with washing-up liquid and water, but you search around the web you'll find dozens of recipes for extra-impressive bubble mixtures. Most of them add a small amount of glycerine, which can help your bubbles last longer. Other ingredients might be tricky to get hold of in small quantities, so if you're super-serious it's worth looking at commercial mixtures. At Think Physics, we're quite impressed with Dr Zigs' solution. Our bubble wand came from Amazon, but using garden canes and some fabric tape you can easily make your own.

Bubble painting. This looks terrific, though no less messy than the other ideas. Add a bit of food colouring into your bubble mixture, blow some foam, then carefully splat the foam with a sheet of paper. Nice results.
Viewing soap film colours
The colours you see in a soap bubble are a result of the way light interacts with the thin film of the bubble surface. Soap films are about the same thickness as the wavelength of visible light, and the reflections from the front and back surface of the film interfere, leading to the spectrum you see.
We did a quick write-up of a highly effective way of viewing the colours back in November. The longer version goes like this:
Stretch some black bin bag across a table.
Splat some bubble mixture on the plastic, smear it around a bit, then blow a half-bubble about six centimetres across.
Shield the half-bubble with something that will diffuse light – Ikea Melodi lampshades are perfect.
Light strongly from the side – so place your table near an open window, or use lamps alongside the lampshade.
Look (or photograph) straight down at the bubble.
You'll see particularly strong colours, and with a bit of tinkering the bubble can last for many minutes. As the mixture drains downwards you'll see the colours slide down the sides of the bubble.
https://nustem.uk/wp/wp-content/uploads/2015/03/Bubbles-9.jpg
1650
1650
Joe Shimwell
https://nustem.uk/wp/wp-content/uploads/2017/02/logo-banner.png
Joe Shimwell
2015-03-18 16:05:48
2017-05-18 15:31:28
Bubbles
Your Guide to the Solar Eclipse
A solar eclipse occurs when the Moon passes between the Earth and the Sun – a rare occurrence. Don't miss your chance to watch celestial mechanics in action, on 20th March 2015, from 08:30 to 10:44.

Observers across the UK will be able to watch as the Moon's orbit passes in front of the Sun. The transit of the Moon across the Sun will begin at 8:30am.  As the eclipse reaches its maximum (90%) coverage at 9:35am, the sky will darken and the temperature will drop.

Although there will be more partial eclipses in the coming years, the next total eclipse viewable from the UK won't happen until 2090. So there's no excuse not to download our eclipse viewer (see below) and head outside on the 20th March to watch the eclipse as it happens.

The video (below) from SciShow Kids is a great introduction for young children on the mechanics of the solar eclipse.



Looking directly at the Sun is a really, really bad idea, even during an eclipse. Please observe the eclipse safely.
Print this out onto thick card, and follow the directions upon it to view the eclipse safely.

CLEAPSS have produced a guidance leaflet for schools:  GL170 – Managing pupils safety during an eclipse.  All schools that are members of CLEAPSS can access this leaflet from their website www.cleapss.org.uk





A self-contained presentation with the diagrams from this page along with presentation notes.




A word of warning: the viewing times in the PowerPoint and viewing card are Newcastle upon Tyne specific. You will need to adjust the PowerPoint if you are elsewhere in the UK. The Time and Date website will help you calculate the correct eclipse time for your location.
When we draw pictures of the Moon's orbit around the Earth, and their orbit around the Sun, we tend to draw them flat – like the diagram below. Looking at that, you'd think the Moon would pass in front of the Sun every month. It doesn't, because the diagram is over-simplified.
In reality, the Moon's orbit around the Earth and the Earth's around the Sun are inclined relative to each other by about 5°. The points where the two orbital planes meet are called lunar nodes, and solar eclipses only happen when a new Moon occurs near a lunar node.
There's one other feature of the Solar System that makes solar eclipses possible: the Sun is 400x further from the Earth than the Moon, but it's also 400x larger. So to us, standing on Earth, they appear to be the same size in the sky. This is a staggering coincidence, and we get to enjoy the spectacle of an eclipse only because of that accident of geometry.
Solar eclipses are regular and predictable, but because everything has to be in the right place simultaneously they're also very rare. Experiencing one is astonishing.
The diagram shows how different parts of the planet experience a solar eclipse. The small area in the centre, in the track of the moon's shadow across the Earth, is called the umbra. That's where we experience a total solar eclipse. The more extended region to either side is called the penumbra: there, you'll experience a partial solar eclipse.
So on 20th March, Newcastle is in the penumbra.
Different types of eclipse
"Partial solar eclipse Oct 23 2014 Minneapolis 5-36pm Ruen1" by Tomruen – Own work.
In the penumbra. You're much more likely to see a partial eclipse than a total eclipse.
Next viewable from Newcastle:
21 August 2017
"Solar eclipse 1999 4 NR" by I, Luc Viatour.
In the umbra. The pattern around the Moon's disc is the Sun's corona, which you normally can't see as the Sun's disc is too dazzling.
Next viewable from Newcastle:
23 September 2090
"Annular Eclipse. Taken from Middlegate, Nevada on May 20, 2012" by Smrgeog – Own work.
Remember that an eclipse works because the Sun and Moon appear to be the same size in the sky. Sometimes the geometry works out so that's not quite the case, and the Moon appears just a little too small to cover the Sun's disc. Then, you see a dazzling annular eclipse.
Want more eclipse information? We've got you covered.
Watching the eclipse online
https://nustem.uk/wp/wp-content/uploads/2015/03/01.-Solar_eclipse_1999_4_NR1.jpg
1008
1024
Joe Shimwell
https://nustem.uk/wp/wp-content/uploads/2017/02/logo-banner.png
Joe Shimwell
2015-03-09 17:34:31
2017-05-18 15:50:37
The 2015 Solar Eclipse
Everyone loves soap bubbles. Most of us really love them. Particularly when they're huge hovering things, hanging in the air or floating gently away.
Making large bubbles is easier than you might think. People argue endlessly over different soap mixtures (they're a classic subject of after-dinner arguments conversation for science communicators), but standard household washing-up liquid is almost as good as even the finest formulations. The real trick is in the way you blow bubbles, as this film will show you.
This is another film from the Royal Institution's ExpeRimental series, all of which are worth checking out.
We've written up an entire page about bubbles, including a beautiful way of viewing soap film colours.
https://nustem.uk/wp/wp-content/uploads/2014/11/Giant-bubbles-Science-with-children-ExpeRimental-3.jpg
720
1280
Jonathan
https://nustem.uk/wp/wp-content/uploads/2017/02/logo-banner.png
Jonathan
2014-11-11 12:07:13
2016-05-19 08:57:49
Giant Bubbles
Employers
Over 320 million people worldwide suffer from diabetes. For these people getting a good night's sleep can contribute to sight-loss.
The cells in a normal retina (the back part of our eyes) adapt to darkness (for example when you close your eyes during sleep) by using additional oxygen from the blood.
However diabetic retinal cells don't get enough blood flow during the night and therefore suffer from a lack of oxygen.  This can lead to sight-loss.
One way to avoid sight-loss is by preventing dark adaption of the diabetic eye by using light, or in other words, tricking the eye into thinking that it's daytime even while you are asleep!
Polyphotonix is a technology business which develops light treatments for retinal conditions using Organic Light Emitting Devices (OLED). This is the same technology used in mobile phones screens.
Unlike lightbulbs of the past, Light Emitting Diodes (LCDs) don't get very hot and are more efficient, meaning they don't waste as much electricity. They can also be made in tiny sizes, allowing them to be used in devices like flat screen televisions, laptops, and wrist watches.
Organic LEDs (OLEDs) can produce brighter light than ordinary LEDS, and they can be used to make light emitting surfaces that are ultra thin, less than 1/100th of the thickness of a human hair. They can also be made into very large flexible sheets which can be used to cover entire walls or ceilings.  These properties of OLEDs mean they can be used for more diverse applications than LEDs.
Polyphotonix has recently launched the Noctura 400 Sleep Mask. The mask uses OLEDs and is a non-invasive treatment for people with diabetes at risk of sight-loss. You can learn more about the mask by watching the video.
PolyPhotonix CEO, Richard Kirk, studied fine-arts in Scotland and worked abroad with fashion names such as Nina Ricci. In a complete career change, he returned to England and saw an opportunity working with OLED's and their many potential applications in industry and medicine. You can hear him talking about the mask  and how it could save the NHS £1 billion compared to current pharmaceutical treatments on the following video:
Sectors
Biology, Physics, Programming, Technology
Employer Size
Small enterprise (up to 50 employees, turnover under £10m)
Focus/reach
national
Worksheets
Employer Links
This resource was produced as part of the FutureMe project.
Polyphotonix draws from a wide range of different career routes:
design engineer
software engineer
electronic and electrical engineer
mathematical modeller
quality systems engineer
test technician
data analyst
accountant
financial planner
sales and customer support
doctor
Topics in science and maths that link to Polyphotonics and what the company does:
Light
EM radiation
Electric circuits – current and voltage
Health and disease
Respiration
Organs (the eye)
https://nustem.uk/wp/wp-content/uploads/2018/04/Mask-render-with-green-lights.jpg
1536
2730
Antonio Portas
https://nustem.uk/wp/wp-content/uploads/2017/02/logo-banner.png
Antonio Portas
2018-04-20 11:39:40
2019-09-11 17:14:18
Polyphotonix
Events
Sorry, no posts matched your criteria
School Deliveries
Hey there Heaton Manor! As promised, here are all your light painting images that you created this afternoon. Good work! But don't stop there – check out our light painting page, get inspired and have a go at making your own at home. If you do, we'd love to see the results, so feel free to send us a copy. Get creating!
https://nustem.uk/wp/wp-content/uploads/2016/07/1140282.jpg
3456
4608
James Brown
https://nustem.uk/wp/wp-content/uploads/2017/02/logo-banner.png
James Brown
2016-07-13 15:57:11
2016-07-13 15:58:20
13th July - Light Painting
That's some good Light painting, Heaton Manor! I particularly like the spooky skeleton hanging in the background!
Head over to our workshop page for more details on how you can create your own and learn more about light and the EM spectrum.
https://nustem.uk/wp/wp-content/uploads/2016/03/Heaton-1.jpg
3456
4608
James Brown
https://nustem.uk/wp/wp-content/uploads/2017/02/logo-banner.png
James Brown
2016-03-10 14:54:50
2016-03-10 14:57:06
March 10th - Light and the EM Spectrum
https://nustem.uk/wp/wp-content/uploads/2015/11/Heworth-Grange-Light-Painting_1010543.jpg
1544
3912
Carol
https://nustem.uk/wp/wp-content/uploads/2017/02/logo-banner.png
Carol
2015-11-16 16:05:46
2015-11-16 16:10:23
Space Maths and Light Painting
Scroll to top
Cookie and Privacy Settings
How we use cookies
We may request cookies to be set on your device. We use cookies to let us know when you visit our websites, how you interact with us, to enrich your user experience, and to customize your relationship with our website.
Click on the different category headings to find out more. You can also change some of your preferences. Note that blocking some types of cookies may impact your experience on our websites and the services we are able to offer.
Essential Website Cookies
These cookies are strictly necessary to provide you with services available through our website and to use some of its features.
Because these cookies are strictly necessary to deliver the website, refuseing them will have impact how our site functions. You always can block or delete cookies by changing your browser settings and force blocking all cookies on this website. But this will always prompt you to accept/refuse cookies when revisiting our site.
We fully respect if you want to refuse cookies but to avoid asking you again and again kindly allow us to store a cookie for that. You are free to opt out any time or opt in for other cookies to get a better experience. If you refuse cookies we will remove all set cookies in our domain.
We provide you with a list of stored cookies on your computer in our domain so you can check what we stored. Due to security reasons we are not able to show or modify cookies from other domains. You can check these in your browser security settings.
Google Analytics Cookies
These cookies collect information that is used either in aggregate form to help us understand how our website is being used or how effective our marketing campaigns are, or to help us customize our website and application for you in order to enhance your experience.
If you do not want that we track your visist to our site you can disable tracking in your browser here:

Other external services
We also use different external services like Google Webfonts, Google Maps, and external Video providers. Since these providers may collect personal data like your IP address we allow you to block them here. Please be aware that this might heavily reduce the functionality and appearance of our site. Changes will take effect once you reload the page.
Google Webfont Settings:

Google Map Settings:

Google reCaptcha Settings:
Vimeo and Youtube video embeds: