"Once I actually understood engineering … I thought it's like a perfect mix of practicality and theory. What you are learning, you can see it applied to real life applications."
A different route into engineering 
Jack always wanted to become electrician, an engineer and to have a degree. His route into engineering is very different than the majority of other graduates and he is passionate about raising awareness of different routes into engineering.
During 6th form Jack studied English literature, history and business however and soon realised that that wasn't working for him. As soon as he finished school he applied for an electrical engineering apprenticeship at TSP Engineering in Workington.
Jack did a Higher National Certificate (HNC) and a Higher National Diploma (HND) in electrical and electronic engineering, and then a degree in electrical plant engineering.
"I wanted to get involved in this podcast and try to inspire people and make people more aware of the different routes that you can take to become an engineer and the different careers within engineering."
From this point onwards he applied to the Sellafield graduate scheme where according to him opportunities were endless.
"It's probably like the best thing I could have done because I've worked on the tools and I've worked on the things that other people have designed, and then you kind of like get an idea of, say, like how things could be done better."
His engineering apprenticeship made him observant and having hands-on experience of equipment allows him to think about how to make components more accessible, easier to work on or fix. With 8 years of hands-on experience Jack hopes that he will soon become a chartered engineer.
Robots on Extreme environments
Jack is currently working for the Robotics and Extreme Environments Lab run by the University of Manchester in collaboration with Sellafield. He collaborates with his colleagues designing robots that can work in extreme environments that are dangerous for humans. He is particular proud of two of these robots: Carma and Mirrax.
Carma has been designed to inspect outdoors areas for radiation and its currently being fitted with a GPS sensor to map the environment around. This is based on a LIDAR sensor as Jack explains:
 "A LIDAR sensor is method for measuring distances by illuminating the target with laser light and measuring their reflection with the sensor and so the time differences in the returned laser allows to build up a map of the environment… so this this robot is deployed around legacy areas of Sellafield to be able to declassify them so that you know that the clear of radiation".
Mirrax is a 3 legged autonomous robot which runs on a little roller wheels and it only 150 mm wide so it can squeeze in small areas of nuclear cells which are highly radioactive. Mirax also used LIDAR sensors to map its surroundings:
"It's got a middle arm that lifts up and on this arm is a LIDAR sensor and a gamma radiation sensor and this can also tilt, so this allows the 2D Lidar to build up a 3D map of the environment so that we can work towards knowing exactly what's in there and help to navigate the robot around the cell… It's also picking up the radiation hotspots within the cell to then end with, uh, hopefully decommissioning the cell after this."
To help develop these robots, Jack learned 3D-CAD and electronics:
There are a lot of electronics and stuff that needs to get in there, so I've been designing and 3D printing components to hold things in place and building stuff up so that the robot is more robust.
 Working on a nuclear site
Jack works at Sellafield which is one of the few places in the country that handles nuclear waste. The general public still has a very apprehensive perception of nuclear energy and the safety of nuclear sites. According to Jack once you learn the science and you understand the safety protocols you actually feel safe.
"If you follow the rules, which there is a lot of rules and there's a lot of safety in place, which sometimes people could say it's maybe a bit over the top, but you can understand why it's there and the purpose of it. Sometimes a lot more difficult to actually get things done, but I really enjoy it!"
Engineering skillsets and following dreams
Jack believes that in addition to having hands-on experience of equipment, engineers should be good team players as no one knows everything:
"Always look at how you can make things better or better ways of doing stuff… I think you've got to be good at solving problems and sometimes to solve problems, you've got a be creative. You've got to be able to think outside the box, but also be able to apply engineering theories to your problems"
Jack is also a strong advocate about different routes into engineering such as apprenticeships.
"When I started my apprenticeship, there was people starting it who were 24 years old. You're never too late to change and do what you want to do, like what's going to make you happy… People put a lot of pressure on themselves thinking like, oh, I don't know what I want to do. I don't know what I'm supposed to do or what people expect me to do. Try and be open to all things like I was."
Position
Electrical Engineer at Sellafield
Key Attributes
collaborative, observant, passionate
Qualifications
A-Levels, Apprenticeship
Employer
https://nustem.uk/wp/wp-content/uploads/2022/03/Jack-Haworth-for-inventive-2.png
811
1083
Antonio Portas
https://nustem.uk/wp/wp-content/uploads/2017/02/logo-banner.png
Antonio Portas
2022-03-08 14:32:42
2022-05-20 16:50:31
Jack Haworth
Case Study: Joshua Macabuag
"You are always learning and you are always challenging your levels of knowledge … engineering is so intertwined with the people that you are working with and the communities that you are working with …"
Discovering engineering
When Joshua was growing up he always had a desire to be useful, to help others. He enjoyed maths and physics and was the first one on his family to go past their GCSEs. Like many young people he was not sure what step to take next but he decided to try university.
"I was felling my own way, coming from a generation where we could go from GCSE to A-Levels to University, that was a bit of an experiment. I really enjoyed university!"
He doesn't recall having many role models when growing up except his father who was a car mechanics. The practical approach and working on physical projects which naturally happens in car mechanics quickly became engrained on him.
According to Joshua, one of the key drivers of engineering is that final physical output:
"That is a real life impact that is what kept me in engineering, engineering for me is having a real world impact"
He also volunteered for a year in rural South Africa. That year was an eye-opener for him as he saw how engineering is crucial to improve the lives of many people by building roads, buildings and other infrastructures.
Disaster risk Engineering
Joshua is a disaster risk engineer, meaning that he uses mathematical models to try to predict how often natural disasters such as hurricanes or tsunamis can occur and how likely these natural phenomena are to damage buildings and affect local populations.
It about making informed decisions in case of uncertainty: you can't get information about every single building a city so you have to make assumptions and make decisions based on those assumptions.
The damage that earthquakes and hurricanes do to buildings is very different as Joshua explains:
During an earthquake, as the ground shakes, the building also wants to shake due to its inertia. And the movement of the building and its own weight is what causes the force that then breaks the structure and collapses.
A hurricane is very different. It has very strong winds so you have an external force applying to your building and that force will try to lift up the roof, for example. As the wind passes through your structure it causes an uplift force.  The air can get quickly trapped inside of the building which creates a pressurisation that leads to an outwards force that can be strong enough to lift the entire roof or tiles.
Joshua runs his models for the world bank which uses his predictions to lend money to countries to improve poverty.
Finding a way or make one
Josh is also a search and rescue engineer for SARAID which is a group of volunteers that helps finding people trapped in collapsed buildings. Their moto is "Finding a way or make one".  Josh needs to be observant and resilient as this is a difficult task.
If there is anybody trapped inside of the collapsed building you'll have minutes to decide the best way to access and extricate those people. You don't really have anything other than what you can see with your eyes.
So for Josh is all about get as much information as possible:
The first thoughts are is there any big beams inside and where are they likely to be and what did that building looked like originally.
In a way Josh assessing the past present and future of the structure: what is made of, where did it moved to and what would happen next (if it fails further).
Once these questions are answered the next step is making sure that the structure is temporarily stable, lifting an shifting of heavy items, breaching and breaking through slabs or walls and carrying out first aid to stabilise any casualties.
In rescue there not going to be any time to run computer models. Calculations in your mind, intuitive judgements based on sound engineering principles.
Teamwork is essential
During a search and rescue event, Joshua and other engineers are part of a broader team of professionals which include technicians, team leaders, medical staff. All the different teams need to come together quickly and collaborate and communicate effectively. This is why Joshua thinks that no matter which branch of engineering you are in, teamwork and being collaborative is very important skill:
Engineering, as a profession is made up of a spectrum of people, so you have those who are outgoing naturally extroverted team players and you have those who prefer to work on their own in isolation […] I had to learn the team player aspect of it […] for an engineer to be effective they end up leaning towards teamwork and working closely with others because a) it makes a better outcome and b) its enjoyable and it's how you learn and it's how you make friends and it's how you get the most out of the profession, which is already very rewarding…
Position
Risk, Search & Rescue Engineer
Key Attributes
collaborative, observant, resilience
Qualifications
A-Levels, Degree, PhD
https://nustem.uk/wp/wp-content/uploads/2017/02/logo-banner.png
0
0
Antonio Portas
https://nustem.uk/wp/wp-content/uploads/2017/02/logo-banner.png
Antonio Portas
2021-11-19 14:46:23
2021-11-19 14:46:23
Joshua Macabuag
/
0 Comments
/
in Communicator, logical, observant Primary, Year 1, Year 2, Year 3, Year 4, Year 5, Year 6 Biology, Chemistry, Maths (Primary), Science (Primary) Animals Including Humans, Living Things and Their Habitats, Maths, Primary, Science, Seasonal Changes
/
by Melanie Horan
Water quality scientists ensure water quality standards for safe drinking water are met. They test and analyse water samples and ensure these meet the water quality standards. They may specialise in working with drinking water, ground water or surface water including rivers, lakes and estuaries.  Water quality scientists may need to work closely with businesses, the public or other water industry professionals.
Attributes: communicator, logical, observant
Useful links:
https://nustem.uk/wp/wp-content/uploads/2017/02/logo-banner.png
0
0
Melanie Horan
https://nustem.uk/wp/wp-content/uploads/2017/02/logo-banner.png
Melanie Horan
2021-10-05 14:24:38
2021-10-05 14:24:38
Water quality scientist
Electronics engineering technicians design, build and maintain electrical components. They are very hands-on and enjoy trying out different circuit set ups, and are very good at spotting problems and fixing them so that the components work correctly. Electronics engineering technicians enjoy doing practical work, being organised and helping electronic engineers test their designs.
Attributes: logical, creative, observant
https://nustem.uk/wp/wp-content/uploads/2017/02/logo-banner.png
0
0
Bethany Willis
https://nustem.uk/wp/wp-content/uploads/2017/02/logo-banner.png
Bethany Willis
2021-09-15 15:52:52
2021-10-08 13:22:22
Electronics Engineering Technician
Case Study: Askwar Hilonga
"I'm giving back to my community and this is now inspiring many young engineers in Africa… it pays more to use our education, to use our innovation, our engineering, endeavours and success to solve the real challenges in our communities."
From poverty to PhD
Hilonga was born in Gongali, a village near the Ngorongoro Crater in Tanzania. Growing up was challenging: the village had no electricity, and with limited access to clean water people struggled with waterborne diseases. Hilonga is the youngest of 9 siblings and he is thankful that his parents encouraged him to go to school and made sacrifices for him to get an education:
"I did my best to put all my attention in studies, particularly in science because I loved science …"
After graduating from secondary school Hilonga got a loan from the government which allowed him to study chemical engineering at university. He decided to keep investing in his education and completed a PhD at the university of Hanyang in South Korea.
Tackling waterborne diseases
Hilonga saw an opportunity to help his local community tackle their problems, in particular access to clean water.
"I wanted to make my PhD meaningful. If none of my studies will help solve problems in my local community then they are useless!"
He studied the water filters people were using, he observed water samples looking for contaminants, and talked to local hospitals about which waterborne diseases were affecting his community. With all this information, Hilonga quickly concluded that the water filters were not fit for purpose.
"There is a serious problem here and we need a solution. This is an opportunity for me to provide [that] solution!"
Nanofilters
Water can be contaminated by many different types of bacteria or microorganisms, or by heavy metals such as copper. This makes it hard to find one approach to filtrationg which works for every situation. Being imaginative, Hilonga created a nanofilter which can be easily adapted to local communities and their water supplies. After observing and identifying different contaminants from water samples, Hilonga changes the shapes of nano-materials made of sodium silicate and silver so that these can trap different types of contaminants. This is often a trial and error process, so Hilonga needs to be tenacious.
The technology is so advanced  that the  filters can be adapted to cater for different types of water from local communities. Hilonga can also predict how long will it take for the contaminants to saturate the filters, so he can also advise on how often the filter will need replacing.
Supporting local communities
Hilonga has also spent some time creating his own business model which values local communities. He is the director of startup business Gongali Model, which currently employs 127 local people. The nanofilter is developed by local people, using local materials and can be repaired locally as well: a huge advantage in terms of sustainability and keeping costs down.
"The local people gain a lot from this business  [….] There is a lot of win-win with job creation while we are solving the inherent challenges in our community like the waterborne diseases"
Future challenges
Hilonga wants to roll out the technology more widely, and has launched the campaign Thirst for Life. He aims to get 1,000 nanofilter water stations across Africa, from Egypt to Cape Town, over the next few years. This will bring clean water into the lives of 5 million people. One of his favourite quotes is:
"I want to be a millionaire. Not in terms of money, but in terms of impacting millions of lives!"
He hopes one day he gets to be a billionaire, impacting not millions but billions of lives!
Hilonga's nanofilter technology has received several awards including – from the UK – the Africa Prize for Engineering Innovation 2015 sponsored by the Royal Academy of Engineering, and the  Royal Family's pitch@palace Innovation Award in 2016.
Position
Chemical engineer, Director of Gongali Model
Key Attributes
imaginative, observant, tenacious
Qualifications
Degree, PhD
https://nustem.uk/wp/wp-content/uploads/2021/07/IMG-20191220-WA0010.jpg
809
1080
Antonio Portas
https://nustem.uk/wp/wp-content/uploads/2017/02/logo-banner.png
Antonio Portas
2021-07-14 11:56:23
2021-07-14 11:58:55
Askwar Hilonga
Emma is  Senior Science Technician for Boulby Underground Screening facility (BUGS) which is part of the  Boulby's Underground Laboratory.
Not every journey into STEM is the same
Emma didn't follow the typical pathway into a STEM career because she didn't take an apprenticeship or go to university. Instead, she found her job through her curiosity and desire to learn. Emma joined Boulby laboratory as a part-time cleaner where she met the scientists and started asking lots of questions.
Initially, she didn't know a lot of science but she had an interest in physiology and biometrics. From asking lots of questions she developed a passion for Physics and even asked to help work on the equipment.
"I started to learn all about Dark Matter and physics and fell in love with it …I became very good at looking after different types of detectors and experiments. So much so that I ended up getting a full-time position and promotion to senior science technician."
A Laboratory in a mine
Emma works in an unusual environment: a working mine over a kilometre deep underground! She works with astronauts, scientists, engineers, technicians and people who love science from all over the world including NASA and ESA.
Emma is observant because she prepares and checks samples which are used to detect rare particle events. She needs to be tenacious as the samples take time and sometimes don't work.  Emma also works on projects looking for life on alien planets, designing and testing space technology like Mars Rovers and special tools and cameras that go on them.
"My job is absolutely amazing. I get to do so many things that I love, and I learn new things every day … I love working underground, it can be hot, dirty and hard work but it really is a brilliant and exciting place to be."
During her time at the lab she has fallen in love with Physics, Astrophysics, Geology and more.
Guided tours and awards
Before working at Boulby, Emma used to be a horse-riding instructor. She has always loved teaching people and learning about the way animals think and act. Having this curiosity and passion to share her expertise makes her extremely successful at her job.
"The main thing I brought from that to my job at Boulby is my insatiably curiosity and desire to learn"
Emma imaginative as she creates and gives science tours of the mine where she works to visitors. Her hard work is noticed by others and in 2019 she was awarded a Technician Award from the Institute of Physics!
Family, Animals and Adventure
Emma loves animals and has three horses, four dogs, ferrets, hens, ducks, turkeys and sheep! She enjoys being around animals and wonders about how we can communicate with them based on their ways of thinking. She also enjoys days out with her family!
Position
Senior Science Technician
Key Attributes
imaginative, observant, tenacious
Qualifications
GCSEs
https://nustem.uk/wp/wp-content/uploads/2021/04/EmmaMeehan3-scaled.jpg
1707
2560
Bethany Willis
https://nustem.uk/wp/wp-content/uploads/2017/02/logo-banner.png
Bethany Willis
2021-06-29 14:58:44
2021-06-29 14:59:49
Emma Meehan
Katy is a computing liaison for the Compact Muon Solenoid (CMS) experiment at CERN.
A long road to CERN
Katy took A-levels in Physics, Maths, Economics and business studies and Music. At university she studied Physics and took part in an exchange year in France on a programme called the Erasmus. After this she did her PhD in experimental particle physics on the ATLAS experiment which included a year at CERN.
Computing liaison: getting physics and computing talking the same language
Particle physics experiments need a lot of large computing centres for running simulations and processing lots of data from detectors.  Katy works in a computing centre in the UK where she communicates between computing and physics experts. She looks out for problems with the computing jobs, and thinks of ways to make improvements..
I like when I can make a change to the computing system and see an improvement
In the past Katy has used lots of different types of simulation software for physics experiments and processes. Before her PhD she worked at Qinetiq on materials and EM waves as a stealth scientist. After her PhD she tested simulation software for an oil reservoir and for nuclear fusion power software.
Teamwork is essential
Essential to her job is to work in a strong and supportive team. She enjoys working as an environment where everyone can give and receive support for each other.  That said Katy also has to collaborate with other teams from other projects, all over the world! This means she is also able to travel to a lot of different countries as part of her job to attend conferences and meetings.
"I like being part of a team. I like bringing people together and helping them understand each other's point of view."
Fun times and friends
Outside of work,  Katy enjoys taking exciting trips with friends and getting together for frequent catch ups. She is also really involved in sports and has been since a young age. Two of the sports that she took up at a young age are Taekwon-Do and skiing.
Position
Computing liaison for CMS experiment
Key Attributes
hard-working, observant, tenacious
Qualifications
A-Levels, Degree, Masters, PhD
https://nustem.uk/wp/wp-content/uploads/2021/05/KatyEllis_Photo.png
527
519
Bethany Willis
https://nustem.uk/wp/wp-content/uploads/2017/02/logo-banner.png
Bethany Willis
2021-05-14 15:39:41
2021-05-14 15:39:41
Katy Ellis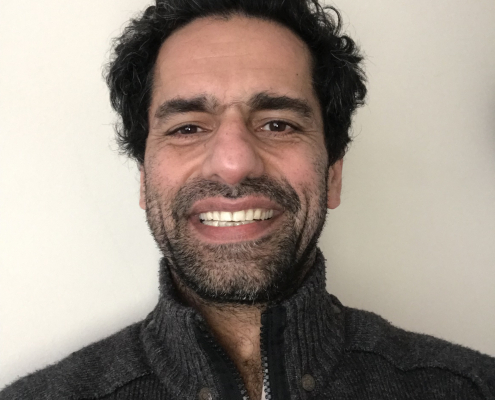 Talib is an Environmental Engineer who uses computers to understand how to look after the environment better, and improve our health and wellbeing.

He advises people working in industry and university students how to better look after natural resources such as water, land, and air.

In his free time, Talib enjoys dancing, especially Salsa.



Talib's most magnificent thing
"Energy is all around us and gets transferred all the time! Static electricity can be really fun to explore with your children, and has many different applications in engineering."
When you rub plastic, you transfer electrons (tiny particles with negative charges) from one material to the other. They are then stored in one material (making it a bit more negative) while their absence makes the other material a bit more positive.
Because plastic is an insulator, the electrons cannot flow through it so they effectively get stuck there – they are static.
Position
Environmental Engineer
Key Attributes
creative, imaginative, observant
Qualifications
PhD
https://nustem.uk/wp/wp-content/uploads/2020/01/talibnew3-scaled.jpeg
2560
1923
Antonio Portas
https://nustem.uk/wp/wp-content/uploads/2017/02/logo-banner.png
Antonio Portas
2020-01-13 17:05:19
2020-01-14 10:30:27
Talib Butt
/
0 Comments
/
in creative, curious, observant Primary, Year 1, Year 2, Year 3, Year 4, Year 5, Year 6 Maths (Primary), Science (Primary) Animals including humans, Evolution and inheritance, Maths - Statistics Animals Including Humans, Evolution and Inheritance, Maths, Primary, Science, Statistics
/
by Joe Shimwell
Geneticists study genes and the science of inherited traits passed down through generations. They study living organisms, from human beings and animals to crops and bacteria. Research is a major part of a geneticist's job. They conduct experiments to determine the origins of particular inherited traits, such as medical conditions and seek and use this information to adjust genetic material to modify existing traits and create new ones.
Attributes: observant, creative, curious
Useful links:
https://nustem.uk/wp/wp-content/uploads/2017/02/logo-banner.png
0
0
Joe Shimwell
https://nustem.uk/wp/wp-content/uploads/2017/02/logo-banner.png
Joe Shimwell
2018-01-13 18:00:20
2021-09-16 14:17:59
Geneticist
/
0 Comments
/
in collaborative, hard-working, observant Primary, Year 1, Year 2, Year 3, Year 4, Year 5, Year 6 DT, Maths (Primary), Science (Primary) DT, Forces, Maths - Geometry - Position and Direction DT, Forces, Geometry, Maths, Position and direction, Primary, Science
/
by Jonathan
Automotive engineers are involved with the building, designing and testing of cars and motorbikes, as well as other vehicles in the automotive sector such as trucks. They may work on designing and building any part from the body to the chassis underneath the vehicle to the engine systems and the electrical components which go within the vehicle.
Attributes: hard-working, collaborative, observant
https://nustem.uk/wp/wp-content/uploads/2017/02/logo-banner.png
0
0
Jonathan
https://nustem.uk/wp/wp-content/uploads/2017/02/logo-banner.png
Jonathan
2018-01-13 17:56:38
2020-07-24 09:01:26
Automotive Engineer
Scroll to top
Cookie and Privacy Settings
How we use cookies
We may request cookies to be set on your device. We use cookies to let us know when you visit our websites, how you interact with us, to enrich your user experience, and to customize your relationship with our website.
Click on the different category headings to find out more. You can also change some of your preferences. Note that blocking some types of cookies may impact your experience on our websites and the services we are able to offer.
Essential Website Cookies
These cookies are strictly necessary to provide you with services available through our website and to use some of its features.
Because these cookies are strictly necessary to deliver the website, refusing them will have impact how our site functions. You always can block or delete cookies by changing your browser settings and force blocking all cookies on this website. But this will always prompt you to accept/refuse cookies when revisiting our site.
We fully respect if you want to refuse cookies but to avoid asking you again and again kindly allow us to store a cookie for that. You are free to opt out any time or opt in for other cookies to get a better experience. If you refuse cookies we will remove all set cookies in our domain.
We provide you with a list of stored cookies on your computer in our domain so you can check what we stored. Due to security reasons we are not able to show or modify cookies from other domains. You can check these in your browser security settings.
Google Analytics Cookies
These cookies collect information that is used either in aggregate form to help us understand how our website is being used or how effective our marketing campaigns are, or to help us customize our website and application for you in order to enhance your experience.
If you do not want that we track your visit to our site you can disable tracking in your browser here:
Other external services
We also use different external services like Google Webfonts, Google Maps, and external Video providers. Since these providers may collect personal data like your IP address we allow you to block them here. Please be aware that this might heavily reduce the functionality and appearance of our site. Changes will take effect once you reload the page.
Google Webfont Settings:
Google Map Settings:
Google reCaptcha Settings:
Vimeo and Youtube video embeds:
Other cookies
The following cookies are also needed - You can choose if you want to allow them: