What does a mechanical engineer do?
Mechanical engineering jobs are all about solving problems and creating products to meet human needs. Work includes solving problems using machines or machinery by designing, testing and improving mechanical devices. Mechanical engineers use a wide range of tools, techniques and machinery in their jobs, which depends on the area of mechanical engineering they trained in and the industry they work in.
To be a mechanical engineer, the attributes you require are to be curious, self-motivated and hardworking.
Mechanisms with card and paper
Do try this at home…pop ups
Today you used cutting, folding and gluing to create your pop ups. All pop up books or cards, whether simple or complex, are made using the same simple mechanisms. If you click here, you will find the instructions for these mechanisms and some more complicated ones.
If you watch the video on the left you will see how the paper engineer Matthew Reinhart takes the same mechanisms that you used today, and develops them into speculator pop ups.
Could you develop and improve your basic design into something amazing?
If you have time, you could watch the tutorial video on the left to see how to develop your designs into something more complex.
You may want to try a ready made pop up. Click here to visit a website with templates, instructions and tutorials designed by a variety of paper engineers.
More mechanisms you can try at home
A lever is a simple machine which helps us to lift objects. It has a long arm and a fulcrum, which is where the arm pivots. The object you are lifting is called the load, and the force you apply to the arm to make the object move is called the effort. There are three types of lever (see below).
For more examples of everyday uses of levers, click here.
Can you find any levers at home?
The class 1 lever has the fulcrum between the effort and the load, for example when using a hammer claw to remove a nail.

On a class 2 lever, the load is between the fulcrum and the effort, for example when you use a bottle opener or wheelbarrow.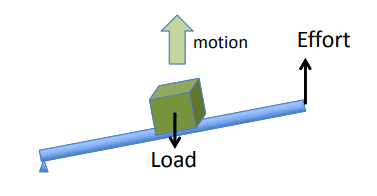 An example of a class 3 lever can be illustrated by using tweezers or tongs where the effort of squeezing the tongs is between the fulcrum or pivot at one end, and the load which is gripped at the other.

The video shows how pulleys help us to lift loads. In everyday life they are used in lifts and elevators, in wells for pulling up buckets of water and in weight lifting machines in the gym. Next time you visit a building with a lift, see if you can spot the pulleys working.
For instructions on how to make your own pulley, click here.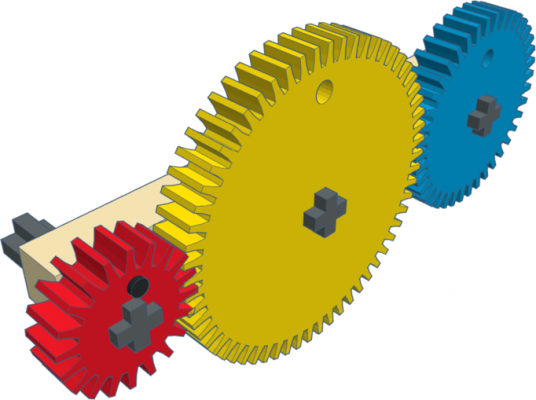 Gears are wheels with teeth that slot together. When one turns, the other turns too. Gears of different sizes are used to increase the power of the turning force. Small gears turn quickly but with a smaller force, whereas large gears turn slowly with a greater force. You may have already spotted gears on your bike, or know that you find gears in cars, but can you spot gears being used anywhere else at home?
You can buy simple gears sets (click here) or clock sets (click here) to start experimenting with gears at home.
What will you invent using simple mechanisms such as levers, pulleys and gears?
https://nustem.uk/wp/wp-content/uploads/2016/06/Catapult-Make-3.jpg
3456
4608
Melanie Horan
https://nustem.uk/wp/wp-content/uploads/2017/02/logo-banner.png
Melanie Horan
2019-12-02 10:53:29
2019-12-02 10:53:29
The Mechanical Engineer
What is an optical engineer?
An optical engineer researches and develops new technologies related to the science of light, which is called optics. So they'll study how light behaves, how you can manipulate it using lenses and mirrors, and how the colour of light affects its properties. They'll then apply that knowledge to sight and vision problems, or in electronic systems and equipment.
Optical engineers might design lasers, build telescopes, create fibre-optic communications systems; or they might work with microscopes, computer chips, or consumer electronics. Or they might work in healthcare, understanding the human eye.
Attributes: observant, hard-working, committed
The light we see is made up of the different colours of the spectrum. We see light split up into it's different colours when we see a rainbow.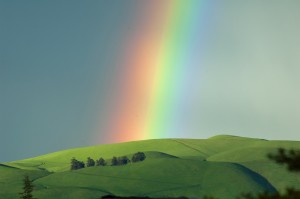 Each colour absorbs some light, but we only see the colour light reflected back to us. So while it is still, each area of felt tip pen on our spinner reflects a different coloured light back to us. When the spinner is moving, it is turning too quickly for your eyes to tell which area of felt tip pen each colour is coming from. Our eye  treats this like all those different colours of light are coming from the same place. So it sees it as white.
You could try making a spinner at home by watching the video. What happens when you try different colours?
Do try this at home: make a kaleidoscope
How does a kaleidoscope work?
The tube of a kaleidoscope contains mirrors. If there are three mirrors, this generates a pattern based on repeating triangles, if there were 4 mirrors the pattern would be based on rectangles and so on. One end of a kaleidoscope has the object chamber, which contains the shiny objects to be reflected. The object chamber must not only keep the objects contained, but allow light through to illuminate the chamber. The other end of the kaleidoscope has the viewing hole.
When you look through the hole, light filters through the object chamber and passes through or bounces off the shiny objects. The light then reflects off the mirrors, bouncing down the tube of the kaleidoscope until it emerges through the viewing hole, into your eye. Every reflection the light goes through adds a layer to the image you see. As you turn the kaleidoscope, the objects move in the chamber and the reflections change, which creates new patterns.
We came across this lovely activity to make rainbow light patterns using a CD. You'll need strong, direct sunlight for a strong effect, so seize your moment in the five minutes of summer we get in the North-East.
Rainbow by William Welch (CC-BY from Flickr)
A zoetrope is a cylinder with a series of pictures on the inner surface, which you view through slits. When the cylinder spins, you get the impression that the images are continuous and moving. It's very similar to an old-fashioned film projector, but with the movie on a loop.
Zoetropes work because the human brain is astonishingly good at recognising movement. So much so that it sees 'movement' even when there isn't any. So if your eye sees a sequence of still images, your brain merrily glues those together as a movie. You see this every time you watch TV, go to the movies, or work with a computer screen or phone.
To make your own zoetrope, follow this guide from the CBBC Art Ninja.
To find out more about how it works, watch the video below… which will also tell you how to say 'zoetrope'. Always tricky, that one.
https://nustem.uk/wp/wp-content/uploads/2015/02/kaleidoscope-poster.jpg
1080
1920
Melanie Horan
https://nustem.uk/wp/wp-content/uploads/2017/02/logo-banner.png
Melanie Horan
2019-04-16 10:56:39
2019-10-25 15:02:17
The Optical Engineer
What is an Aerospace Engineer?
Aerospace engineers design, build and maintain aircraft, spacecraft, satellites, and missiles. They may be involved in creating and testing prototypes, researching ways to make fuel efficient parts, developing navigation systems, or supervising the manufacture and maintenance of aircraft or spacecraft.
Attributes: creative, passionate, tenacious
Do try this at home: balloon engineering
To make a balloon rocket you need a balloon, a drinking straw, some tape and some paper or card to make the fins.
Cut the end off your balloon and tape the opening around one end of your straw. make sure no air can escape between the balloon and the outside of the straw.
Cut out three fin shapes and attach them to the other end of your straw. Make sure you leave enough room for your mouth to blow up the balloon.
Blow up the balloon and let go!
What's happening?
The balloon is moved forward by a force called thrust. This is a push that moves the balloon forwards.  This comes from the energy of the balloon forcing the air out.
You could investigate these questions using your rocket:
Does the shape of the balloon (the round ones or the thin ones) change how far or how fast the balloon travels? Does the shape of the fins make a difference? What is the best shaped fin? What is the best material to use to make the fins?
If you have space in your house or garden, you could try making this rocket (click here for instructions).
Do try this at home:catapult engineering
You will need 6 lollipop sticks and 4 elastic bands.
Take four of the lolly sticks and place them on top of each other. Hold them together using an elastic band at each end.
Using the two remaining lolly sticks, join them at one end using an elastic band. Put the stack of four lolly sticks in between them.
Use the final elastic band to hold the stack in place. Your catapult is complete. Our simple catapult design fires table-tennis balls or (cheaper, but a bit gooey) marshmallows.
The design can be modified using another elastic band and a spoon. You can also investigate how the position of the stacked sticks affects how well the catapult works.
How does it work?
The more force you apply to a catapult, the more force is applied in turn to the object being launched. More force means more speed and – you'd hope – more distance. If you make one of the catapults, you'll find that pulling the lolly stick back harder shoots the projectile (the marshmallow) faster and further.
If you modify your catapult by adding a spoon, you can add more force by pulling the top of the spoon back further.
Build an awesome rubber band catapult
Here's a more complex design of catapult using the same materials: rubber bands, lolly sticks, and a spoon:
Despite its size, the giant catapult in this video is simpler. See the instructions here, and remember that the more force you apply to pull back the catapult elastic, the greater the force applied to the projectile, and the faster and further it will travel.
https://nustem.uk/wp/wp-content/uploads/2018/06/aeroplane-air-travel-aircraft-33281.jpg
1183
2152
Melanie Horan
https://nustem.uk/wp/wp-content/uploads/2017/02/logo-banner.png
Melanie Horan
2019-04-16 10:56:32
2019-10-25 14:15:26
The Aerospace Engineer
Cryptography keeps data and messages secure from prying eyes by converting it into a code: a process called encryption. Using a key, the person who receives the encrypted message can decrypt it back into its original form.
A cryptographer is someone who encrypts secret and sensitive information for people and organisations using algorithms, ciphers and security systems. They'll usually work with computers and specialised software.
Encryption was once used mostly for military purposes, but is now used to keep government, business and law enforcement secrets safe; to secure the movement of money; and to keep medical records private. It can be used to ensure communications such as your online shopping, telephone calls and emails are secure. Finance tools such as credit cards and cash point transactions are also securely encrypted, so they can only be accessed by authorised people.
There are many different jobs which use cryptography, such as: cyber security engineer, security operations centre analyst, software security officer, network security administrator, ethical hacker, web developer, or cloud security consultant.
Attributes: self-motivated, resilient, imaginative
How can I make my own codes?
A code is a system of words, letters, pictures or symbols used to represent other words (or letters, pictures, symbols, etc.).

You might want to try using Lego or other building blocks to  write or decode a message. An arrangement of Lego pieces substitutes for each letter of the alphabet, so you can write messages in an arrangement of bricks and nobody else will understand it, unless they also know which bricks mean what.

It's really easy to make: look at all of the bricks in your collection and decide which combinations of bricks will represent each letter. It is worth remembering that some letters in the English language are used much more often than others. So if you have loads of one particular brick, maybe use that to represent one of the common letters. The most commonly used letter is e, followed by t, then a, i, n, o, s, h and r.

If you don't have much Lego at home you could try using pictures, combinations of stickers, or beads to represent each letter. For more ideas and ways to make secret codes, WikiHow has a great set of ideas.



Morse code is an electronic communication system that uses just a single sound. The sound can be short (a 'dot'), long (a 'dash'), or silent (a space); combinations of dots, dashes and spaces are used to represent letters, punctuation, and numbers. So a long sequence of dots, dashes and spaces can make up a full message.
Morse code messages used to be transmitted and received by telegraph machines. An operator would use a mechanical key to tap in the sequence of dots and dashes to make a message, and earphones to listen to incoming messages. To have a go at sending a message in Morse code, click here.
How does a cipher disk work?
A great way to encrypt messages is to use a substitution cipher. The simplest is a Caesar cipher, where you replace each letter of the alphabet with another letter by moving the whole alphabet on by a certain number of letters. The number of letters you move the alphabet by is your key.
So: if you used the key "3", a would become d, b would become e, c would become f… and so on.
A quick way of encoding or decoding a Caesar cypher is with a cypher wheel, like the one shown here. To encode your message, start with all the letters lined up so the inner a is below the outer a. Turn the inner wheel anti-clockwise (to the left), by the number of letters you want as your key. Remember what your key is!
Now for each letter of the message you want to encrypt, find it on the outer wheel and write down the corresponding letter on the inner wheel.
To decode your message, your friend will need to know the key. Using their code wheel, they can then start by lining up the letters (so the inner a is below the outer a), and turn their wheel anti-clockwise by the number of letters given by the key. Then they can match each letter of the encrypted message on the inner wheel, to the plain text on the outer wheel, letter by letter.
Now you can send messages that are written in cipher and other people can't read them!
In a simple Caesar cypher there are only 25 possible keys, so a decoder can try each possible combination of letters and see if it works. That might sound like a challenge, but even doing it by hand doesn't take all that long. A computer program could unravel the code in a fraction of a second. So a Caesar cypher isn't very secure.
That's because each letter is shifted by the same amount, so there are very few combinations. Suppose you shuffled the letters completely – that would be a much more complex cypher code.
One way to crack ciphers is by using frequency analysis. Remember that some letters appear more often than others? You can use that to help read an encrypted message. The method goes someting like this:
Count how often each letter appears in the encrypted message.
The most-used letter probably represents 'e', so guess that's the case in the cypher you're trying to break.
Now look for three-letter words which end with the letter representing 'e'. The most common word is likely to be 'the'… so you have the letters 't', 'h' and 'e.' Fill in all the other places where those letters appear.
Remember that the most common letters in English are, in order, e, t, a, i, o, s, h, r; you may be able to start working out some other letters…
…pretty soon, you'll be able to guess whole words.
Try writing a paragraph with your cipher and then getting your friends to crack it using frequency analysis. It takes time, but it's very satisfying
If you and your friends use your cipher regularly to pass on secret messages, there is the risk is that someone will discover your key. You can help prevent this by changing the key regularly, to keep your secrets safe.
Do try this at home… computer code
Getting started with coding
You may have started coding at school. To discover projects you can do at home on your PC or laptop using Scratch, Python, HTML and more, the Code Club resources are excellent.
If you have a Raspberry Pi, there are a huge number of projects.
Turn code into music using the free Sonic Pi language, which you can run on any laptop, desktop, or Raspberry Pi. Click here for a tutorial and watch the video below for an example.
https://nustem.uk/wp/wp-content/uploads/2018/10/abstract-art-circle-414579.jpg
3024
4032
Melanie Horan
https://nustem.uk/wp/wp-content/uploads/2017/02/logo-banner.png
Melanie Horan
2019-04-16 10:56:03
2020-02-13 10:32:49
The Cryptographer
The Environmental Scientist
What is an environmental scientist?
Environmental scientists study the environment, and particularly the effects of human activity on it. By conducting tests and analysing data, they try to work out how to prevent and solve environmental problems.
They'll gather samples and observational data in the field, and conduct tests in the lab. They analyse soil or air samples to find the type, concentration and source of pollution, which might be caused by industry or agriculture. The environmental scientist will identify whether the contamination could harm wildlife, plants or people. They'll then identify ways to manage, minimise or eliminate negative impacts of the pollution.
Attributes: passionate, creative, committed
How does chromatography work?
Chromatography is a way of separating out a mixture into its different parts. We see objects because they reflect light into our eyes. Some molecules only reflect particular colours; when that light reaches our eyes, we see the object it reflected off as being a particular colour.
You're probably used to the idea of 'primary' colours – colours which can be mixed together to make other colours. You've maybe mixed red, yellow and blue paints in different combinations to make greens, purples and oranges. The dyes in felt-tip pens might look like a single colour ('dark blue' or 'light green'), but to achieve those colours a scientist might have mixed several pigments together.
Liquid chromatography – in the case of felt-tips, dabbing some dye on the end of a piece of tissue paper, then letting water soak up the paper, carrying the dye with it – can let you discover the hidden colours in the pen dyes. The solvent (water) is absorbed up the paper, taking the mixture with it. But larger, heavier molecules are dragged along more slowly than smaller, lighter ones, so the blob of dye gets spread out. Different parts of the smeared-out dye will be made of different pigments, which you'll see as different colours.
Add all those colours up and you get the colour of the pen you started with.
How do environmental scientists use chromatography?
The paper chromatography you can do with felt-tip pens looks pretty, but it turns out not to be terribly useful for working scientists. However, High-Performance Liquid Chromatography (HPLC) is the same idea, and it's used very widely in chemistry. Just like paper chromatography, you use water (or another liquid) as a solvent to separate the components of the material you're trying to investigate, like a dye. Rather than using tissue paper, you let the liquid flow along a 'column' – a thin tube – which is perhaps 10 or 20 cm long. You then investigate the substances which emerge from the end of the column, and how they change over time.
So with pen dye, the smaller pigment molecules would emerge first, with the larger ones making their way out later. Chemists, including environmental scientists, can use HPLC to investigate a wide range of samples.
Gas Chromatography is similar, but the solvent isn't a liquid, it's a gas. Because gasses flow more freely than liquids, the columns (tubes) need to be longer to achieve the separation of components – they might be dozens of metres long. Gas Chromatography is also used widely in chemistry.
Thin-layer chromatography is another technique, and it's like an advanced version of the paper chromatography. It's used for detecting pesticides or insecticides in food.
All of these methods work by separating out the individual components or parts of mixtures and solutions.
Chromatography with sweets
More investigations with water and colour
Plants take up water and nutrients from the soil, and this experiment gives you a glimpse of what's going on. You could use celery instead of flowers, but remember to leave the leaves on!
Transpiration is where water travels from the soil, up tubes in plant stems to all parts of the plant, and eventually evaporates from the leaves. That constant flow of water gives the plant a way of moving food around itself, including moving nutrients from the soil, through the roots,  up the stem, to the rest of the plant.
If food colouring is added to the water in the soil it travels up the stem and into the leaves and – with a flower – the petals. This illustrates how nutrients are delivered to all parts of the plant.
In a way, the food colouring you've added to the soil is a pollutant – the sort of substance environmental scientists might investigate. It's not a particularly harmful material, but other pollutants might be. What would happen to the plant if a harmful pollutant was released into the soil?
https://nustem.uk/wp/wp-content/uploads/2019/04/Khadija.png
3072
2638
Melanie Horan
https://nustem.uk/wp/wp-content/uploads/2017/02/logo-banner.png
Melanie Horan
2019-04-09 11:20:16
2019-10-25 15:05:16
The Environmental Scientist (Chromatography)
School Deliveries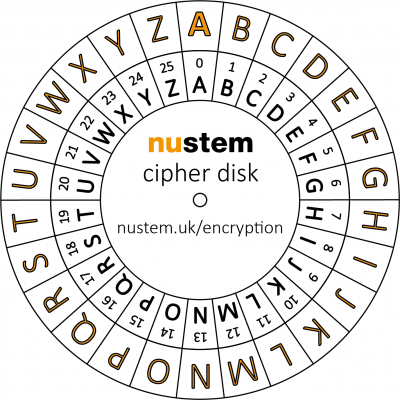 What will you be?
Our Sci Pop event at the Beacon centre today had families participating in activities based on STEM careers.
If you'd like to find out a bit more about the different featured careers and try some activities for yourself at home, click these links:
The sound engineer (loud lollies)
The cryptographer (ciphers)
The optical engineer (spinners)
The aeronautical engineer (balloon rockets)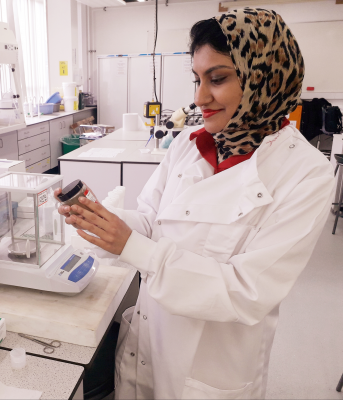 We also had our environmental scientist showing how she measures indoor pollution. Click here to find out more about her research, and click here to take part in the dust study.
https://nustem.uk/wp/wp-content/uploads/2019/10/1200049WINDMILL-3.jpg
3456
4608
Melanie Horan
https://nustem.uk/wp/wp-content/uploads/2017/02/logo-banner.png
Melanie Horan
2019-10-30 10:00:55
2020-02-11 13:37:15
30th October 2019 Sci Pop @ The Beacon
Events
Sorry, no posts matched your criteria
Scroll to top
Cookie and Privacy Settings
How we use cookies
We may request cookies to be set on your device. We use cookies to let us know when you visit our websites, how you interact with us, to enrich your user experience, and to customize your relationship with our website.
Click on the different category headings to find out more. You can also change some of your preferences. Note that blocking some types of cookies may impact your experience on our websites and the services we are able to offer.
Essential Website Cookies
These cookies are strictly necessary to provide you with services available through our website and to use some of its features.
Because these cookies are strictly necessary to deliver the website, refuseing them will have impact how our site functions. You always can block or delete cookies by changing your browser settings and force blocking all cookies on this website. But this will always prompt you to accept/refuse cookies when revisiting our site.
We fully respect if you want to refuse cookies but to avoid asking you again and again kindly allow us to store a cookie for that. You are free to opt out any time or opt in for other cookies to get a better experience. If you refuse cookies we will remove all set cookies in our domain.
We provide you with a list of stored cookies on your computer in our domain so you can check what we stored. Due to security reasons we are not able to show or modify cookies from other domains. You can check these in your browser security settings.
Google Analytics Cookies
These cookies collect information that is used either in aggregate form to help us understand how our website is being used or how effective our marketing campaigns are, or to help us customize our website and application for you in order to enhance your experience.
If you do not want that we track your visit to our site you can disable tracking in your browser here:
Other external services
We also use different external services like Google Webfonts, Google Maps, and external Video providers. Since these providers may collect personal data like your IP address we allow you to block them here. Please be aware that this might heavily reduce the functionality and appearance of our site. Changes will take effect once you reload the page.
Google Webfont Settings:
Google Map Settings:
Google reCaptcha Settings:
Vimeo and Youtube video embeds:
Other cookies
The following cookies are also needed - You can choose if you want to allow them: