It's happening. It's genuinely happening. More than that – it works!
This half-term we've been testing out parts of Connect with some willing guinea pigs families at Battle Hill Primary School. There are a lot of hidden technical bits and some really quite shaky code involved in keeping Connect devices talking to each other (I'm allowed to say that, I wrote the code). We couldn't quite be certain that once it met real people it would, you know, work. But it does.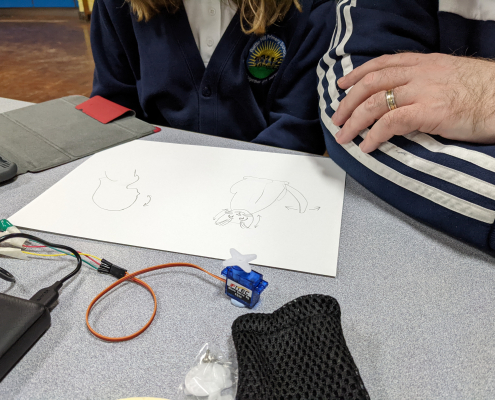 In the very first week one family made the dog in the picture above, which wags its tail when it's happy and sags rather pathetically when sad. In subsequent weeks families have found out how to code more behaviours into their Connected devices, and explored different mechanisms they might use as they think through what their ultimate creations might be. Here's a family sketching out a design for a cat puppet, and thinking about how it might move.
It's not all gone smoothly, not least because I contracted covid after the first week and had to isolate for the next two sessions. There are plenty of rough edges for us to smooth off, including literal ones – at one point I spent a happy hour with a stack of microcontroller boards and a nail file.
With some adjustments, we're pressing ahead with a second pilot at Carville School after half-term, and shortly after that we should have workshops popping up all over the place. Huge thanks to the Battle Hill families for helping us debug the project!
https://nustem.uk/wp/wp-content/uploads/2022/02/Connect-Battle-Hill-dog-scaled.jpeg
1920
2560
Jonathan
https://nustem.uk/wp/wp-content/uploads/2017/02/logo-banner.png
Jonathan
2022-02-14 14:56:40
2022-02-14 14:56:40
Connected, at last