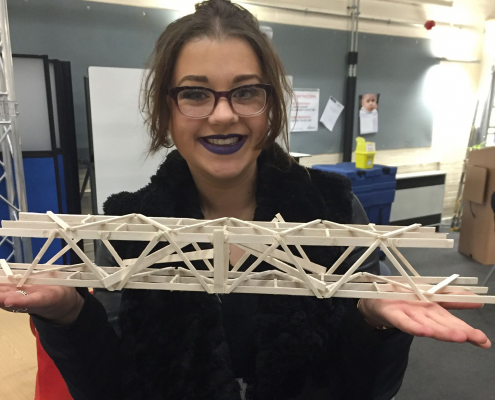 Harri has just finished her engineering degree at university. She studied how the weather affects how much energy wind turbines can capture.

Harri is curious to find new ways for people to use renewable energies in their everyday lives!

She just started her first job in an engineering company which produces batteries for hearing aids. In her new job, she studies which are the best materials to build batteries from, for different weather conditions. You might think you have cold ears, but batteries hate the cold even more than you do – so cold conditions can make hearing aids stop working.



Harri's most magnificent thing
"I really love this activity because you can put weights in the paper cup to see just how amazing wind power can be!"
Position
Engineer Graduate
Key Attributes
logical, organised, passionate
Qualifications
Degree, Engineering
https://nustem.uk/wp/wp-content/uploads/2019/12/Harri-bridge.jpg
2048
1536
Antonio Portas
https://nustem.uk/wp/wp-content/uploads/2017/02/logo-banner.png
Antonio Portas
2019-12-20 15:23:02
2020-01-14 10:28:43
Harri Beatie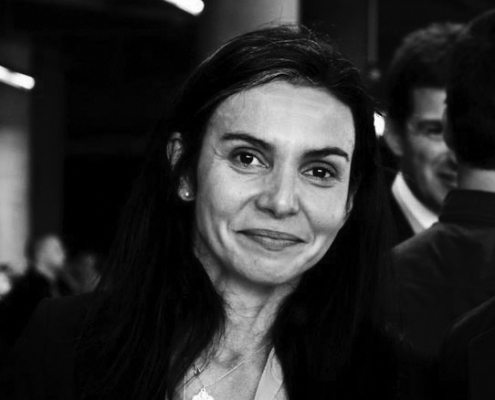 Carolina uses computers to help understand and design devices that can store heat energy  from the Sun, and from motor engines.

She tests her designs many times to understand how small changes can make these devices more efficient.

Carolina worked for many years in industry, and in different countries, designing parts for trucks and buses, before joining us at Northumbria University.

She would like her work to contribute towards a more sustainable world.



Carolina's most magnificent thing
"I came across these two videos. The first explains how we can save energy at home, and the second explains how that energy can be produced in a sustainable way."
Position
Mechanical Engineer
Key Attributes
hard-working, logical, self-motivated
Qualifications
Degree, PhD, Research
https://nustem.uk/wp/wp-content/uploads/2019/09/CCosta.jpg
501
542
Antonio Portas
https://nustem.uk/wp/wp-content/uploads/2017/02/logo-banner.png
Antonio Portas
2019-12-05 13:31:47
2020-01-14 10:29:04
Carolina Costa
What do Aquafresh toothpaste, Horlicks and Amoxil antibiotic all have in common?

They're all products created and manufactured by GlaxoSmithKline (GSK).

GSK is a global pharmaceutical company which has been formed through the merger of lots of different companies.

There are three main areas of healthcare that GSK are involved in:
Researching and developing prescription medicines
Developing, producing and distributing vaccines in over 170 countries around the world
Manufacturing consumer health products

Over the counter medicines such as Night Nurse
Toothpaste and other oral health products
Skin health products
nutrition products such as Horlicks.
GSK have offices in more than 150 countries, a network of 86 manufacturing sites in 36 countries and large R&D centres in the UK, USA, Spain, Belgium and China. In the UK GSK employ around 16,000 people across 18 sites. One of their Research and Development sites is based in Barnard Castle in the north east of England.




With such a wide range of different products and brands, GSK have a wide range of careers available.  Some examples of possible roles:
Chemical engineers
Immunologists
Material scientists
Medicinal chemists
Doctors
Biochemists
Microbiologists
Cancer research specialists
Biologists
Lawyers
Statisticians
Automation engineer
Pharmacologists
Technicians – biology and chemistry
Accountants
Sales people
Brand developers and designers
IT specialists



Topics in science and maths that link to GSK and what the company does:
Particle model of matter
Acids and alkalise
Types of reactions
Cells
Organisms
Health, disease and dvelopment of medicines
Nutrition and digestion
Number
Probability
Statistics
Sectors
Business, Chemical, Digital, Finance, Mechanical, Technology
Employer Size
Huge multinational
Focus/reach
Global
Worksheets
Employer Links
https://nustem.uk/wp/wp-content/uploads/2017/12/GSK-BarnardCastle.png
588
1064
Carol
https://nustem.uk/wp/wp-content/uploads/2017/02/logo-banner.png
Carol
2018-11-30 11:10:51
2019-02-22 11:41:56
GlaxoSmithKline
Soil Machine Dynamics (SMD) design and manufacture subsea robotic machines.

The deep sea floor is still one of the most unexplored, and inhospitable, places on Earth. No light, no warmth and high pressure all make it a challenging environment to work in.

Why work under the sea?

Well, every time you use the internet it's likely that some of the information came through cables which are laid in a trench under the sea floor. Those trenches need to be dug and the cables need to be laid somehow.

Or if you've seen off-shore windfarms, have you wondered how the electricity gets back to shore?  More cables on the sea floor.

It isn't possible for people to lay these trenches themselves, so a robotic machine, also called a Remotely Operated Vehicle (ROV) is used to dig the trenches and lay the cables.

The engineering that goes into the development of ROVs is staggering as they need to be both robust enough to survive in such a harsh environment as the bottom of the sea, and easily controllable.

This video shows how an ROV digs a trench and lays a cable in it.  The language is aimed at people looking to buy one of the machines so uses a bit of jargon, but the animation does help to show how the machine works.



To design, develop and make ROVs requires a lot of different STEM, and non-STEM, based roles.
Among the different roles at SMD are:
Mechanical Engineers
Electrical and Electronic Engineers
Software Engineers
Hydraulic design engineers
Sales Engineers
Health & Safety Advisers
Quality Systems Engineer
PR and Communications Officers
Test Technicians and Assistants
Although based in the North East, SMD is a global company, so there could be opportunities to travel.
You can see what current vacancies SMD are available here, and also read about two of their employees, Charlotte and James.
Topics in Science and Maths that link to SMD and what the company does:
Sectors
Electrical, Electronic, Engineering, Mechanical, Offshore, Science
Employer Size
Large enterprise
Focus/reach
Global
Worksheets
Employer Links
https://nustem.uk/wp/wp-content/uploads/2017/04/QT-1000-copy.jpg
3800
5476
Carol
https://nustem.uk/wp/wp-content/uploads/2017/02/logo-banner.png
Carol
2017-04-02 22:05:52
2020-01-09 15:29:31
SMD
You will have probably used Siemens technology; their well known products include mobile phones and televisions. Siemens is one of the worlds largest and most successful technology companies, and they are passionate about innovation and change.
Siemens was established over 170 years ago and today employ nearly 14,000 people in the UK alone, with manufacturing sites in Byker, Newcastle-upon-Tyne and another key site in Stockton, Teeside. The company is a large multinational company with bases in nearly 200 countries across the globe. Siemens specialise in a number of sectors:
Power generation services including gas, wind power and renewables
Energy management
Building technologies
Financial services
Healthcare
Siemens are one of the world's biggest producers of energy-efficient resource-saving technologies, as well as constructing offshore wind turbines which you will see across the region.
Siemens are not just about renewables though. They also design, develop and manufacture for example MRI scanners which are used in hospitals all over the world.  The Freeman Hospital, Newcastle, has Siemens Engineers working at the hospital on a daily basis to make sure the scanners are working.  Siemens also develop IT software which is used within a range of industries and variety of organisations including NASA to simulate the Mars Curiosity Rover!
Check out this great interactive 360′ tour of a wind farm, which allows you to explore wind turbines in further detail.
Some of the roles that people who work at Siemens have are:
Client solutions engineer
Customer support engineer
Controls engineer
Software engineer
Manufacturing engineer
Technical software architect
Commercial sales manager
Project manager
Accountant
Offshore commisioning technician
Civil engineer
Topics in science and maths that link to Siemen include:
Energy resources
Energy and power
Electric circuits
Medical Physics (MRI)
Health and Disease
Ratio
Sectors
Electrical, Energy, Engineering, Mechanical, Offshore
Employer Size
Huge multinational
Focus/reach
Global
Employer Links
https://nustem.uk/wp/wp-content/uploads/2016/02/Offshore-wind-power-how-it-all-comes-together-at-sea.jpeg
720
1280
Emma
https://nustem.uk/wp/wp-content/uploads/2017/02/logo-banner.png
Emma
2016-02-11 22:51:43
2019-03-07 16:37:37
Siemens
Case Study: Jacqui Miller
Originally from Gateshead, Jacqui describes herself as having been "probably quite a challenging child." She didn't complete many qualifications in school, but did learn the benefits of hard graft. That instinct has served her well as she's helped drive the family business, now based in Cramlington, towards international success.
Miller Engineering supply parts for construction machinery, so Jacqui's job involves a bunch of international travel. It doesn't sound like she has much time for sightseeing, however:
"Usually, I travel alone. I believe I'm there to do a job, I have an awful lot of people depending on me to come back with real answers and real solutions, […] you have to be exceptionally focussed, and focussed on what it is you've set out to achieve."
That single-minded determination and drive is clearly a trait that's helped Jacqui succeed in international business.
"You are presented with a set of challenges, and it's how you respond to those challenges which makes you the person you eventually become."
Miller has firm opinions on women working in the STEM sector, too:
"It really frustrates me that we seem to stereotype girls and boys. Nonsense! We should do whatever it is we feel we should do. […] I would love, dearly love, lots more girls coming through into STEM subjects."
Position
Main Board Director and Brand Ambassador
Key Attributes
common sense, determination, focus
Qualifications
Life!
https://nustem.uk/wp/wp-content/uploads/2014/12/Jacqui.jpg
1080
1920
Jonathan
https://nustem.uk/wp/wp-content/uploads/2017/02/logo-banner.png
Jonathan
2015-12-03 17:31:27
2019-02-22 12:15:50
Jacqui Miller
Employer: Miller International
Miller international manufacture parts for earth-moving equipment – parts known in the trade as 'buckets' but that you or I would likely call 'the scoop bit on the end of the digger arm.' They also make the bucket couplings, amongst other bits of heavy machinery. Their parts are used by companies including Komatsu, JCB, Terex and Volvo and they export worldwide from their base in Cramlington, Northumberland.
Miller International recruit both apprentices and graduates, and examples of positions they've recently advertised include:
Production Engineer
Marketing Executive
Quality Engineer
CNC Machinist
Technical sales manager
Forces
Moments
Trigonometry
Sectors
Engineering, Mechanical, Programming
Employer Size
Medium enterprise (up to 250 employees, turnover under £50m)
Focus/reach
Global
Case Studies

Main Board Director and Brand Ambassador
Employer Links
https://nustem.uk/wp/wp-content/uploads/2015/04/bucket-production-line-2.jpg
945
1181
Carol
https://nustem.uk/wp/wp-content/uploads/2017/02/logo-banner.png
Carol
2015-12-03 17:00:40
2019-02-22 11:52:30
Miller International
Scroll to top
Cookie and Privacy Settings
How we use cookies
We may request cookies to be set on your device. We use cookies to let us know when you visit our websites, how you interact with us, to enrich your user experience, and to customize your relationship with our website.
Click on the different category headings to find out more. You can also change some of your preferences. Note that blocking some types of cookies may impact your experience on our websites and the services we are able to offer.
Essential Website Cookies
These cookies are strictly necessary to provide you with services available through our website and to use some of its features.
Because these cookies are strictly necessary to deliver the website, refusing them will have impact how our site functions. You always can block or delete cookies by changing your browser settings and force blocking all cookies on this website. But this will always prompt you to accept/refuse cookies when revisiting our site.
We fully respect if you want to refuse cookies but to avoid asking you again and again kindly allow us to store a cookie for that. You are free to opt out any time or opt in for other cookies to get a better experience. If you refuse cookies we will remove all set cookies in our domain.
We provide you with a list of stored cookies on your computer in our domain so you can check what we stored. Due to security reasons we are not able to show or modify cookies from other domains. You can check these in your browser security settings.
Google Analytics Cookies
These cookies collect information that is used either in aggregate form to help us understand how our website is being used or how effective our marketing campaigns are, or to help us customize our website and application for you in order to enhance your experience.
If you do not want that we track your visit to our site you can disable tracking in your browser here:
Other external services
We also use different external services like Google Webfonts, Google Maps, and external Video providers. Since these providers may collect personal data like your IP address we allow you to block them here. Please be aware that this might heavily reduce the functionality and appearance of our site. Changes will take effect once you reload the page.
Google Webfont Settings:
Google Map Settings:
Google reCaptcha Settings:
Vimeo and Youtube video embeds:
Other cookies
The following cookies are also needed - You can choose if you want to allow them: