"Once I actually understood engineering … I thought it's like a perfect mix of practicality and theory. What you are learning, you can see it applied to real life applications."
A different route into engineering 
Jack always wanted to become electrician, an engineer and to have a degree. His route into engineering is very different than the majority of other graduates and he is passionate about raising awareness of different routes into engineering.
During 6th form Jack studied English literature, history and business however and soon realised that that wasn't working for him. As soon as he finished school he applied for an electrical engineering apprenticeship at TSP Engineering in Workington.
Jack did a Higher National Certificate (HNC) and a Higher National Diploma (HND) in electrical and electronic engineering, and then a degree in electrical plant engineering.
"I wanted to get involved in this podcast and try to inspire people and make people more aware of the different routes that you can take to become an engineer and the different careers within engineering."
From this point onwards he applied to the Sellafield graduate scheme where according to him opportunities were endless.
"It's probably like the best thing I could have done because I've worked on the tools and I've worked on the things that other people have designed, and then you kind of like get an idea of, say, like how things could be done better."
His engineering apprenticeship made him observant and having hands-on experience of equipment allows him to think about how to make components more accessible, easier to work on or fix. With 8 years of hands-on experience Jack hopes that he will soon become a chartered engineer.
Robots on Extreme environments
Jack is currently working for the Robotics and Extreme Environments Lab run by the University of Manchester in collaboration with Sellafield. He collaborates with his colleagues designing robots that can work in extreme environments that are dangerous for humans. He is particular proud of two of these robots: Carma and Mirrax.
Carma has been designed to inspect outdoors areas for radiation and its currently being fitted with a GPS sensor to map the environment around. This is based on a LIDAR sensor as Jack explains:
 "A LIDAR sensor is method for measuring distances by illuminating the target with laser light and measuring their reflection with the sensor and so the time differences in the returned laser allows to build up a map of the environment… so this this robot is deployed around legacy areas of Sellafield to be able to declassify them so that you know that the clear of radiation".
Mirrax is a 3 legged autonomous robot which runs on a little roller wheels and it only 150 mm wide so it can squeeze in small areas of nuclear cells which are highly radioactive. Mirax also used LIDAR sensors to map its surroundings:
"It's got a middle arm that lifts up and on this arm is a LIDAR sensor and a gamma radiation sensor and this can also tilt, so this allows the 2D Lidar to build up a 3D map of the environment so that we can work towards knowing exactly what's in there and help to navigate the robot around the cell… It's also picking up the radiation hotspots within the cell to then end with, uh, hopefully decommissioning the cell after this."
To help develop these robots, Jack learned 3D-CAD and electronics:
There are a lot of electronics and stuff that needs to get in there, so I've been designing and 3D printing components to hold things in place and building stuff up so that the robot is more robust.
 Working on a nuclear site
Jack works at Sellafield which is one of the few places in the country that handles nuclear waste. The general public still has a very apprehensive perception of nuclear energy and the safety of nuclear sites. According to Jack once you learn the science and you understand the safety protocols you actually feel safe.
"If you follow the rules, which there is a lot of rules and there's a lot of safety in place, which sometimes people could say it's maybe a bit over the top, but you can understand why it's there and the purpose of it. Sometimes a lot more difficult to actually get things done, but I really enjoy it!"
Engineering skillsets and following dreams
Jack believes that in addition to having hands-on experience of equipment, engineers should be good team players as no one knows everything:
"Always look at how you can make things better or better ways of doing stuff… I think you've got to be good at solving problems and sometimes to solve problems, you've got a be creative. You've got to be able to think outside the box, but also be able to apply engineering theories to your problems"
Jack is also a strong advocate about different routes into engineering such as apprenticeships.
"When I started my apprenticeship, there was people starting it who were 24 years old. You're never too late to change and do what you want to do, like what's going to make you happy… People put a lot of pressure on themselves thinking like, oh, I don't know what I want to do. I don't know what I'm supposed to do or what people expect me to do. Try and be open to all things like I was."
Position
Electrical Engineer at Sellafield
Key Attributes
collaborative, observant, passionate
Qualifications
A-Levels, Apprenticeship
Employer
https://nustem.uk/wp/wp-content/uploads/2022/03/Jack-Haworth-for-inventive-2.png
811
1083
Antonio Portas
https://nustem.uk/wp/wp-content/uploads/2017/02/logo-banner.png
Antonio Portas
2022-03-08 14:32:42
2022-05-20 16:50:31
Jack Haworth
Case Study: Enass Abo-Hamed
"One of the things I find fascinating about engineering is that the greatest inventions of our lifetime are engineering inventions and they all come to solve a problem."
Raising awareness of climate change
Originally from Palestine, Enass grew up watching her father, who was a mechanical engineer, building things and putting things together.
" That was something that always intrigue me: the thinking process and the action that comes after that, which engineering really revolves around."
This really impacted on her and the way she tackles challenges no matter how small or large: from starting her own company or being a passionate advocate in raising awareness of climate change.
It about bring the problem to many people whilst we are working on the solution. That's where my activism comes from. […] Climate change is a very interconnected problem with others such as air pollution or food waste […] it's everyone's problem … everyone should know about it! 
Storing hydrogen to produce energy
When Enass was doing her PhD at Cambridge University she invented an imaginative way to capture and store hydrogen safety, as a clean source of energy.
"Hydrogen is unique: very small, it doesn't have any carbon; when you burn it you're not generating emissions (carbon footprint).  It's a very elegant molecule with a very elegant solution that doesn't emit pollutants. That can solve many of our energy problems…"
 It took Enass a lot of hard-work to start her own company, H2GO Power, which stores hydrogen as part of a chemical reaction. The gas can be converted into solid state or liquid state. When the hydrogen in needed, it is released in a clean form (zero emissions) and in a controlled manner. This is an efficient, low cost, highly safe way to store hydrogen!
"I think hydrogen is the past, the present and the future. It was there at the very beginning and I bet it will be there in the future […] it's a very central player into contributing to solve climate change…"
Energy is still a luxury for some …
A trip to Africa made Enass realised that sometimes energy cannot be taken for granted:
"There are 1.2 billion people around the world who do not have control over the switch! Africa has 600 million people who don't have regular access to power. It shouldn't be a problem that we have today with the technologies and resources we have around the world.  There is an injustice to that, that bothers me personally, and If I have an ability to contribute to the solution, I should!"
More funding needed
According to Enass more funding should be available for entrepreneurs just like her to develop their own ideas. She believes in the power of working collaboratively and would like to see companies and government working together more closely to tackle climate change.
If there would be one thing I could change I would use more engineering to accelerate progress towards tackling climate change (…) we are working at slower pace than we should be.
Enass has won several awards for her activist including the Top 100 BAME leaders in UK Tech and Top 100 influential Women in Engineering in the UK and Europe by the Financial Times. You can watch her talking about climate change and her company below.
Position
CEO of H2GO Power & Entrepreneur
Key Attributes
hard-working, imaginative, passionate
Qualifications
PhD
https://nustem.uk/wp/wp-content/uploads/2021/11/enass-inventive.jpg
2352
1633
Antonio Portas
https://nustem.uk/wp/wp-content/uploads/2017/02/logo-banner.png
Antonio Portas
2021-11-26 11:03:27
2022-05-27 13:09:43
Enass Abo-Hamed
Case Study: Shrouk El-Attar
"That idea of what an engineer looks like is really out of date and it needs to change […] people engineer in their heels, people engineer in their dresses, and for me it's such a creative field!"
A journey of resilience
Shrouk left her native Egypt at the age of 15, arriving in the UK with her family. She was eventually granted refugee status on the basis of her sexuality, but her mother, sister and brother were deported. Showing remarkable resilience, she enrolled to study electrical engineering at Cardiff University, but could only start to study once her asylum case was complete – which took several years. She believes that more needs to be done to enable asylum seekers to access higher education, and to help people considering engineering as a career:
"We need to produce more than 186,000 engineers every single year, just to meet our engineering shortfall by 2024, and the same time we prevent people from accessing engineering"
Improving the quality of life of others
Since graduating from university, Shrouk has collaborated with others in a variety of projects. She's designed robots that can measure tiny things just a few nanometers across, and built a machine that can detect cancer cells based on how electrons wobble in the presence of magnetic fields.
Currently, she gets to release her creativity designing and testing products which help improve the quality of life of many women and others across the world. She find engineering to be a very collaborative field:
"You work with other engineers, scientists, data scientists and artists to make your product look nice …"  
Changing perceptions of engineering
Shrouk is a passionate advocate for changing perceptions of engineering, as there is still a long way to go in terms of attracting creative people into the sector. She also works towards valuing non-univeristy routes into engineering:
"We need to change our language. We need to make it more accessible, we also need to change the default routes into engineering. Why is just the university route considered? Why can't we take on more apprentices?"
A passionate advocate
In her free time Shrouk is a belly dancer, and she fundraises to help the LGBTQ community in countries such as Egypt. In 2018 she was awarded Young Woman of the Year in the Women on the Move Awards, from Migrants Organise and the UNHCR (the UN Refugee Agency).
Inventive podcast
Shrouk is featured in an episode of the Inventive Podcast:
Position
Electronics design engineer
Key Attributes
creative, passionate, resilient
Qualifications
A-Levels, Degree
https://nustem.uk/wp/wp-content/uploads/2021/05/Shrouk.png
554
941
Antonio Portas
https://nustem.uk/wp/wp-content/uploads/2017/02/logo-banner.png
Antonio Portas
2021-06-23 09:50:07
2021-07-01 08:51:29
Shrouk El-Attar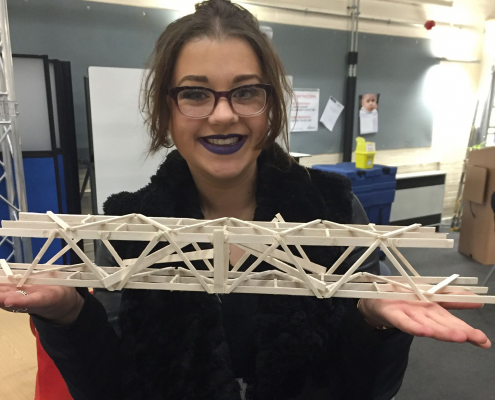 Harri has just finished her engineering degree at university. She studied how the weather affects how much energy wind turbines can capture.

Harri is curious to find new ways for people to use renewable energies in their everyday lives!

She just started her first job in an engineering company which produces batteries for hearing aids. In her new job, she studies which are the best materials to build batteries from, for different weather conditions. You might think you have cold ears, but batteries hate the cold even more than you do – so cold conditions can make hearing aids stop working.



Harri's most magnificent thing
"I really love this activity because you can put weights in the paper cup to see just how amazing wind power can be!"
Position
Engineer Graduate
Key Attributes
logical, organised, passionate
Qualifications
Degree, Engineering
https://nustem.uk/wp/wp-content/uploads/2019/12/Harri-bridge.jpg
2048
1536
Antonio Portas
https://nustem.uk/wp/wp-content/uploads/2017/02/logo-banner.png
Antonio Portas
2019-12-20 15:23:02
2020-01-14 10:28:43
Harri Beatie
/
0 Comments
/
in committed, passionate, patient Primary, Year 1, Year 2, Year 3, Year 4, Year 5, Year 6 Science (Primary) Evolution and inheritance Evolution and Inheritance, Primary, Science
/
by Jonathan
Palaeoanthropologists study the origins and development of early humans using fossil remains. They use biological evidence such as fossilised skeletal remains, bone fragments and footprints alongside cultural artefacts such as stone tools which were made by early humans to discover how the human species developed and evolved.
Attributes: patient, passionate, committed
Useful links:
https://nustem.uk/wp/wp-content/uploads/2017/02/logo-banner.png
0
0
Jonathan
https://nustem.uk/wp/wp-content/uploads/2017/02/logo-banner.png
Jonathan
2018-01-13 18:00:53
2021-09-16 14:11:09
Palaeoanthropologist
/
0 Comments
/
in imaginative, open-minded, passionate Primary, Year 1, Year 2, Year 3, Year 4, Year 5, Year 6 Maths (Primary), Science (Primary) Forces, Maths - Algebra, Maths - Number Addition and subtraction, Algebra, Forces, Fractions, Maths, Multiplication and division, Number, Number and place value, Primary, Science
/
by Jonathan
Marine engineers are involved in the designing, building, testing, maintaining and repairing of boats and ships as well as underwater craft such as submarines. They are responsible for the internal systems of a ship, such as the propulsion, electrical, refrigeration and steering systems. They can be involved in work such as marine surveying, drilling underwater for oil and gas and in the building of offshore platforms.
Attributes: passionate, imaginative, open-minded
https://nustem.uk/wp/wp-content/uploads/2017/02/logo-banner.png
0
0
Jonathan
https://nustem.uk/wp/wp-content/uploads/2017/02/logo-banner.png
Jonathan
2018-01-13 17:56:07
2019-12-02 12:23:45
Marine Engineer
/
0 Comments
/
in creative, passionate, tenacious Primary, Year 1, Year 2, Year 3, Year 4, Year 5, Year 6 DT, Maths (Primary), Science (Primary) DT, Earth and space, Maths - Number Addition and subtraction, DT, Earth and Space, Fractions, Maths, Multiplication and division, Number, Number and place value, Primary, Science
/
by Jonathan
Aerospace engineers design, build and maintain aircraft, spacecraft, satellites, and missiles. They may be involved in creating and testing prototypes, researching ways to make fuel efficient parts, developing weapons or navigations systems and supervising the fitting of aircraft or spacecraft and their components.
Attributes: creative, passionate, tenacious
https://nustem.uk/wp/wp-content/uploads/2017/02/logo-banner.png
0
0
Jonathan
https://nustem.uk/wp/wp-content/uploads/2017/02/logo-banner.png
Jonathan
2018-01-13 17:50:31
2020-07-24 09:00:08
Aerospace Engineer
Scroll to top
Cookie and Privacy Settings
How we use cookies
We may request cookies to be set on your device. We use cookies to let us know when you visit our websites, how you interact with us, to enrich your user experience, and to customize your relationship with our website.
Click on the different category headings to find out more. You can also change some of your preferences. Note that blocking some types of cookies may impact your experience on our websites and the services we are able to offer.
Essential Website Cookies
These cookies are strictly necessary to provide you with services available through our website and to use some of its features.
Because these cookies are strictly necessary to deliver the website, refusing them will have impact how our site functions. You always can block or delete cookies by changing your browser settings and force blocking all cookies on this website. But this will always prompt you to accept/refuse cookies when revisiting our site.
We fully respect if you want to refuse cookies but to avoid asking you again and again kindly allow us to store a cookie for that. You are free to opt out any time or opt in for other cookies to get a better experience. If you refuse cookies we will remove all set cookies in our domain.
We provide you with a list of stored cookies on your computer in our domain so you can check what we stored. Due to security reasons we are not able to show or modify cookies from other domains. You can check these in your browser security settings.
Google Analytics Cookies
These cookies collect information that is used either in aggregate form to help us understand how our website is being used or how effective our marketing campaigns are, or to help us customize our website and application for you in order to enhance your experience.
If you do not want that we track your visit to our site you can disable tracking in your browser here:
Other external services
We also use different external services like Google Webfonts, Google Maps, and external Video providers. Since these providers may collect personal data like your IP address we allow you to block them here. Please be aware that this might heavily reduce the functionality and appearance of our site. Changes will take effect once you reload the page.
Google Webfont Settings:
Google Map Settings:
Google reCaptcha Settings:
Vimeo and Youtube video embeds:
Other cookies
The following cookies are also needed - You can choose if you want to allow them: